Sports Premium
Find out below how the Sports Premium has been spent for the Academic year 2015/16
Sports Premium
The sport premium money at Orchard is used in a wide variety of ways. The amount received this year (2015-2016) in sport premium is £9,135. Each of the initiatives are designed to be on going and to continue for the foreseeable future. We have spent a large proportion of this year's money on a sports apprentice to help improve the provision of PE across the school.
Sports Apprentice £6300
Having a school apprentice in school has allowed us to offer more supporting opportunities for children during and after school. It has also provided teachers with extra support in PE lessons, allowing them to have smaller groups and target underachieving pupils. We have also improved break and lunchtimes through running organised activities for the children which has had a significant impact on behaviour.
House team system £366.607
House teams at Orchard have been a great success. All children and staff have been allocated a house team. Children are in the same team as their siblings and will stay in that team throughout their time at Orchard. Children are given house points for a whole host of reasons from completing their homework to sporting achievements. The house points are physical token which are posted into a collector in the school hall. At the end of each week, the house captains collect all the house points and calculate the total, which is then announced in Friday's assembly. The team which accumulates the most points for each half term then receives a prize and is awarded a trophy.
External clubs -£550
We have had an external football coach who has helped to train our sports apprentice to run the football training sessions in the future. As a result we have an improved uptake for the club and entered into more competitions. We are also hoping to win the year 5/6 football league. The school also offers other clubs such as Hotshots and Zeebz.
Competitions - £250
Orchard Primary School takes part in a wide variety of competitions and festivals throughout the school year. This year alone we have taken part in hockey, basketball, football competitions with multisport and athletics competitions to follow in the summer term. The children have really benefitted from these as they have enjoyed the competition, achieved tangible success and worked within a team setting. Every summer children from years 3, 4, 5 and 6 go to Saffron Lane to take part in the Blaby school athletics competition.
Resources -1518.12
Resources are updated and improved through the sport premium funding. This has led to new opportunities for the pupils. Staff are able to work confidently with improved resources and now additional sports are being taught across the school.
Cyber Coach online program - £312
This software has given staff more confidence in teaching different dance styles and given children the opportunities to watch experts perform.
Plans for next year
Olympic and Euro days in the summer term.
Improve fitness levels through a baseline test and extra activity.
Offer a gymnastics club.
More opportunities for staff training for different sporting activities
Sports Premium
Impact data from parent questionnaire
49 children out of 136 responses have represented the school in competition (36%) This is an increase of 14 children from the previous year
.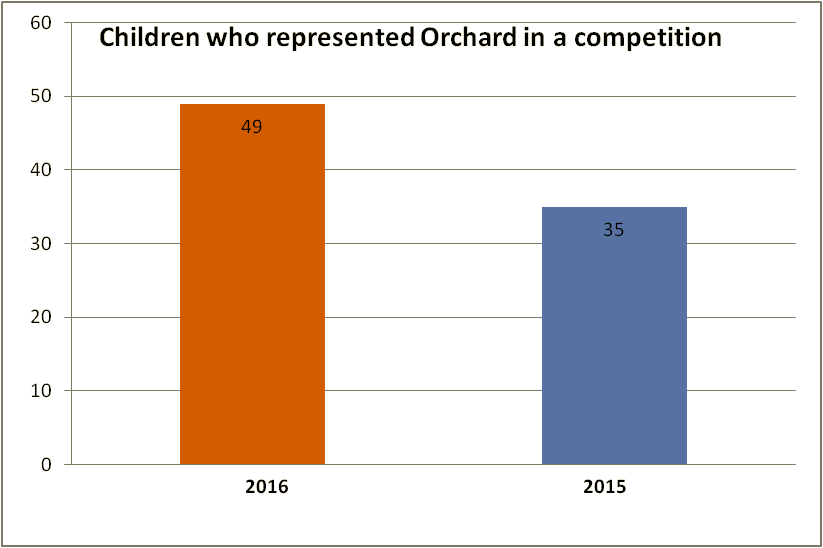 113 out of 136 children enjoy all PE lessons ( 83%). This is an increase of 15%.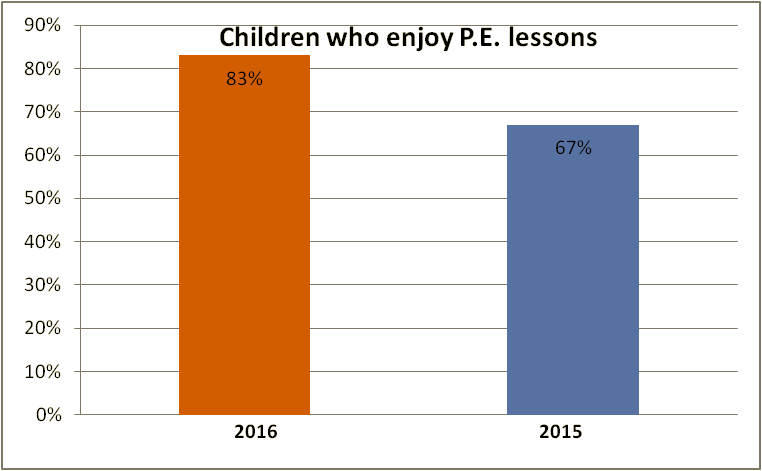 56 children out of 136 responses attend a sporting club at school 41%. This is also an increase of 12%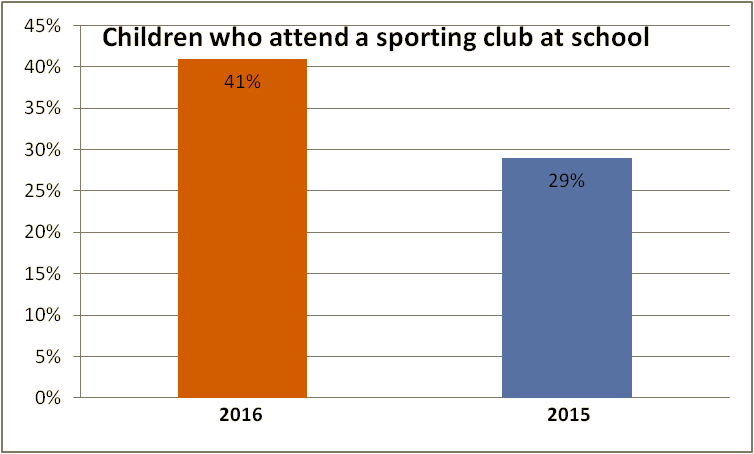 We have given the children the opportunity to get involved in a range of sports during break and lunchtimes through the sports apprentice.
This year we have competed in many competitions. We are on course to win the year 5/6 league. We had winning teams in the cross country competition (year 3 boys and girls, year 5 boys)
Staff feel more confident in teaching PE and we now teach a wider range of sports.
From the questionnaire results children would like a gymnastics and cricket club at school which we will offer next year.
In September all children will be assessed in terms of fitness, then again in January and June. This will help us to show further impact of the funding.