Governors
What is the governing body?
The governing body is often referred to as "a critical friend". This means being supportive of the school whilst monitoring and questioning in a positive way. We aim to ensure the progress and development of Orchard and to make a difference to the education of our pupils.
A governor needs to be…….
Enthusiastic

A good listener

A good communicator

Committed: attendance at 3 full governor evening meetings and at sub committee meetings as required (about 1 per term)

A team player

A visitor
What does the governing body do?
Most of the business of governance takes place in committee meetings. Our governing body has 4 sub committees.
Governors are also:
attached to year groups and are invited to relevant assemblies.
attached to specific curriculum areas e.g. ICT, Literacy, Numeracy, Sports/PE. Governors make visits to observe and work alongside the staff subject leaders.
Parent Governor Elections
We currently have vacancies for Parent Governors. If you would like to request an application pack please collect one from the office or download the documents from below.
Any further information please contact either Richard Moore (Chair of Governors) or Jo Willmott (Vice Chair of Governors) via the school office.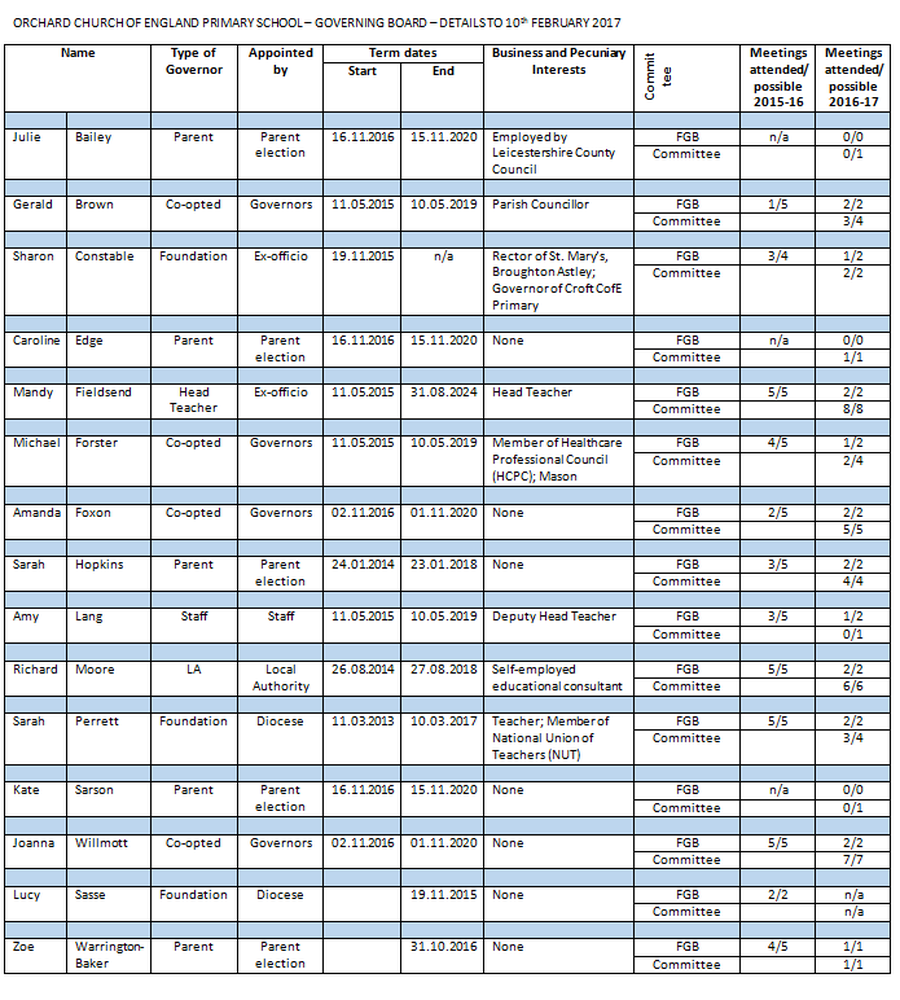 Below is a list of our Governor committees for 2018/19 together with which governors they are made up of.
Our Chair of Governors is Mr Richard Moore and our vice chair is Mrs Joanna Willmott
ORCHARD GOVERNOR PROFILES
I am in my second year as a Local Authority Governor at Orchard CE Primary School and am currently Chair of Governors. I am an approved External Adviser to Governors for Head Teacher's Performance Management for the Diocese of Coventry Board of Education. I am a Governor Trainer for Leicestershire and Warwickshire Governor Development Services and have conducted External Reviews of Governance for schools. I am also a panel member for Warwickshire Schools Admissions Appeals.
I have had forty years' experience in primary education including roles as a class teacher, head teacher and teaching fellow. I have supported other schools and head teachers as a Local Leader of Education, as well as trainee teachers and teaching assistants, while a Teaching Fellow for four years at the University of Leicester, during which time I gained an MBA in Educational Management. My main professional interests and involvements are school self-evaluation and improvement; effective leadership, and performance management. I work across all Early Years and Primary phases.
Richard Moore
I'm in my fifth year as a governor at Orchard. My four children have thrived here and I believe they have received a great start to their education. As Nelson Mandela said, "Education is the most powerful weapon which you can use to change the world." I believe what we provide at Orchard is of utmost importance for the children themselves and for the wider community to which they belong and I want this to continue. I currently serve as Vice Chair of Governors and have responsibility for Pupil Premium, Parents' Forums and Maths, amongst others.
Jo Willmott
I have 20 years' experience of working with children, young people and their families. As a new Parent Governor, I welcome the opportunity to share my vision; because all children need the opportunity to achieve their potential, and positive educational outcomes. I would like to assist the school to work towards every classroom being resourced and equipped in a way which meets the needs of both children with additional needs and those without. Positive outcomes for all children can be achieved by early intervention, good links with support agencies and other services, and appropriate training opportunities for staff. I have personal and professional experience of children with additional needs.
Julie Bailey
I have been a governor at Orchard School for over twenty years, since I became Parish Councillor. I have lived in Broughton Astley all my life and, having seen the first school open, I am keen to see it continue to offer the best possible education for its young people now and in the future. As a community governor and Parish Councillor, I am able to provide the wider perspective to the governing board. I have served on several committees during my time as a governor and currently contribute to Premises and Finance. For this academic year, I am looking forward to monitoring the work of the children's Eco Committee.
Gerald Brown
As Rector of St. Mary's Church, Broughton Astley I felt it was important to take up my place on the governing board. It has been my pleasure to welcome the children from Orchard School into the Church at various times throughout the year. As a governor, I am concerned to help to preserve the school's traditional Christian ethos whilst doing my best to ensure that children are provided with all the tools they need to become confident, happy members of our community who are enabled to reach their full potential.
Sharon Constable
I have been a governor at Orchard Primary School for six years during which time I have served as Chair of Governors. I am currently Chair of the Finance Committee. In my professional role I work as a Clinical Team Leader with East Midlands Ambulance Service. I became a Governor because I am interested in helping the school to enable all pupils to achieve their potential and also to support my own sons, one of whom is still at the school. Being a governor can be challenging but it is also very rewarding to see Orchard pupils achieve good results.
Michael Forster
I was elected as a Parent Governor in 2012 and currently have two children at Orchard. I became a governor because I care passionately that every child receives the best possible education. My working background is in the Health Service and Early Years Education. I draw upon these experiences in my roles as named governor for More Able pupils and pupils with Special Educational Needs.
Amanda Foxon
I'm a busy mum of two boys at Orchard Primary, taking a career break from teaching primary school children, which I did for fifteen years. I stood for election as a Parent Governor in 2014 because education is really important to us as a family and I felt my experience in primary schools would be useful to the governing board. I am currently Training and Development Governor, EYFS Governor and I'm linked to EYFS.
Sarah Hopkins
I am the Deputy Head at Orchard and Year 1 class teacher. I joined Orchard in September 2013 after working in the city for 9 years. I was elected as the Staff Governor in September 2014. It is a pleasure to work in partnership with the Governing Board to provide support and challenge across the school ensuring high expectations and outcomes for all pupils.
Amy Lang
Although I am now a member of the teaching staff, I am a Foundation Governor at Orchard (representing the school's Christian Foundation as a member of St Mary's Church). I've been a governor for more than ten years and have two teenage children who both attended and thrived at our school. I believe all children have a right to an excellent education and this underpins everything I do in my role.
Sarah Perrett