Reading
Book of the Month - December 2017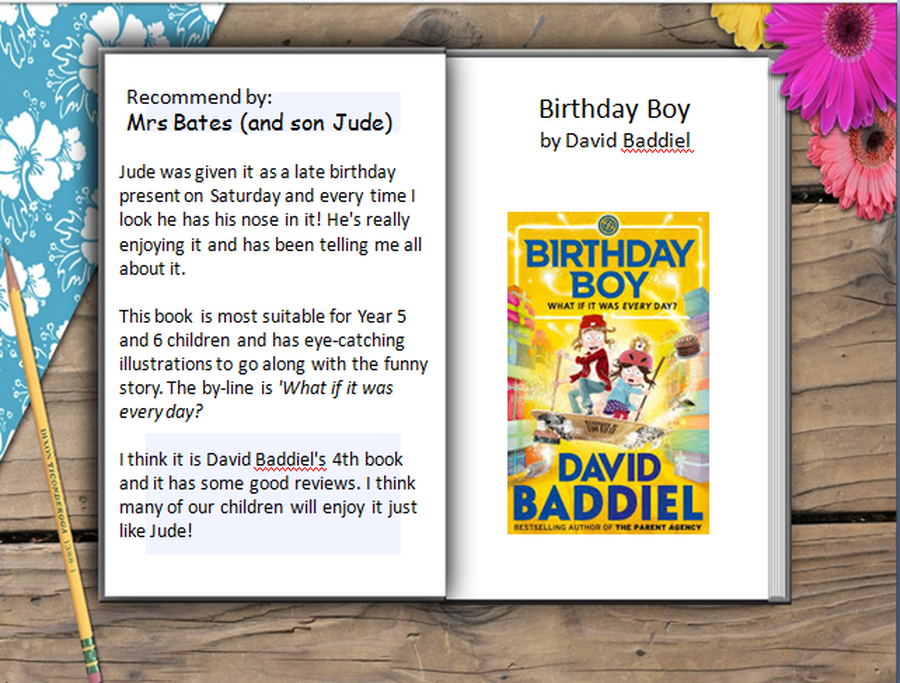 If you have read the 'Book of the Month' maybe you could write a book review and have it featured here on our website.... House points are available to those that are published. Any book reviews should be forwarded to the school office with the title Book of the Month.
Reading Information for Parents
Your child's reading experience is much more than the reading book which comes home from school. Reading is happening all the time in a classroom and in the school. It is taught in specific reading and English lessons, but children are practising and using their 'reading' constantly across all subjects too.
At Orchard we ask that parents support this work that is done in the classroom as it can make a dramatic difference to a child's achievement within school. Try to read at least 3 x a week with your child. Children who have a signed reading record 3 x in a week receive a reading token, 5 x a week and they receive 2 tokens. These tokens are then collected and 5 are drawn out at the end of each term for those children to receive a book token. At the end of the year there is an additional prize which includes a family cinema ticket or family day out passes.
Top tips for reading with your child at home, including:
Make time to read- even if it is only for ten minutes (Daily is better)

Choose different types of books

Take turns to read

Talk about the book- asking your child questions

Pay attention to the language

Enjoy reading
Learning To Read At Orchard
Children learn to read in different ways and at different ages. The first part of a child's journey towards being a successful reader starts when the child is a baby and is listening to stories and rhymes. This encourages a love of language and stories and develops the child's vocabulary and understanding of language as they start to become familiar with what words mean and what they look like.
A vital first stage of a child's development as a reader is to be able to 'read' pictures and to determine what is happening or to predict what might happen from the pictures in a book. As this skill develops, children become able to use their grammatical skills to listen to words within a sentence and to make sense of what they can hear. This is an important tool for the young reader as it enables them to make sensible guesses at unknown words within a sentence and to continue to read for meaning without being stopped in their tracks.
Teaching Phonics at Orchard
We ensure that all children in our Foundation Stage, year 1 and those in year 2 who have failed the Year 1 phonics are taught phonic skills through Read Write Inc. This develops the child's ability to tackle unknown words within a text by blending the phonemes (sounds) within the word. These phonic skills also enable a child to work out the phonemes they will need to use when they are writing words.
The phonic lessons are structured to ensure that children are first able to identify letters and to say the sound those letters make. Once children are confident with saying the single letter sounds and blending them to create words, they then start to learn the common digraphs (where two letters go together to create a new phoneme such as sh), trigraphs (where three letters create a new phoneme such as igh) and spelling patterns that we use within the English language.
Reading in Years 2-6
Children in Year 2 and Key Stage 2 will continue their reading journey through individual reading, small group guided reading session and as part of daily English lessons
Orchard Reading key aims
At Orchard, the key objectives in our phonic, reading and writing lessons are that children are taught to:.
love books and enjoy listening to stories, poems and rhymes

read and write letter-sound correspondences quickly

decode effortlessly, spell and handwrite easily

comprehend what they read

read with fluency and expression

write confidently using oral rehearsal

work effectively with a partner or within a group to articulate their learning at every step
Please find below the Powerpoint presentation from our Phonics meetings
Top Ten Books for Foundation Stage
A baby owl falls from the nest and begins a quest to find his mummy. Squirrel tries to help, but the characteristics described by baby owl lead to all the wrong creatures.
A mouse peers out of her hole one day and spies a huge apple. The search is on to find a hole which can accommodate both her and this delicious food.
A Royal Lullabyhullaballoo!
The princess cannot sleep because of all the noises – dragons snorting, knights clanking, ghosts OOOOing – though when they are all told to STOP she finds she needs a lullaby to send her off.
An old lady finds that her house is too small and asks a wise old man for advice. One by one, he suggests that she takes in a variety of animals until eventually her house is so full that she has to turn them all out again.
This zany collection of noisy verse for the nursery is a let-off-steam poetry picture book.
To illustrate this popular song, a succession of children is each shown boogie woogieing through the jungle
A lonely blue chameleon adapts himself to the colours and shapes of several creatures and objects in a vain effort to make friends.
Brown Bear, Brown Bear, What Do You See?
A series of bright and decorative illustrations of animals, each of which is being asked in turn 'What do you see?'
A child writes to the zoo to ask for a pet and is sent all sorts of unsuitable animals until finally a 'perfect' puppy arrives.
The prehistoric creatures which fascinate children so much loom large in these pages.
Top 10 books for Key Stage one (Years 1 and 2)
This book gives certain proof that repetition can build excitement rather than be boring.
A baby bird hatches while his mother is away. He sets off to find her and asks every moving thing "Are you my mother?".
This circular tale of a journey up Spook Hill in the middle of the night demonstrates how it is possible to use a minimal text and still tell an interesting and amusing story.
A small creature from outer space lands on Earth accidentally.
Click, Clack, Moo. Cows That Type
Farmer Brown can't believe his ears when he hears his cows typing in the barn. And then a demand for electric blankets appears, pinned to the barn door!
Come Away from the Water, Shirley
A picture book that broke the bounds of convention by telling two stories simultaneously - on pages opposite one another.
Daisy's mother tries to persuade her faddy daughter to eat her peas with increasingly wild promises of tempting treats which are depicted rebus fashion.
Pat Hutchins is a wizard with words as well as with the pictures they conjure up. A boy is sent to the shop for 'six farm eggs, a cake for tea, a pound of pears (and don't forget the bacon)'...
Down by the Cool of the Pool
Frog asks all the other animals if they want to dance. And so they do, but not like him.
A rollicking rhyme reminiscent of 'The House That Jack Built'.
Top ten books for Lower Key Stage 2 (Years 3 and 4)
Arthur's frustration at his mother, who won't let him watch TV, makes his anger grow and grow until it causes a 'universequake'. This evocation of strong childhood emotion strikes a chord with young people of all ages.
Two monkeys argue over a banana and which of them should have it, eventually finding the solution is to share it. The text is totally minimal, consisting only of the words 'Banana' and 'Please'
Like Catherine Storr's Clever Polly and its traditional prototype Red Riding Hood, this is a tale of a child outwitting a hungry wolf.
Bringing the Rain to Kapiti Plain
Ki-pat, a young African cowherd rescues the cattle he tends from the drought by shooting down a rain cloud
A strong repetitive and cumulative text with support and appeal for older less confident readers
The jolly rhyming text expounds the exploits of a cheery little chick who sneaks into the farmer's house and makes hay by using the computer to order all sorts of extraordinary items on the internet
Stone Age Dave seek new cave. Will he find one he like? The seemingly simple staccato text, omitting auxiliary verbs and definite and indefinite articles, is surprisingly hard to imitate.
Dinosaurs and All That Rubbish
A book with a large theme, an ecological fable whose central message is that the planet is home for all those who inhabit it and that all have a responsibility for its future.
Don't Put Your Finger in the Jelly, Nelly
A hugely enjoyable book which uses rhyme, repetition and wordplay to good effect.
Joseph's father has told him that things are 'going to change' and the pictures, which reveal so much more than the brief but complementary text, take us through the surreal world of his imaginings
Top ten books for Upper Key Stage 2 (Years 5 and 6)
Anancy wins the hand of Miss Louise as he can make her laugh, unlike the rich, skeletal Mr Dry-Bone.
Artemis Fowl. The Graphic Novel
The contents of this book were originally published as four thematic collections, on the topics of breakfast, the seaside, doctors and bedtime. Each follows a similar pattern of rhymes, poetry, stories, sayings and anecdotes
Joe Spud is remarkably rich thanks to his dad's invention of a loo roll which is moist on one side and dry on the other. All he really needs, though, is a true friend.
Most children will be familiar with Quentin Blake's distinctive illustrations. This is a wordless book but readers will need to bring their understanding of narrative informed by the conventions of comics to the story which has the cinematic quality of a silent film.
A short chapter book with a satisfying conclusion which will help to build reading confidence. Nick is saddened by the death of his grandmother's Alsatian dog which has always provided a barrier between him and a local bully. Nick needs to build skill and determination in order to beat the bully at the game of conkers and rescue a dog which is being ill-treated.
A tongue-in-cheek Gothic tale, told in a blend of conventional text and comic strip. A ripping yarn with a host of interesting features such as maps, a cast of characters and contemporary 'advertisements'. The list of 'works consulted and ideas stolen from' at the end gives scope for discussion about intertextual references and influences from literature, film, art and music. This book teaches much about developing as a reader.
Daft Jack and the Beanstack
One of a series of Seriously Silly Stories, retellings of well-known fairy tales given a modern twist.
Greg Heffley is at pains to tell his readers that this is a journal not a diary and this book is about surviving in school as a cool kid. Greg is a creator of cartoons which he uses to illustrate his diary- sorry, journal – and for a brief period becomes cartoonist for the school paper, later usurped by his former friend Rowley. First in a series, some of which have been filmed, which has avidly devoured by many previously reluctant readers, especially boys, who understand all about the 'Cheese Touch'!
Online Reading
Whilst we all like to have a book to hold to be able to share with others the content and pictures, often children seem more interested in their tablet or computer. We can now do both by reading on line, Below are some websites that offer reading on line, some also have games related to the book or text that they are reading.
Wordless Books
Do you remember learning to read when the books were just pictures? You used the pictures to imagine what might be happening. Wordless books are pictures where you can look at them over and over again making your own stories up, changing what is happening each time. Click here for the list of wordless books suggested by The Centre for Literacy in Primary Education.