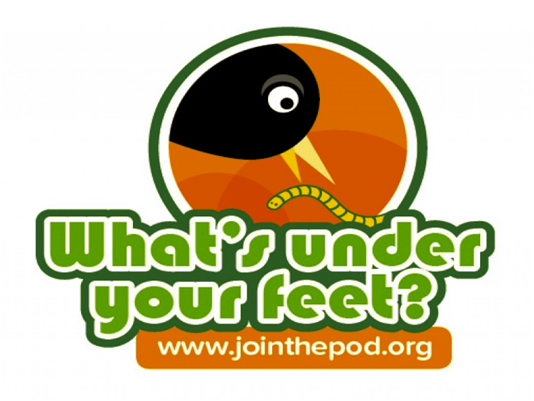 Many of Eco Committee got very muddy on Thursday 5th November when they took to the field to launch the Pod Campaign 'What's Under Your Feet?'
30cm squares of turf were dug out and any worms or other insects were counted. Most of the committee didn't mind handling soil or worms, and the field and all of the insects were put back before afternoon lessons began.
The following week year 3 and 4 Eco committee members stood quietly on the school playground bird watching with Mrs Gilbert. She'd brought her binoculars and telescope for them to use. No birds landed on our field during the 15 minute survey, however, a starling, magpie, pigeon, wood pigeon, crow and jackdaw all flew over.
This project is all part of a citizen science activity run in collaboration with the British Trust for Ornithology (BTO) to help investigate the impact climate change is having on birds across the UK throughout 2015/16. The information we found has been entered on a national data base, and we will need to repeat this whole activity in March and again in June.
Waste Week
Eco Committee have worked hard to encourage pupils not to waste food. They ran a competition to encourage everyone to eat their school dinner or packed lunch each day for a week. Each time a dinner was eaten, a ticket could be collected and placed into a prize draw box. At the end of the week one lucky winner was drawn from the box and received a £50 meal voucher, kindly donated by The OPA. Our lucky winner was Carolina; here she is with her family sharing her prize. Well done, Carolina! Also, a huge well done to the Eco committee who wrote and produced the assembly, asked the OPA to fund the prize, and sat in the hall each day to hand out tickets to those children who didn't waste anything. A final well done to everyone whose name went into the box; you might be the lucky ones next time.