Orchard Parents' Association (OPA)
Congratulations to all winners of the Decorate a Star Competition
Twiglets - Darcy
Year 1 - Kelsea
Year 2 - Alex
Year 3 - Kurtis
Year 4 - Archie
Year 5 - Leo
Year 6 - Gracie
Ms Fieldsend's special award - Alanah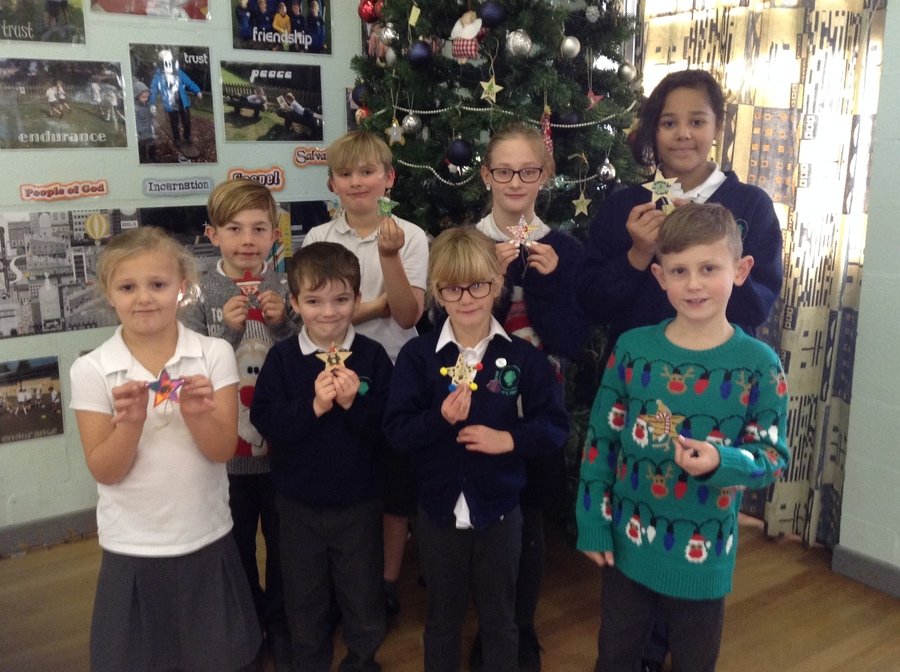 Macmillan Coffee Morning Sept 2018
Welcome to the Orchard Parents' Association!
As soon as your child starts at Orchard Primary School, you automatically become a member of this association. We are a registered charity, manned by an enthusiastic committee and helped by members such as you.
Our aim is to advance the education of pupils in the school. We can do this in a number of ways;
· By providing facilities and items that the school needs,
· By developing relationships between ourselves, staff and others associated with the school,
· By helping with activities that support the school, academically and socially.
Over the past couple of years the OPA has organised many, well supported fundraising events. These have included, amongst others;
· Children's discos every term
· Christmas Fayres
· Summer Fayres
· Cake sales
· Quiz nights
These events provide an opportunity not just for fund raising, but also for socialising and forming new friendships for children and adults. Other events, such as the School Jubilee celebrations and organising the school floats for the Broughton Astley carnival, have been hugely successful, and although not fund-raisers for the OPA, have brought the school community even closer together and have been enjoyed by all involved.
The money raised enables us to purchase a variety of items for the school.
Over the past year we have funded a large number of books for the library and individual classrooms, a newspaper subscription for a year, new storage facilities for KS2 classrooms, a shed to store various items in.
You are more than welcome to attend any parents' association meetings, details of which can be found on posters around school, or in your child's book bag. We are always looking for new ideas and more helpers, and any input, however seemingly insignificant, is appreciated!
We look forward to meeting you in the new term and wish you and your child a long and happy association with Orchard school.
Fundraising Links
School Lottery
We really need your support in joining this lottery, the more that enter, the more the prize fund increases.
All you need to do is register your details and Your School Lottery do everything else. Weekly payments are taken on line by direct debit.
40% of the sales are donated back to The OPA, and there are cash prizes to win.from each draw.
It's a simple way to raise funds for The OPA to help us get to our target, this year, to raise funds for the Early Years Play area.
The OPA are registered with the following fundraising sites:
Stikins
Stikins is a label company that provide a multi-use label ideal for labelling clothes, bags and lunchboxes but also has many other uses too. They also offer labels that would be useful to use in school. The offer 15% commission on all labels purchased providing the unique school reference 14942 is used and then this can be increased to 30% commission by using the link below:
Available to everyone. Many parents label the children's clothing and items to prevent them being lost. Labels can be purchased in various multiples and are delivered predominately next day and postage is included in the shown price. Stikins can be ordered by post or online, payable by cheque, debit or PayPal. Items are delivered direct to purchaser's home address.
Make sure you click the link on our website to ensure we receive 30% commission.
Easyfundraising
Easyfundraising is a platform to shop and book. From retailers to insurance to holidays. The companies then offer varying percentages based on the purchases made that go directly to the OPA. Within 14-90 days of purchases. As long as the shoppers use the easyfundraising app or online platform to then complete the purchase donations will be made to the cause. Orchard Primary school is registered as a cause and parents, family and friends can make purchases which in turn lead to donations.
Parents, family and friends can all register and then shop or book holidays through the app or online site.The more people that know about it the more donations we will receive. Retailers such and Next, John Lewis and M&S, insurance companies and Holiday providers. Sky TV, BT phone line and mobile phone contracts too. These all donate a percentage on any purchases. (see individual terms and conditions) .
Follow the link below to register