Orchard Parents' Association (OPA)
OPA Annual General Meeting
You are invited to Orchard Parents' Association Annual General Meeting (AGM), on Tuesday 9th November 2021, starting at 7 pm at Orchard Primary School.
There are 2 ways that you could be involved with the OPA:
Be an OPA Management Committee Member, which includes participating in meetings that make decisions on how funds are raised and used for the benefit of the school.
Be an Active Member of the OPA, who does not have to attend committee meetings but are very welcome to, you would also help at events on a regular or ad hoc basis and offer ideas. For example, helping at school discos, Christmas/summer fairs, cake sales etc helping to run OPA activities in school, general fundraising.
The main purpose of the AGM is to vote in the new management committee for the forthcoming OPA year.
The following people are happy to serve for another year.
Management Committee Members:
Chairperson: Charlotte Chaney-North
Vice Chairperson: Vacancy
Treasurer: Alison McGarry
Secretary: Vacancy
Committee Member: Holly Hinks
Committee Member: Ruchira Bhalla
Committee Member: Vacancy
Committee Member: Leah Spicer
Committee Member: Laura Meachen
We can have up to 9 management committee members which includes the officer posts, if need be, during the year a further 2 members can be co-opted to the committee. If you are interested in joining the committee in any of the above roles, then please contact the OPA email to confirm your nomination, if necessary, a ballot will be taken at the AGM.
A copy of the Orchard Parents' Association Constitution is available by request through the OPA email: opa@orchardcofe.leics.sch.uk
We would love you to be a part of the team, even if it is simply coming up with ideas, no matter how little or how much you can do, your contribution will make all the difference to our children's school experience and their community environment.
Thank you for your support
You are invited to attend our Handmade Easter Wreath Workshop at Orchard Primary School on Thursday 31st March at 7pm.

You will have the opportunity to craft a beautiful handmade wreath for your door or home using a variety of artificial and real foliage.

All materials, equipment and guidance will be provided to you and included in the ticket price will be a glass of prosecco and nibbles to enjoy whilst you craft.

As well as being a fun social evening to spend with friends and other parents you will be helping us to raise money for our school.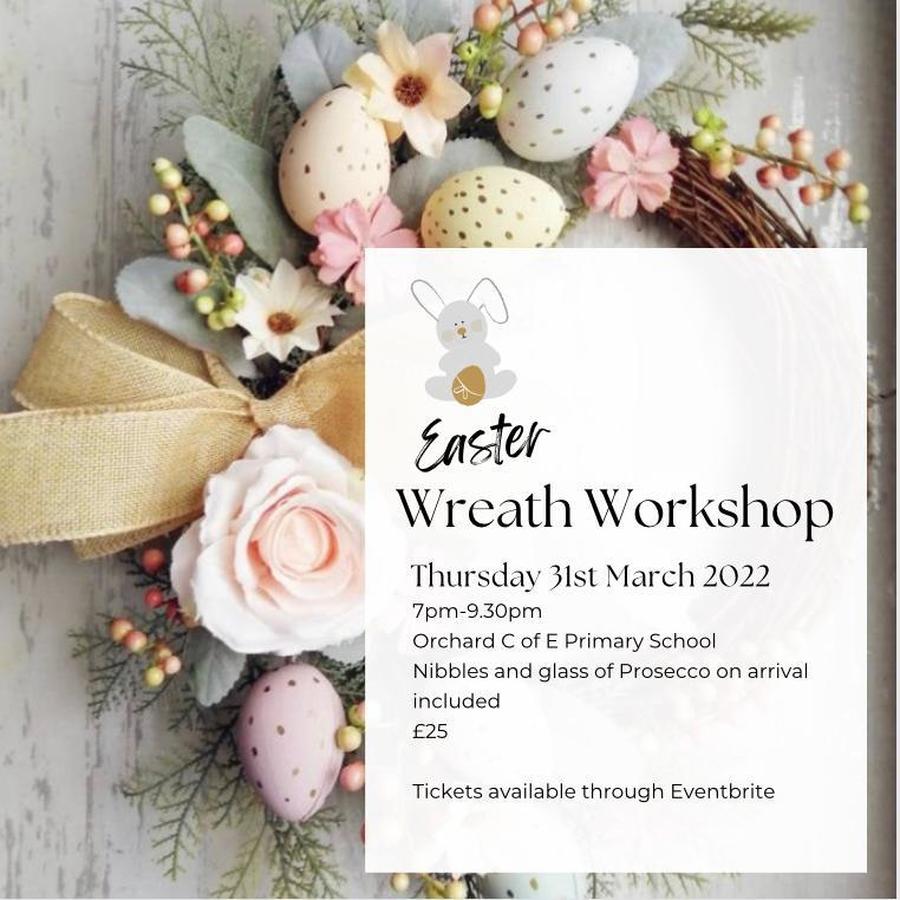 We are delighted to announce the launch of
The Big Christmas Raffle 2021!
A huge thank you to local businesses and parents for their generous donations, we have an amazing collection of prizes this year, including:
A 50" Smart T.V, a wonderful trip to see Santa on the Grand Central Railway for a family of up to six, £100 to spend at Miller and Carter Restaurants, Pantomime Tickets to see Sleeping Beauty for a family or four and £50 to spend on toys at Smyths Toy Shop!
Plus, many more prizes including hampers, vouchers and experiences, please see our raffle list attached.
Please help us to sell as many raffle tickets as you can to friends, family, work colleagues....... we are so close to achieving our goal and being able to complete the KS1 play area!
The raffle will close on 3rd December and be drawn by Mrs Lang and Mrs Heathcote the same day.
We thank you for all your support this year and wish you good luck in the raffle!
Wow! A fantastic result. A big thank you to everyone who took part and who purchased personalised Christmas items.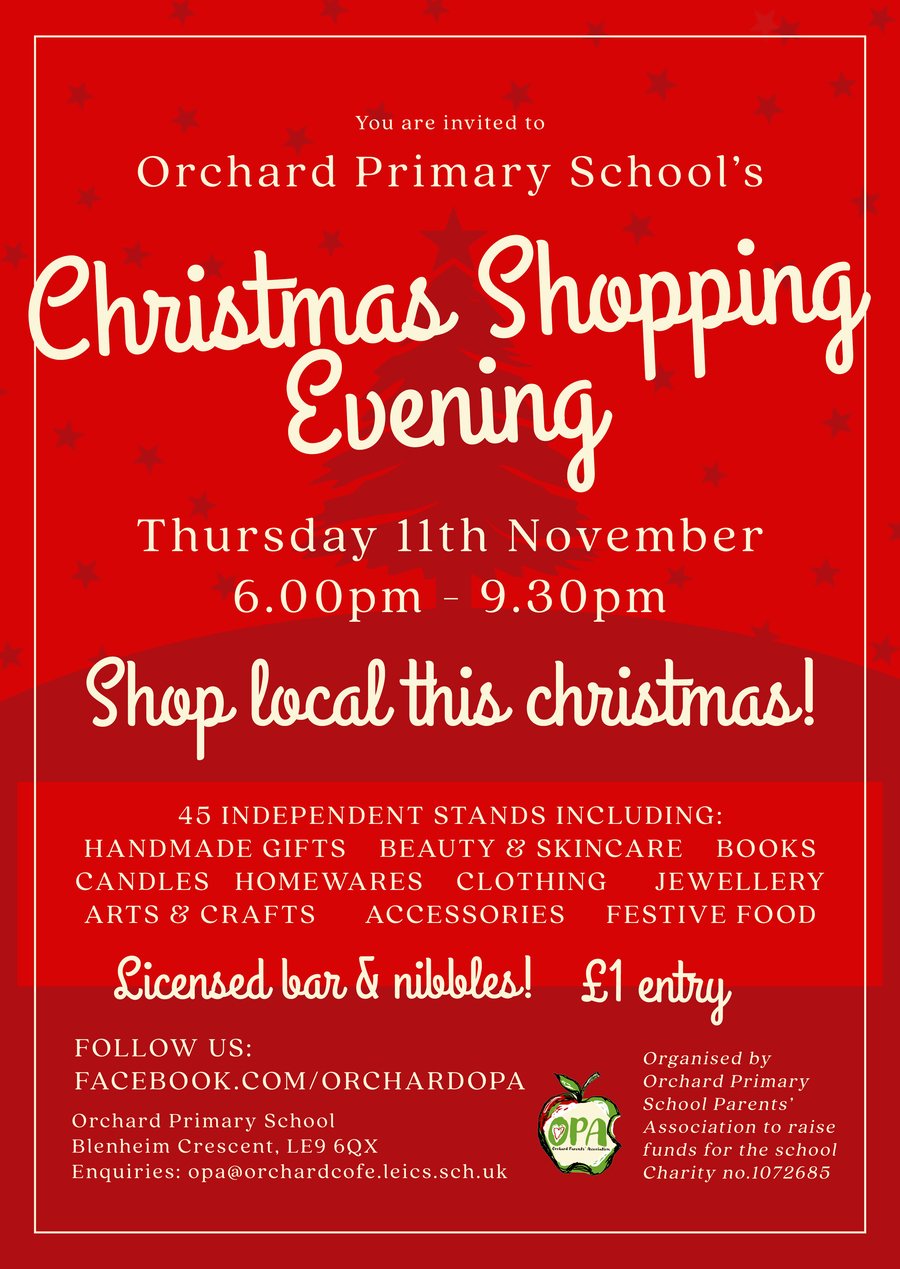 You are invited to Orchard's Christmas Shopping Evening!
Thursday 11th November 6pm – 9:30pm at Orchard Primary School, £1 entry
Begin the festive season with a spot of shopping followed by a glass of mulled wine and a mince pie. A wonderful opportunity to catch up with friends whilst browsing and shopping from a range of Christmas gift ideas, or simply treat yourself from our selection of forty-five independent stands.
We have a wonderful selection of stalls including handmade gifts, candles and homeware, jewellery, arts and crafts, beauty, decorations, festive food and much more.
A licensed bar will be available and `nibbles by M.E.' offering a selection of tasty savoury treats, a barista van just outside the school serving hot drinks to warm you up, and of course mulled wine and mince pies to feel festive.
There will be the opportunity to enter our prize draw for the chance to win one of four custom raffle baskets!
Please see our poster attached for more information.
We hope you can make it and look forward to seeing you there!
Thank you for your support!
Orchard Primary School is very excited to be hosting the Snowman Festival for another year!
Last December we saw 130 snowmen displayed all over Broughton Astley, the Snowman Festival brought much happiness and Christmas cheer to our village after such a difficult year. We also raised a massive £1200 from entry fees and donations, which meant we could start work on our KS1 playground.
The response to last year's Snowman Festival was incredible with many lovely comments from residents and visitors, Orchard even made it into the newspaper!
IT'S TIME TO SIGN UP!
Broughton Astley Snowman Festival 4th & 5th December.
We would love our Orchard families to
GET INVOLVED!
We have some amazing prizes too, including hampers, vouchers, and a special trip to see Santa! To find out more or for inspiration visit & follow our Facebook page. https://www.facebook.com/ba.snowmanfestival
So, join in the fun and create your own snowman display, you can make this out of anything you like; it can be tiny or huge, fun, or festive, themed, or traditional. Display in your window, front garden, in the porch, on the fence, wherever you please, this year there will be prizes for the top 3 snowmen in the village.
The entry fee is £5, which enters you into the competition and puts you on the map.
To join in and build your own snowman display click on the poster attached.
Good Luck and we look forward to seeing all your snowmen.
The Orchard Snowman Festival Team!
P.S. look out for the Snowman Festival colouring competition in book bags soon, you could win a children's hamper filled with treats!
Orchard Playground Appeal Fundraiser
We are very excited to invite you to attend our Handmade Christmas Workshops at Orchard Primary School, 16th November at 7pm.
You will have the opportunity to learn how to make beautiful handmade greeting cards or create a traditional Christmas wreath whilst enjoying a festive drink or two and nibbles.
As well as being a lovely festive evening with friends, by getting crafty you'll also be helping us to raise money for our playground appeal.
All materials and guidance will be provided and includes a glass of wine or soft drink on arrival and nibbles to enjoy whilst creating your masterpieces. There will also be a bar available on the night to purchase drinks.
We are holding a Harvest Creativity Competition to help raise funds for the kS1 playground.
If you would like your child to enter, please send in their Harvest themed artwork with a £1 entry fee to their class teacher by Monday September 27th.
Mrs Heathcote will be judging the entries and the winners will be announced the following week.
There will be a prize for the winner of each class and the overall lucky winner will receive an amazing sleepover tepee package including midnight feasts!
You can be as creative as you like, drawing, painting, collage, poems, prayers, sculpture....... good luck and we look forward to seeing your master pieces!
Many thanks for your support
Orchard Parents Association
Fundraising Links
School Lottery
We really need your support in joining this lottery, the more that enter, the more the prize fund increases.
All you need to do is register your details and Your School Lottery do everything else. Weekly payments are taken on line by direct debit.
40% of the sales are donated back to The OPA, and there are cash prizes to win.from each draw.
It's a simple way to raise funds for The OPA to help us get to our target, this year, to raise funds for the Early Years Play area.
The OPA are registered with the following fundraising sites:
Stikins
Stikins is a label company that provide a multi-use label ideal for labelling clothes, bags and lunchboxes but also has many other uses too. They also offer labels that would be useful to use in school. The offer 15% commission on all labels purchased providing the unique school reference 14942 is used and then this can be increased to 30% commission by using the link below:
Available to everyone. Many parents label the children's clothing and items to prevent them being lost. Labels can be purchased in various multiples and are delivered predominately next day and postage is included in the shown price. Stikins can be ordered by post or online, payable by cheque, debit or PayPal. Items are delivered direct to purchaser's home address.
Make sure you click the link on our website to ensure we receive 30% commission.
Easyfundraising
Easyfundraising is a platform to shop and book. From retailers to insurance to holidays. The companies then offer varying percentages based on the purchases made that go directly to the OPA. Within 14-90 days of purchases. As long as the shoppers use the easyfundraising app or online platform to then complete the purchase donations will be made to the cause. Orchard Primary school is registered as a cause and parents, family and friends can make purchases which in turn lead to donations.
Parents, family and friends can all register and then shop or book holidays through the app or online site.The more people that know about it the more donations we will receive. Retailers such and Next, John Lewis and M&S, insurance companies and Holiday providers. Sky TV, BT phone line and mobile phone contracts too. These all donate a percentage on any purchases. (see individual terms and conditions) .
Follow the link below to register