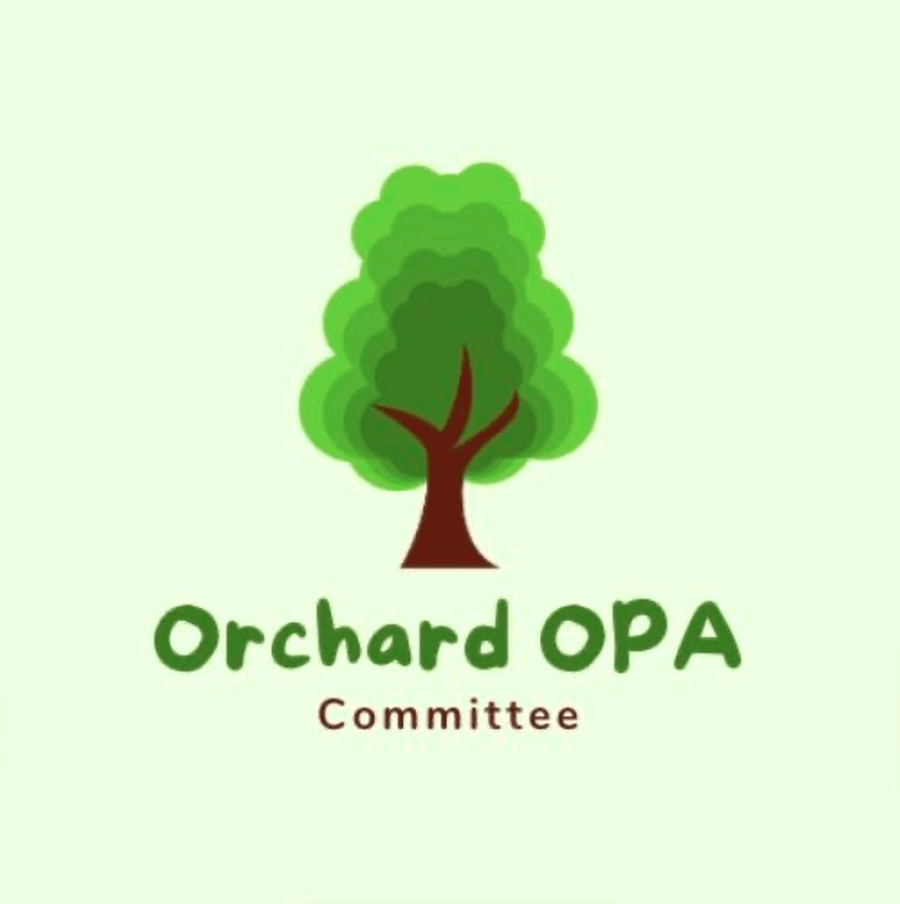 Orchard Parents' Association (OPA)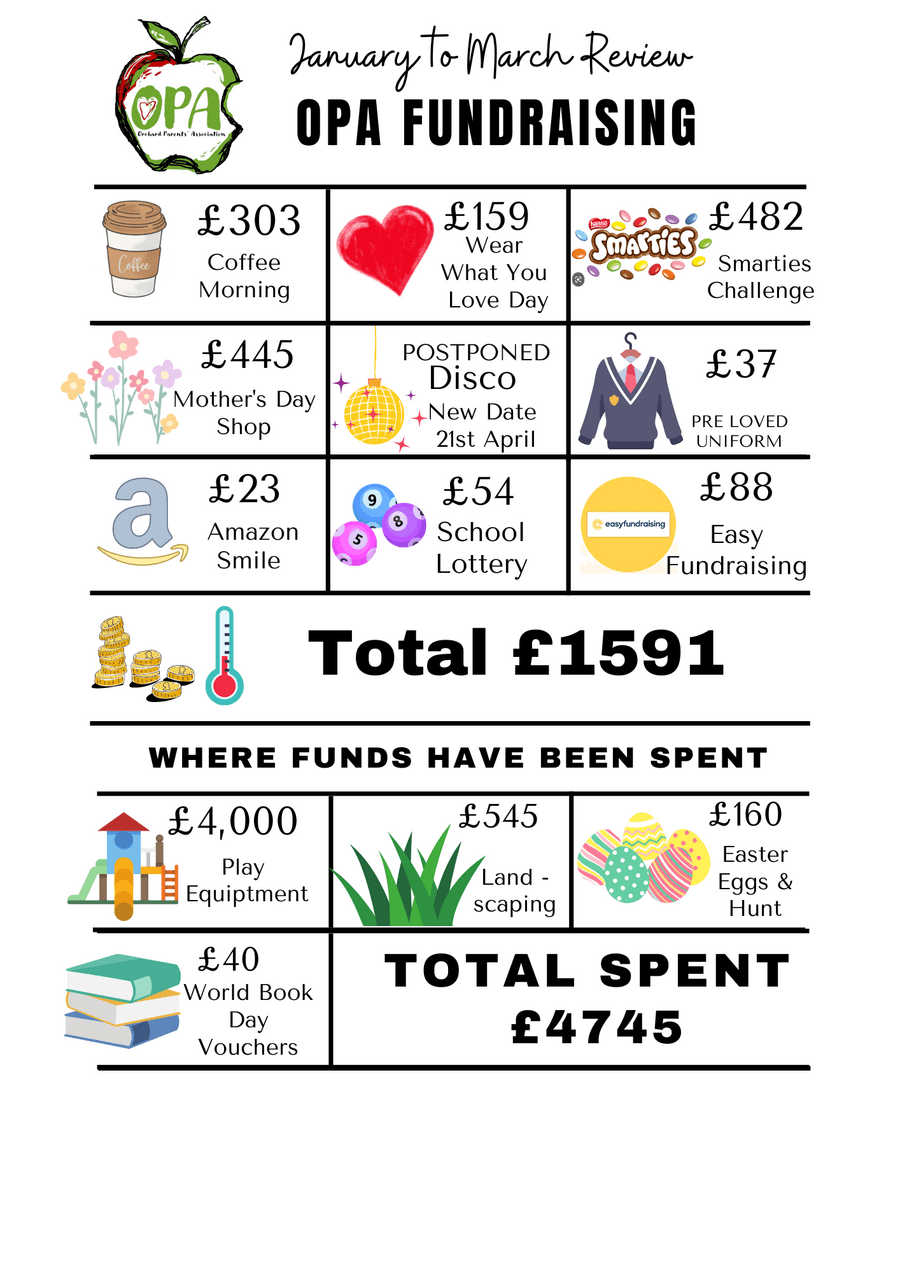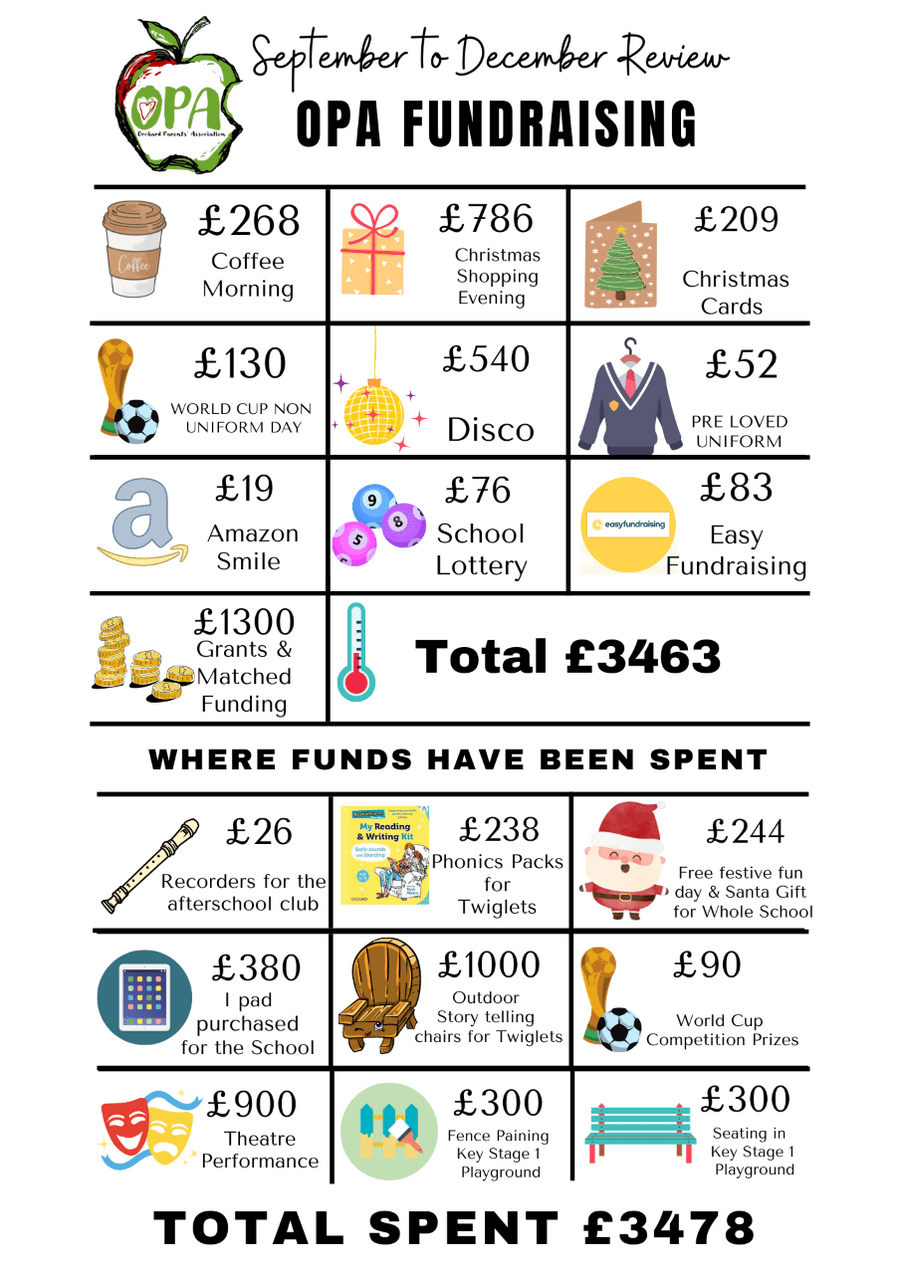 Introducing the new OPA Committee and event dates for your diary
We have a new committee for the Orchard Parents Association (OPA). So we thought we'd share a bit about the OPA and let you know what we have planned for this term.
Did you know…
That the OPA is a registered charity (number:1072685)? This means not only do we run the OPA to professional standards, but we can also apply for grants from charitable trusts and matched funding schemes as well as donations through Payroll Giving.
All of our committee members will soon be listed on the school's website where you can also find out more about us.
Dan Meachen - Chair
Keri Watkins Fearson - Treasurer
Charlotte Walters - Secretary
Suzanne Lenton Hildreth - Vice Chair
Tracy Henderson - Committee Member
Laura Meachen - Committee Member
Rachel Grant - Committee Member
Nicole Hill- Committee Member
Rachael Maglione - Committee Member
What does the OPA charity do for the school?
As well as fun activities for the children, the OPA Charity supports the school by helping to fill the gaps in the LEA funding. We recently funded the purchase of the Read Write Inc phonics packs for the Twiglets. We also pay for various things like the ongoing makeover of the Year 1 and 2 playground, Theatre Production Company visits and the school book bags for all new starters. Plus, many more.
Upcoming activities and events for your diary
10.03.23 -

After school disco

16.03.23 - Mother's Day Gift Sale

17.03.23 - M&M Theatre production in school

31.03.23 - Easter egg hunt

21.04.23 - Rescheduled school disco
The OPA charity plays a vital part in ensuring our school lives up to its 'Small School with a Big Heart' ethos. We hope you can be a part of it too. More details on how you can support the OPA will be shared on ParentMail soon.
Get in touch by emailing us at opa@orchardcofe.leics.sch.uk
Meet the Orchard Parents Association Committee
Dan Meachen
Chair
I am a proud father to two girls who attend Orchard. I also work full time as a Commercial Manager for an Energy Supplier. After becoming involved in the OPA last year as a volunteer, I saw first-hand how much the school benefits from having a strong Parent Association. I have coordinated a number of charity activities through my work and wanted to volunteer my experience and time to OPA and was happy to accept the role of Chair for this academic year.
Keri Watkins Frearson
Treasurer
I'm a mum of a 6 and 3-year-old, plus I work full time in marketing for a bank. I wanted to join the OPA after seeing how much my daughter loved all the events and activities the OPA was responsible for. The school would lose a huge asset if there wasn't an OPA charity, so I wanted to volunteer my time and continue supporting the school.
Suzanne Lenton-Hildreth
Vice Chair
This is my second year as vice chair of the OPA. I have one son who is currently in Year 2 at Orchard. Since he started in Twiglets, I've taken a keen and active interest in supporting the school through the OPA and it's many fundraising events. I work in a safeguarding role which keeps me very busy, but I love taking time out to plan and get creative for upcoming events. It's hard work but very rewarding when you see how the children and school benefit from the monies raised. We have a great committee and team work is definitely key in being able to put on all these events. Any help, no matter how big or small, is always welcomed and very much appreciated.
Charlotte Walters
Secretary
Having gone to Orchard Primary school myself many moons ago and now having my son there it's great to have the opportunity to give back to the school and help the children that are there now by being a part of the OPA! I work in ecommerce and digital and have a project management background and I'm used to organising/planning and running meetings so becoming secretary is a good fit! I love all sport and currently coach and manage my sons football team which is quite time consuming but great fun! I'm a what you see is what you get kind of person and always take people at face value!
Tracy Henderson
Committee Member
I have 3 children that attend Orchard and I have previously been involved as a volunteer for the OPA at a number of events. This year I have become a committee member, you will most likely see me selling and promoting the pre-loved uniform.
Laura Meachen
Committee Member
Hello I'm Laura, I have two girls at the school and have been involved in the OPA for the past 2 years. I first got involved in the committee when I was diagnosed with breast cancer as a way of keeping myself busy throughout treatment. I have a background in Fashion Design. I have made some lovely friends and love seeing my creative ideas come to life through the events we run. I also love getting the opportunity to meet and talk with all of your wonderful children during the events.
Fundraising Links
School Lottery
We really need your support in joining this lottery, the more that enter, the more the prize fund increases.
All you need to do is register your details and Your School Lottery do everything else. Weekly payments are taken on line by direct debit.
40% of the sales are donated back to The OPA, and there are cash prizes to win.from each draw.
It's a simple way to raise funds for The OPA to help us get to our target, this year, to raise funds for the Early Years Play area.
The OPA are registered with the following fundraising sites:
Stikins
Stikins is a label company that provide a multi-use label ideal for labelling clothes, bags and lunchboxes but also has many other uses too. They also offer labels that would be useful to use in school. The offer 15% commission on all labels purchased providing the unique school reference 14942 is used and then this can be increased to 30% commission by using the link below:
Available to everyone. Many parents label the children's clothing and items to prevent them being lost. Labels can be purchased in various multiples and are delivered predominately next day and postage is included in the shown price. Stikins can be ordered by post or online, payable by cheque, debit or PayPal. Items are delivered direct to purchaser's home address.
Make sure you click the link on our website to ensure we receive 30% commission.
Easyfundraising
Easyfundraising is a platform to shop and book. From retailers to insurance to holidays. The companies then offer varying percentages based on the purchases made that go directly to the OPA. Within 14-90 days of purchases. As long as the shoppers use the easyfundraising app or online platform to then complete the purchase donations will be made to the cause. Orchard Primary school is registered as a cause and parents, family and friends can make purchases which in turn lead to donations.
Parents, family and friends can all register and then shop or book holidays through the app or online site.The more people that know about it the more donations we will receive. Retailers such and Next, John Lewis and M&S, insurance companies and Holiday providers. Sky TV, BT phone line and mobile phone contracts too. These all donate a percentage on any purchases. (see individual terms and conditions) .
Follow the link below to register