School Clubs
Throughout the school year pupils at our school are given the opportunity to participate in various afterschool clubs. The majority of these are run by members of staff and volunteers at no cost to the children. Some of the sporting, afterschool clubs are run by qualified sports coaches and do require a termly payment.
Clubs generally run Monday to Friday from 3.15 pm to 4.00 pm unless otherwise stated.
All afterschool clubs run by the school are now charged at £1 a session. Payment to be made in advance for the whole term.
Please click on the links below to see the range of activities on offer during the various school terms.
What's been happening in clubs.....
Gardening Club Summer Term
We are still gardening during lockdown.
More home grown plants have been added to give colour and increase wildlife into our environment.
Also plants added during Gardening Club which are making good progress.
Gardening Club 18th March
It might be the last week of the club however we still have seeds to sow. More beans and we were given some sunflower ones to remember a former pupil. After germination these will be planted within our Peace Garden.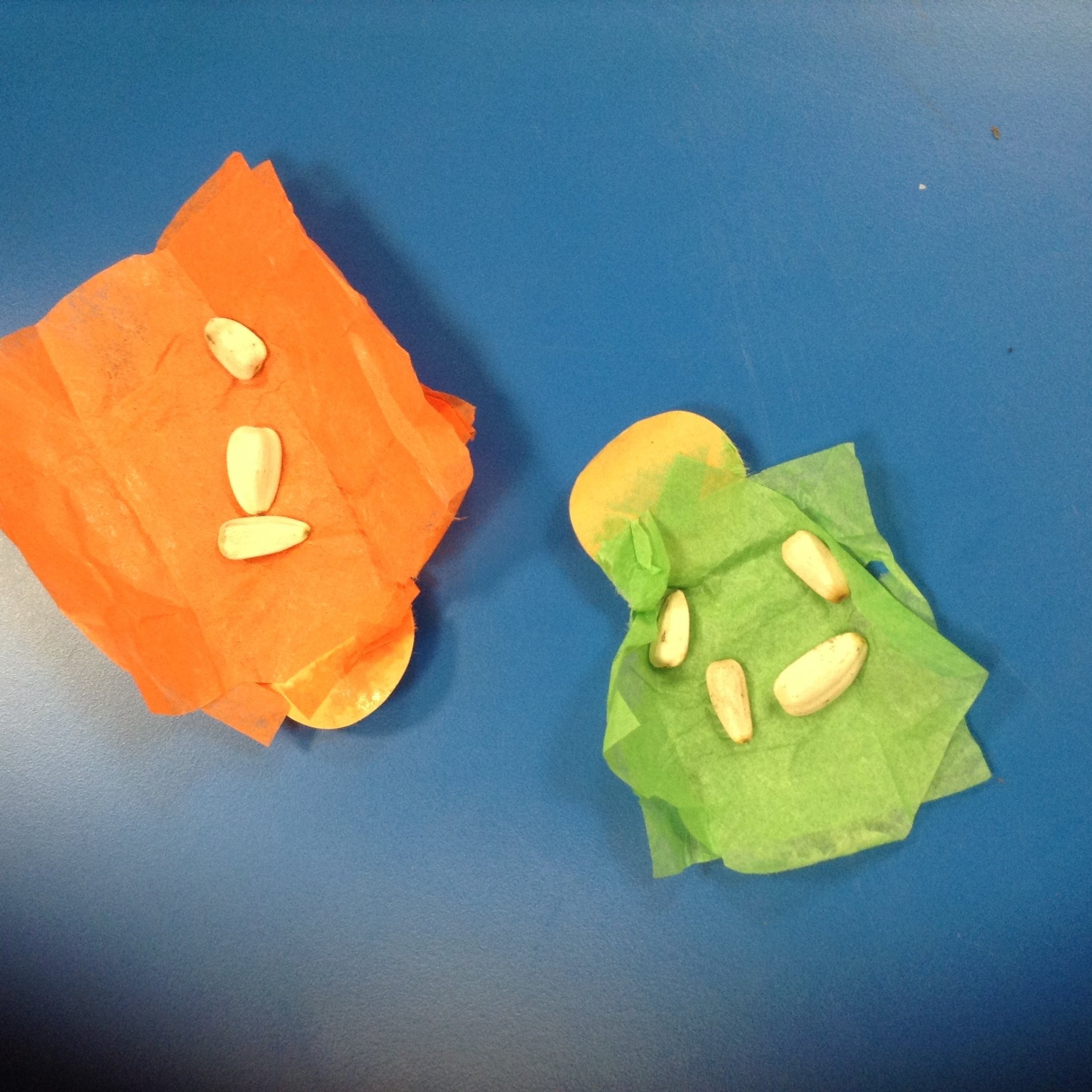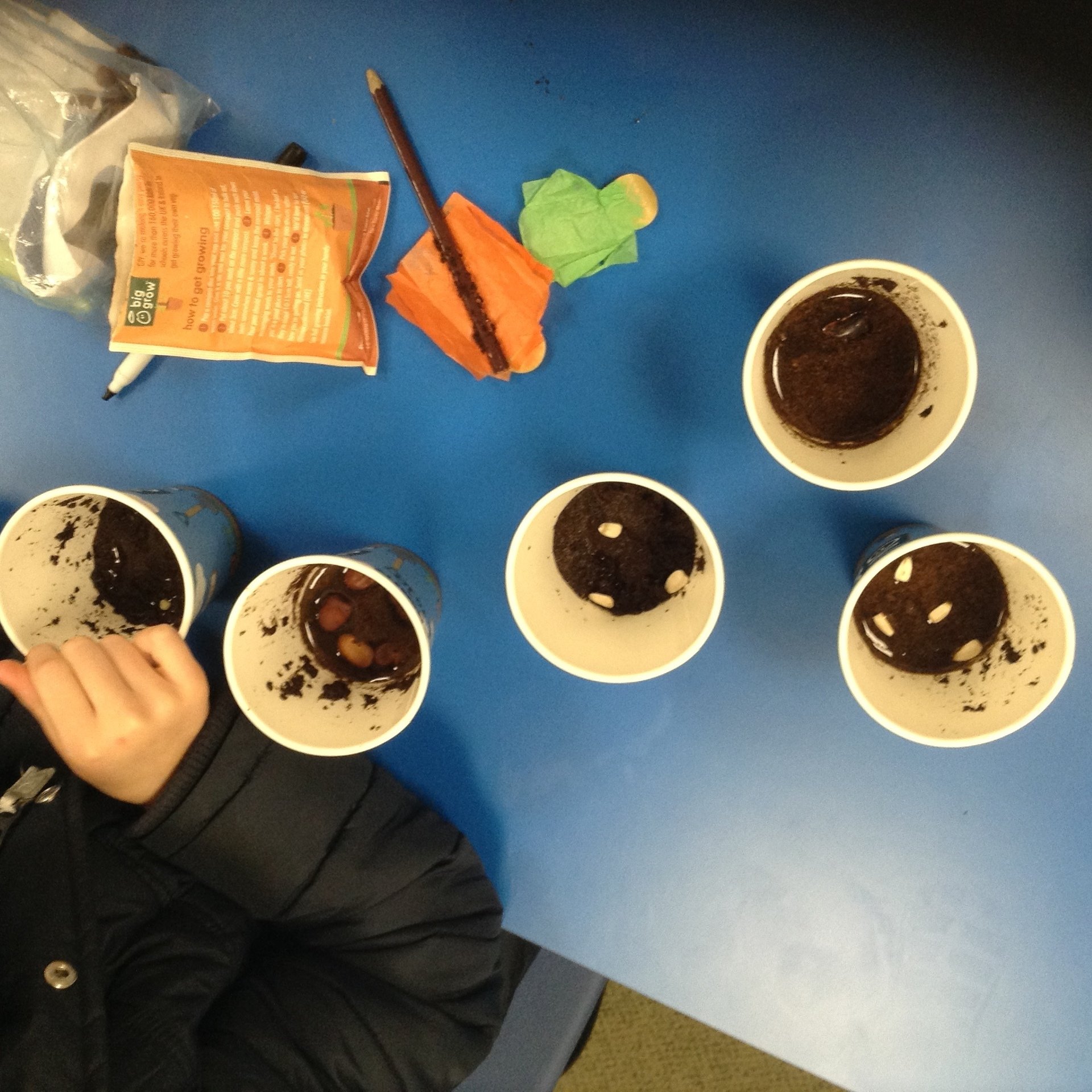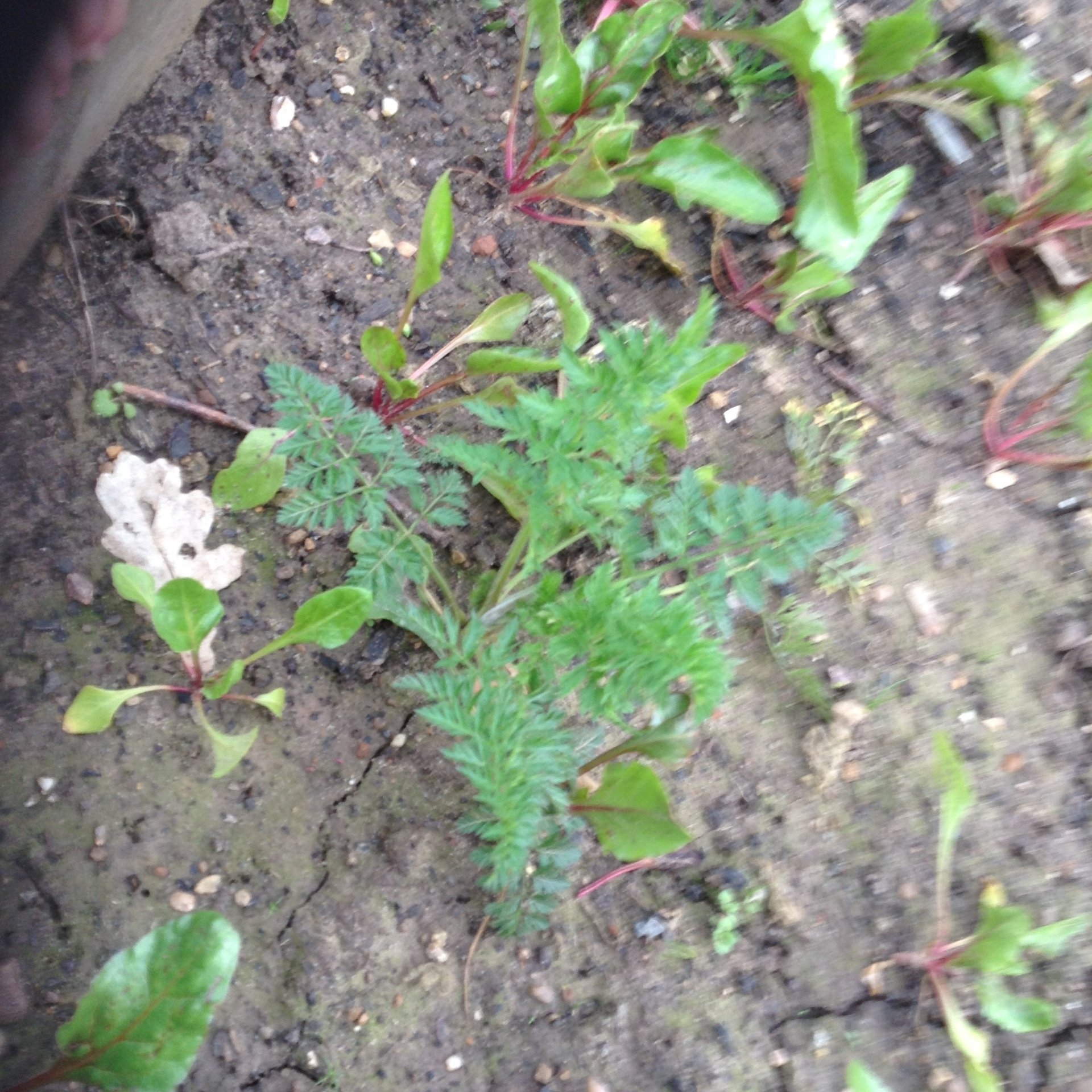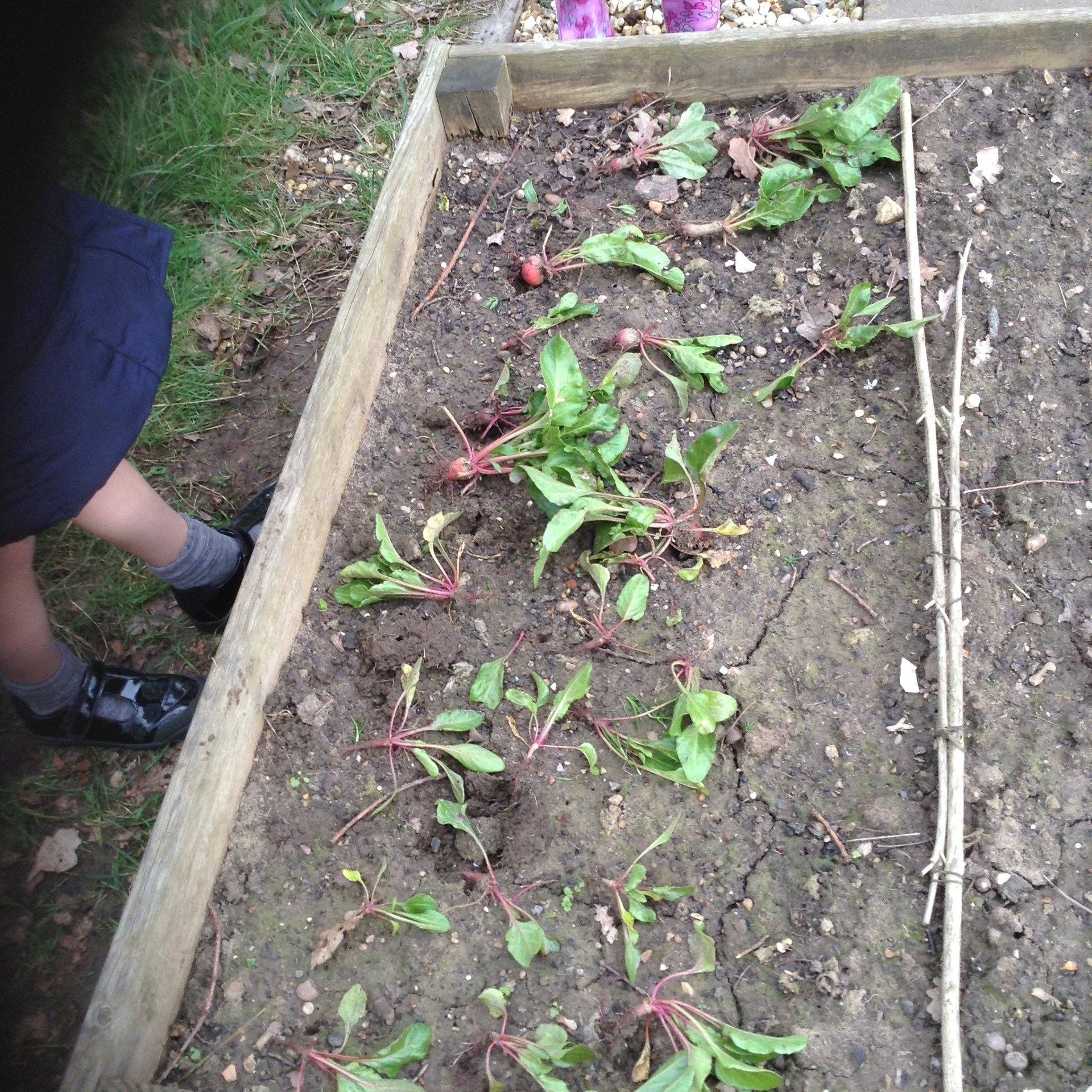 Our small crop of beetroot from the winter season was pulled up along with a couple of carrots. As you can see they all vary in size.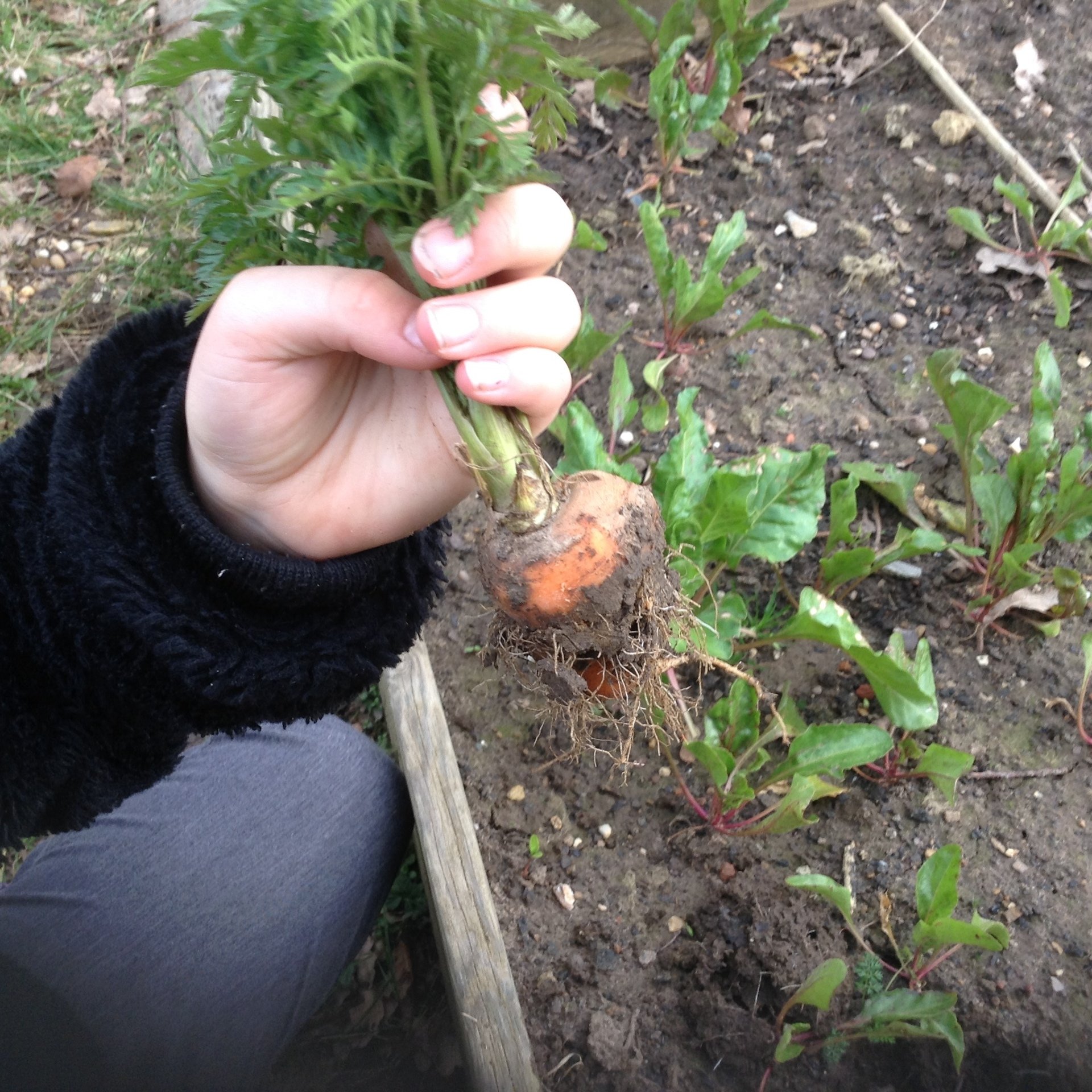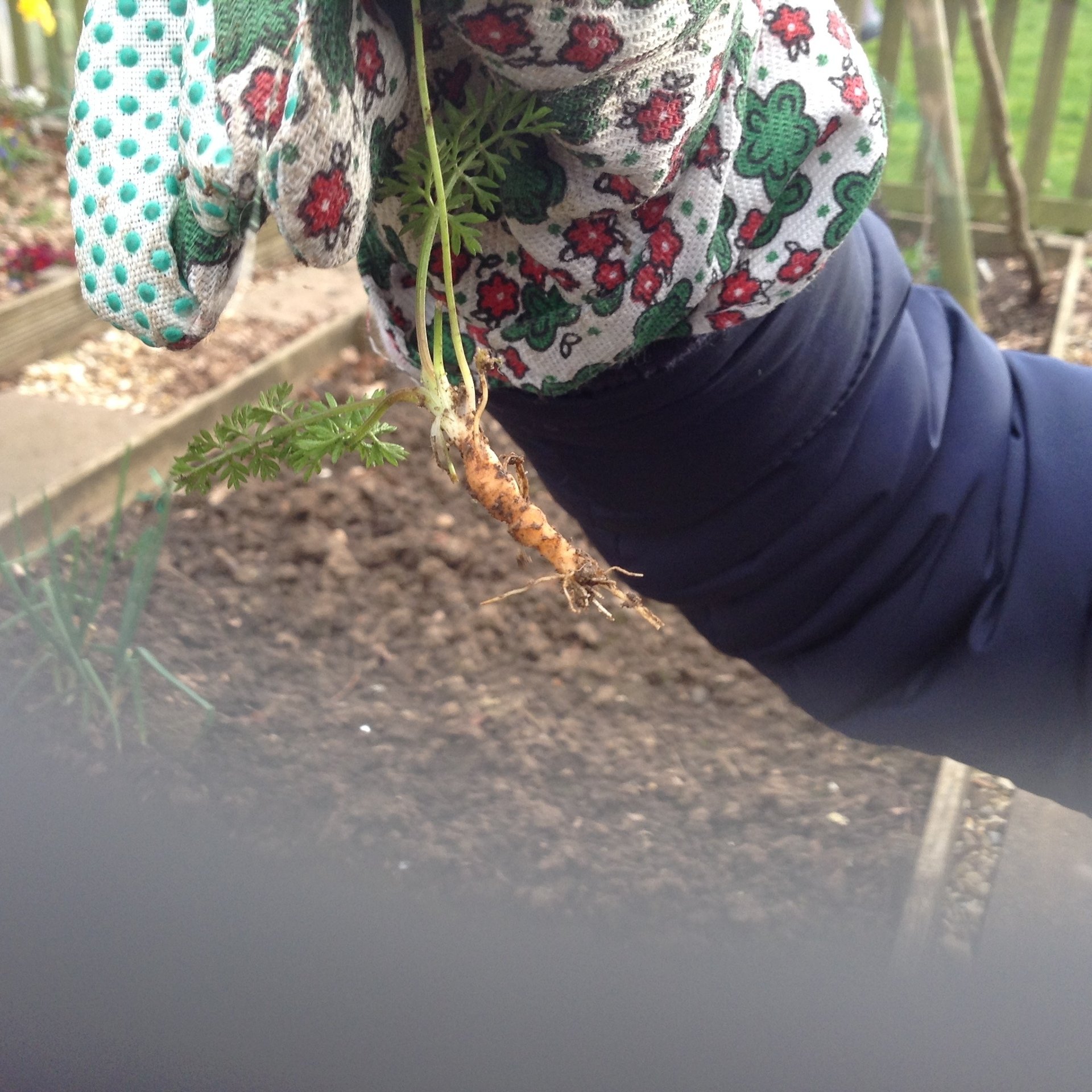 We checked out what's been happening to the leaves we placed under a sheet of plastic at the end of one of the beds.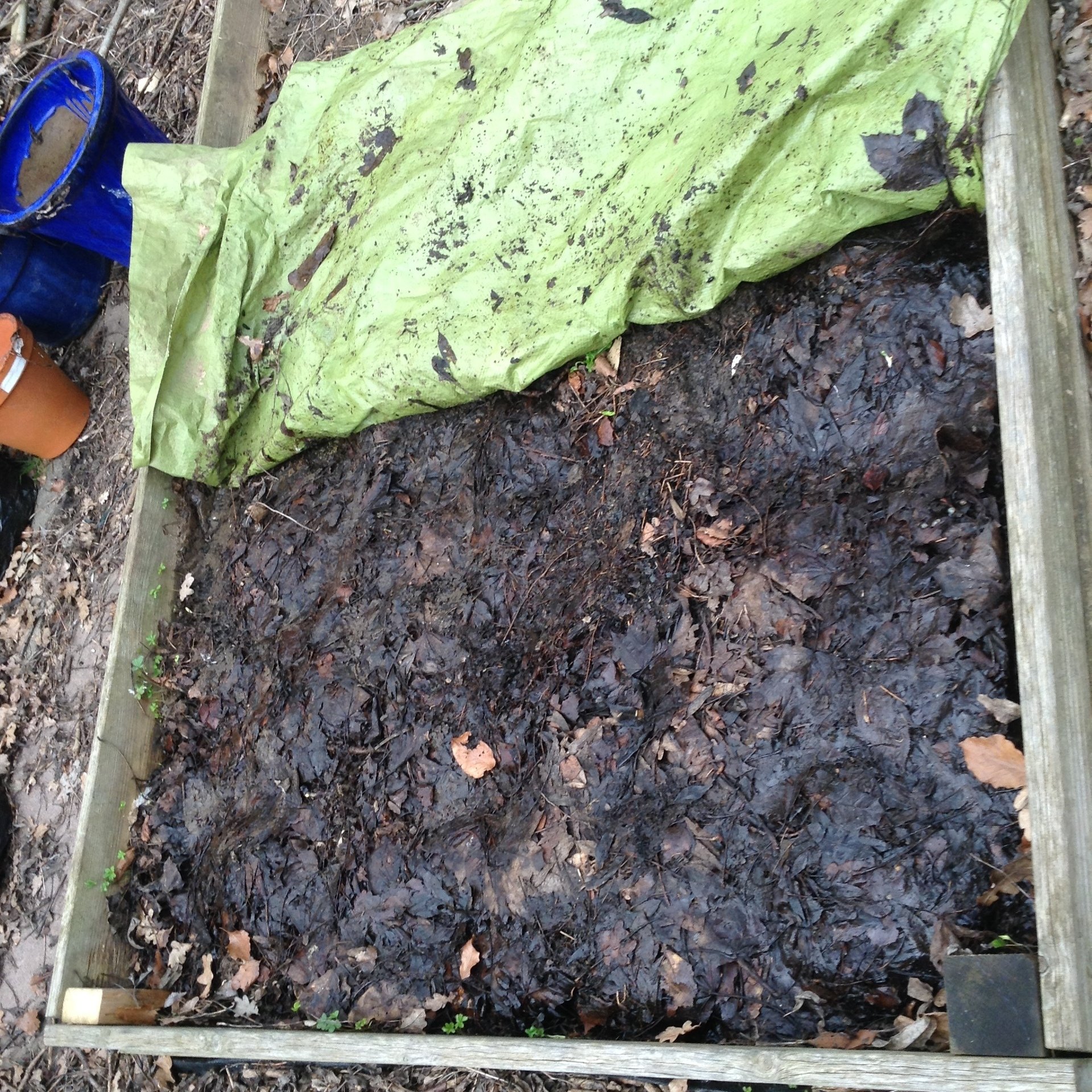 They are decaying and more will be added to try and increase the richness of the soil.
Finally we took a look at the Spring flowers coming to life in our flower bed.
Gardening Club 10th March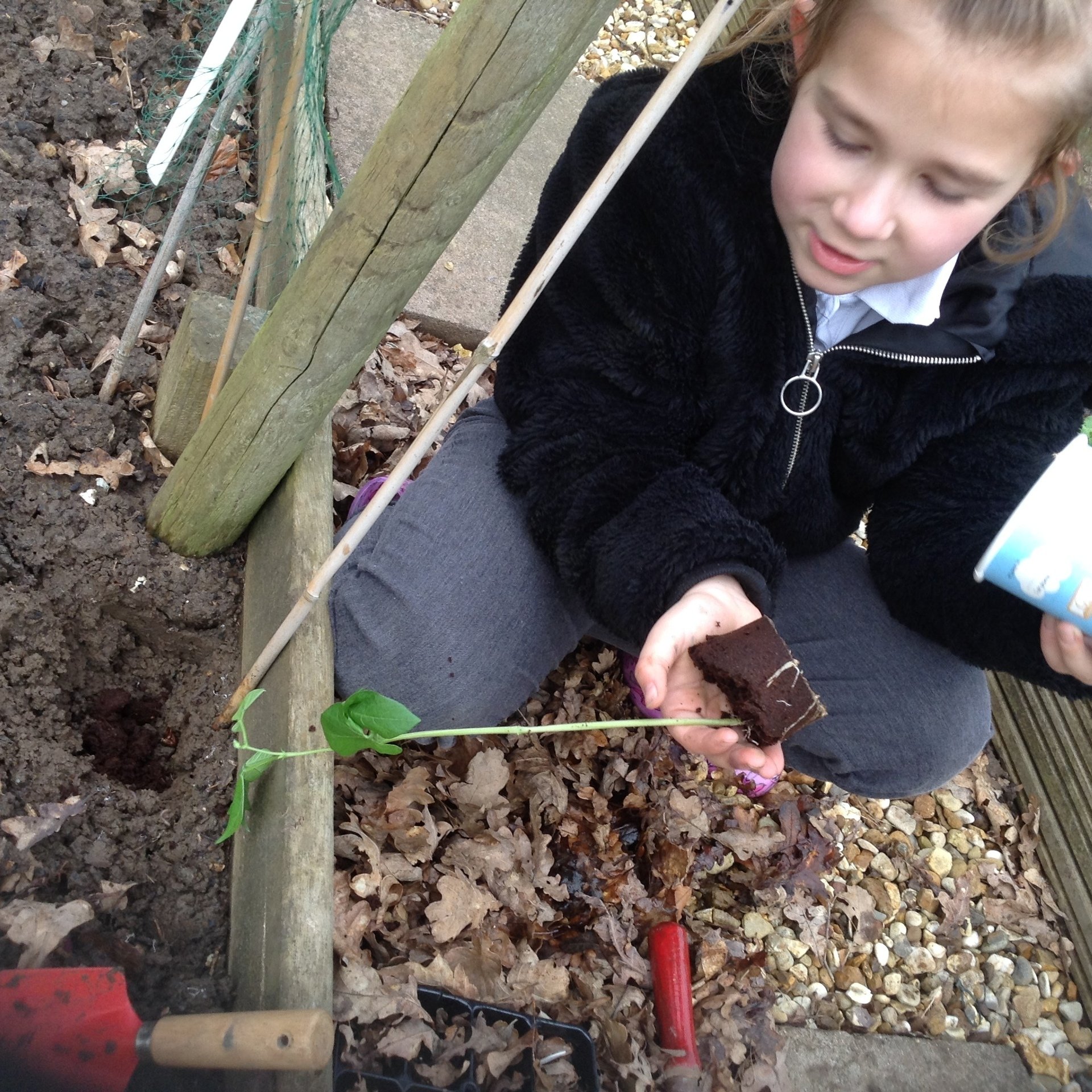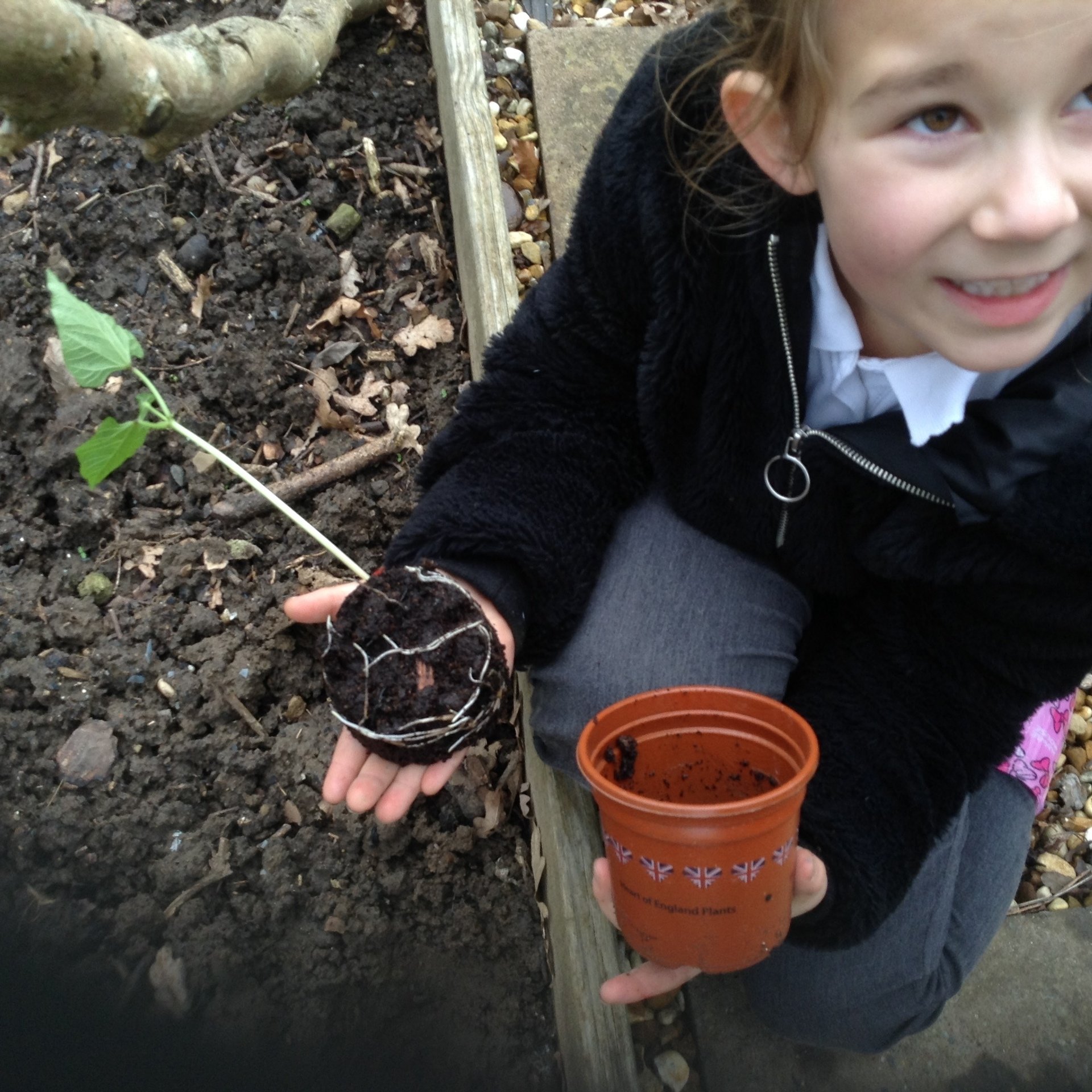 First successful plants from germinated seeds to be put out on the plot.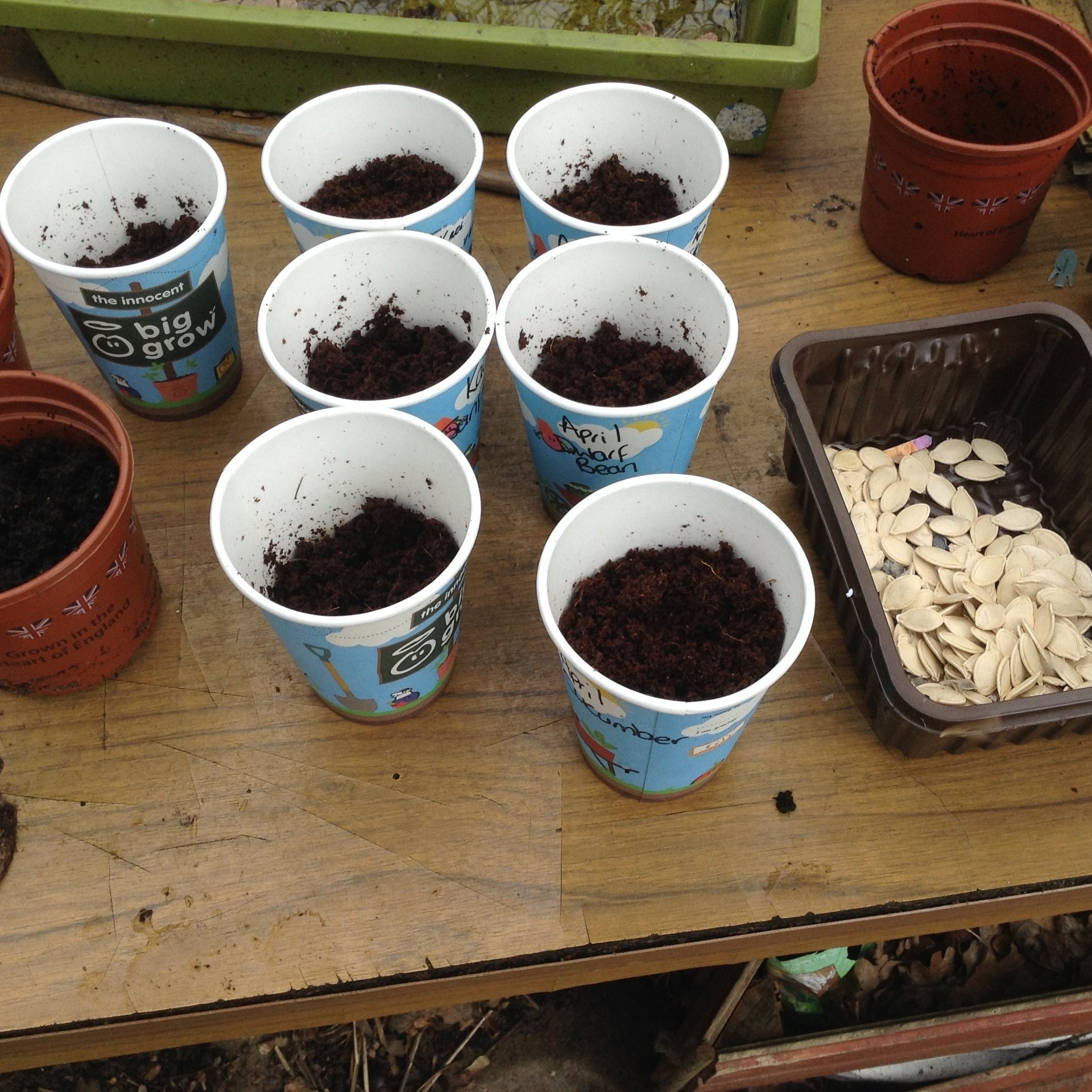 Pumpkin seeds planted, earlier than last year, but will this make a difference to the results.
We will have to wait and see.
Gardening Club 3rd March
First job to plant our chitted potatoes.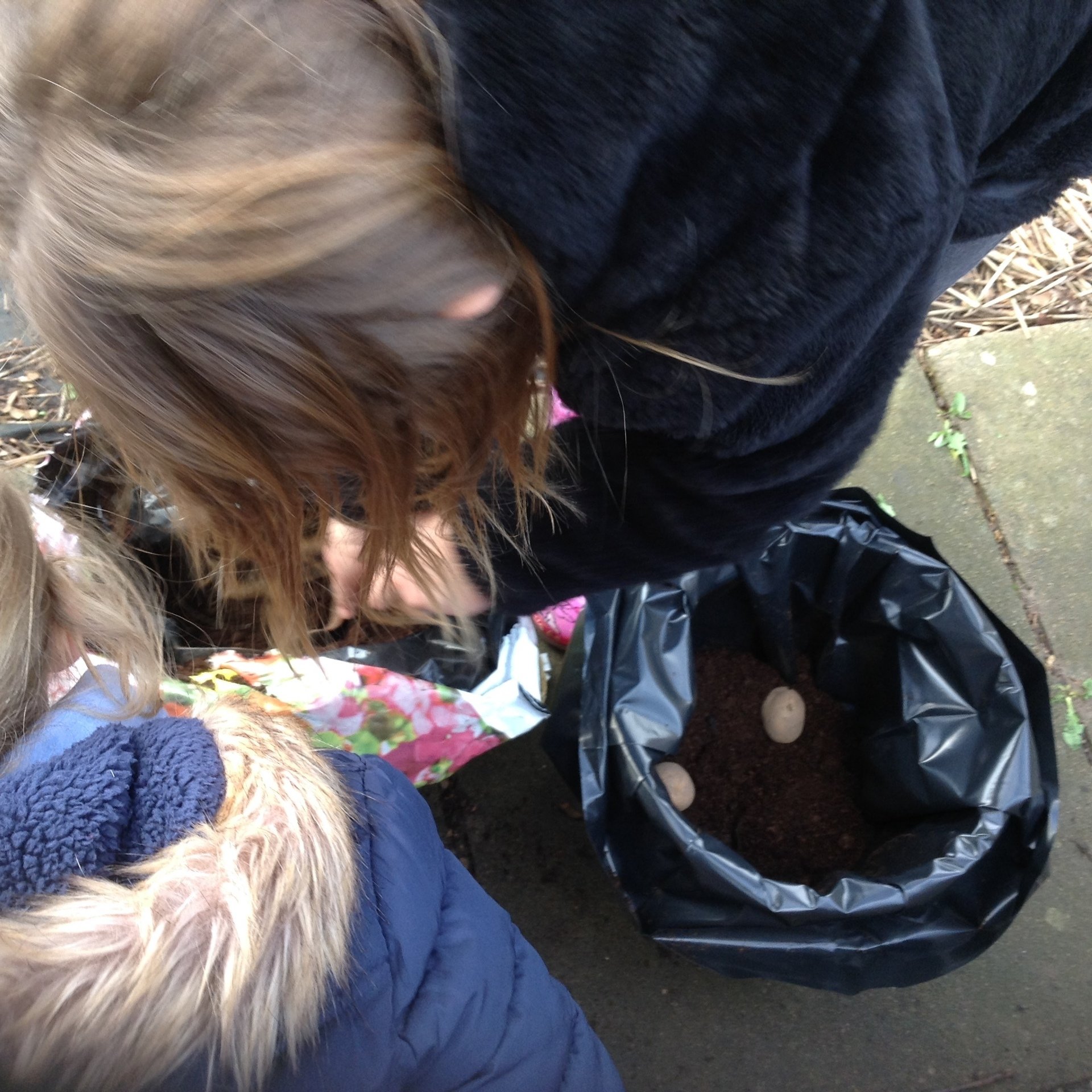 Can you find the poster around school that tells you what to do?
It also lists creatures that could be friend or foe!
We found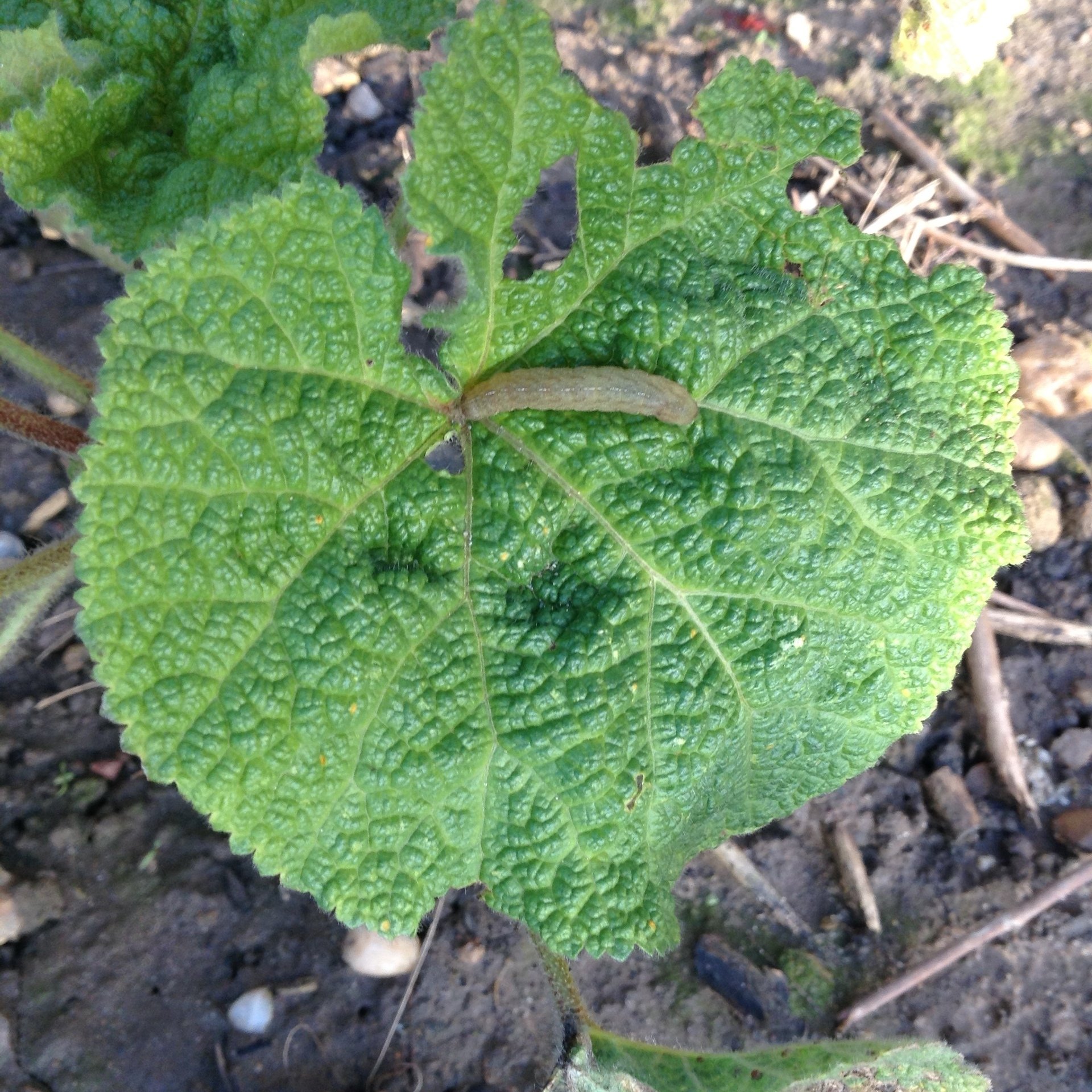 Which is it?
Then its time to sow tomato seeds. They need to be kept indoors on a sunny windowsill.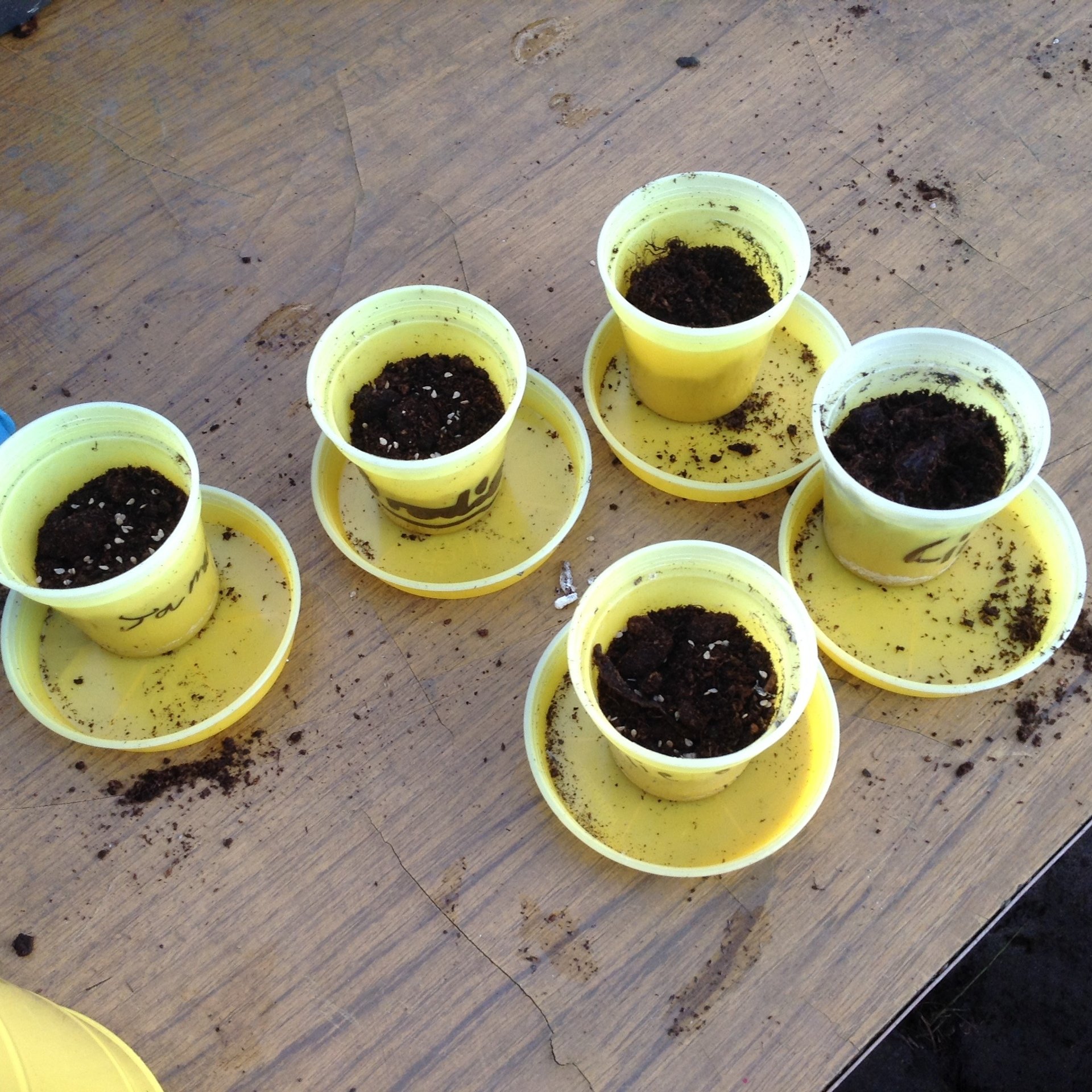 A wigwam of canes has been placed ready to plant out runner beans after the Easter holiday.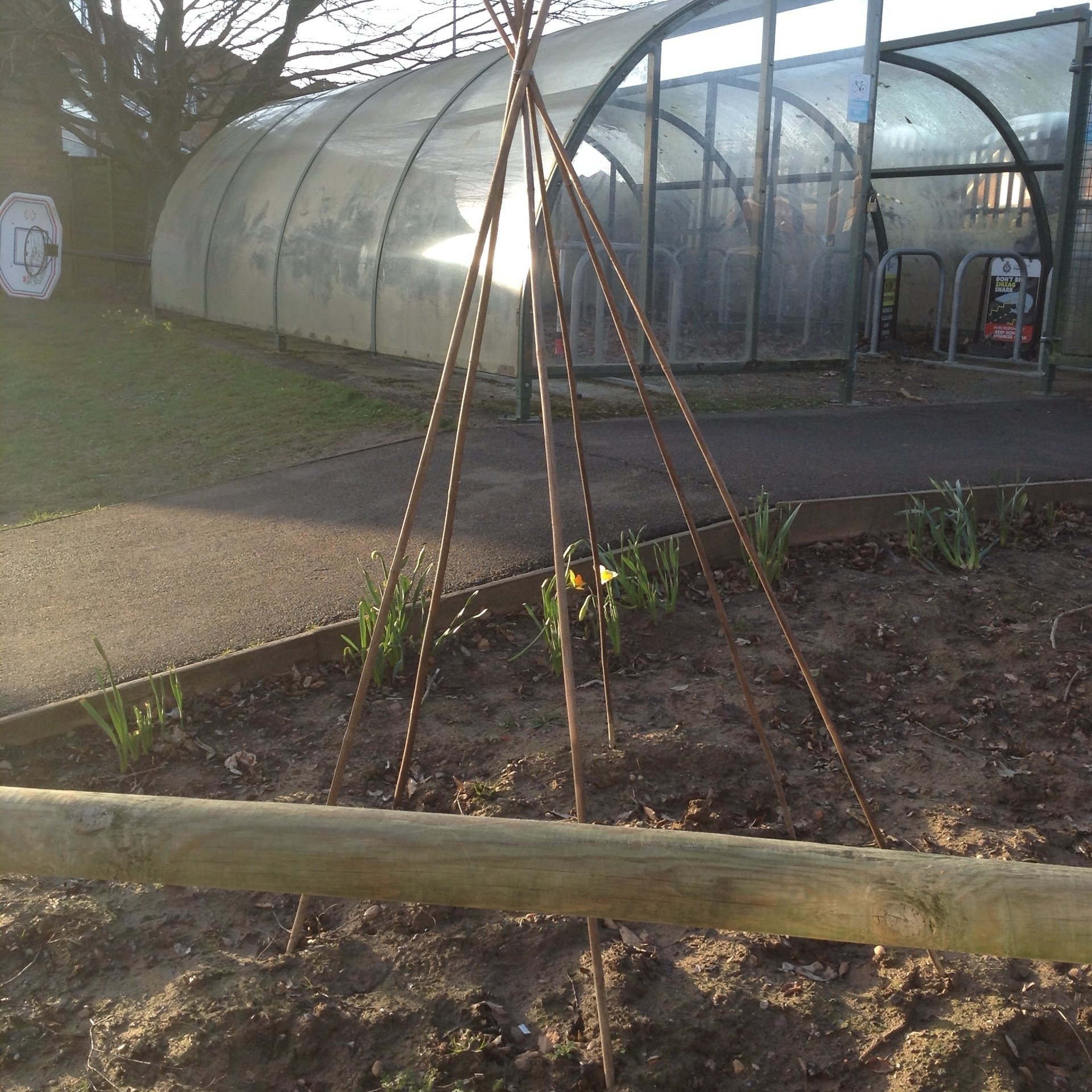 Gardening Club 25th February 2020
With lots of tidying up jobs to be done and digging the ground over so our soil is in perfect condition we actually forgot to take any photos this week apart from of our chitting potatoes!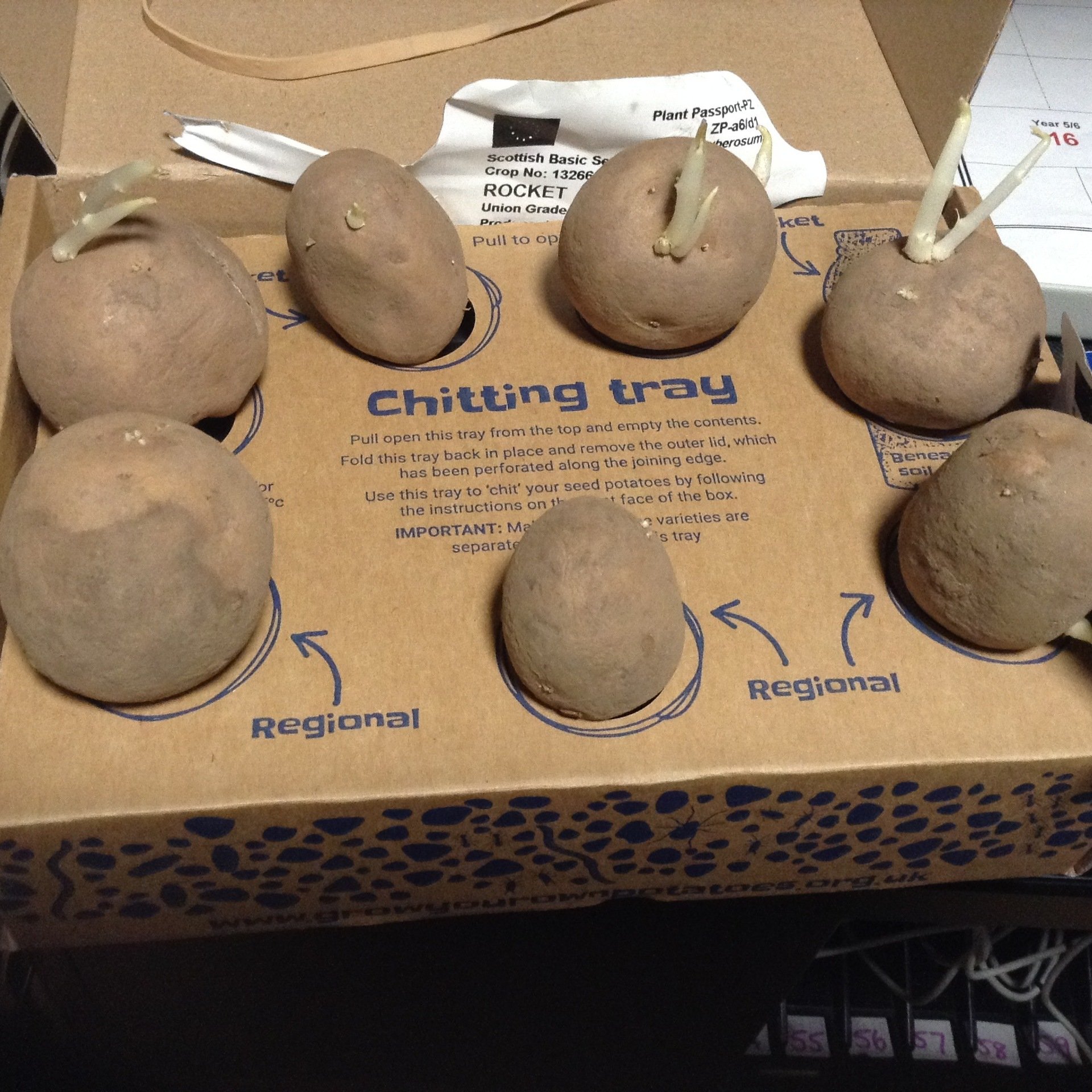 Gardening Club 11th February 2020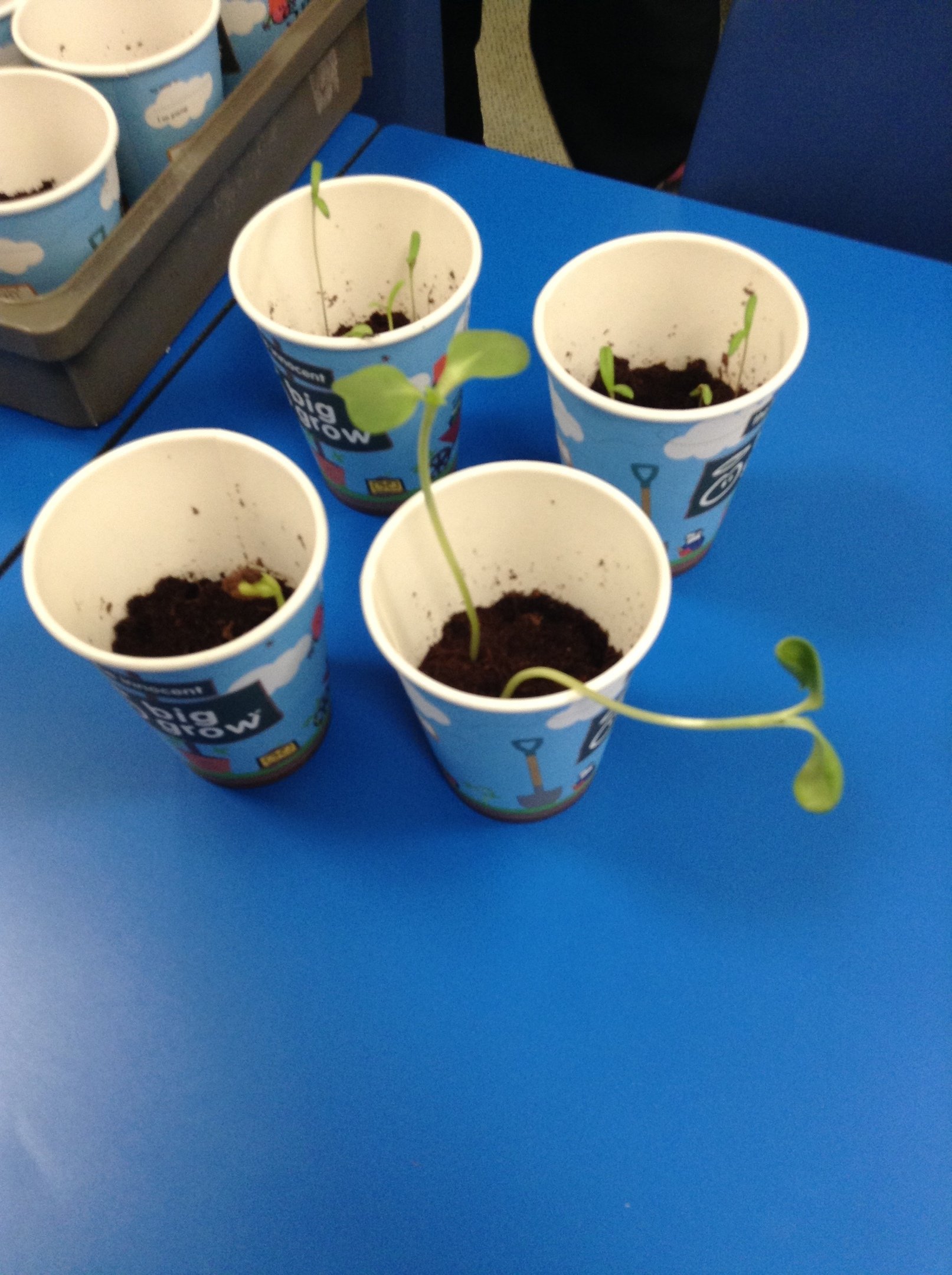 Just look how much the sun flowers have grown in a week! The other flowers are also doing well too.
We have also planted more french beans and some onions which have been brought inside into the studio to see if the warmth makes a difference to how quickly they start to sprout. Hopefully after the half term break we will see some results.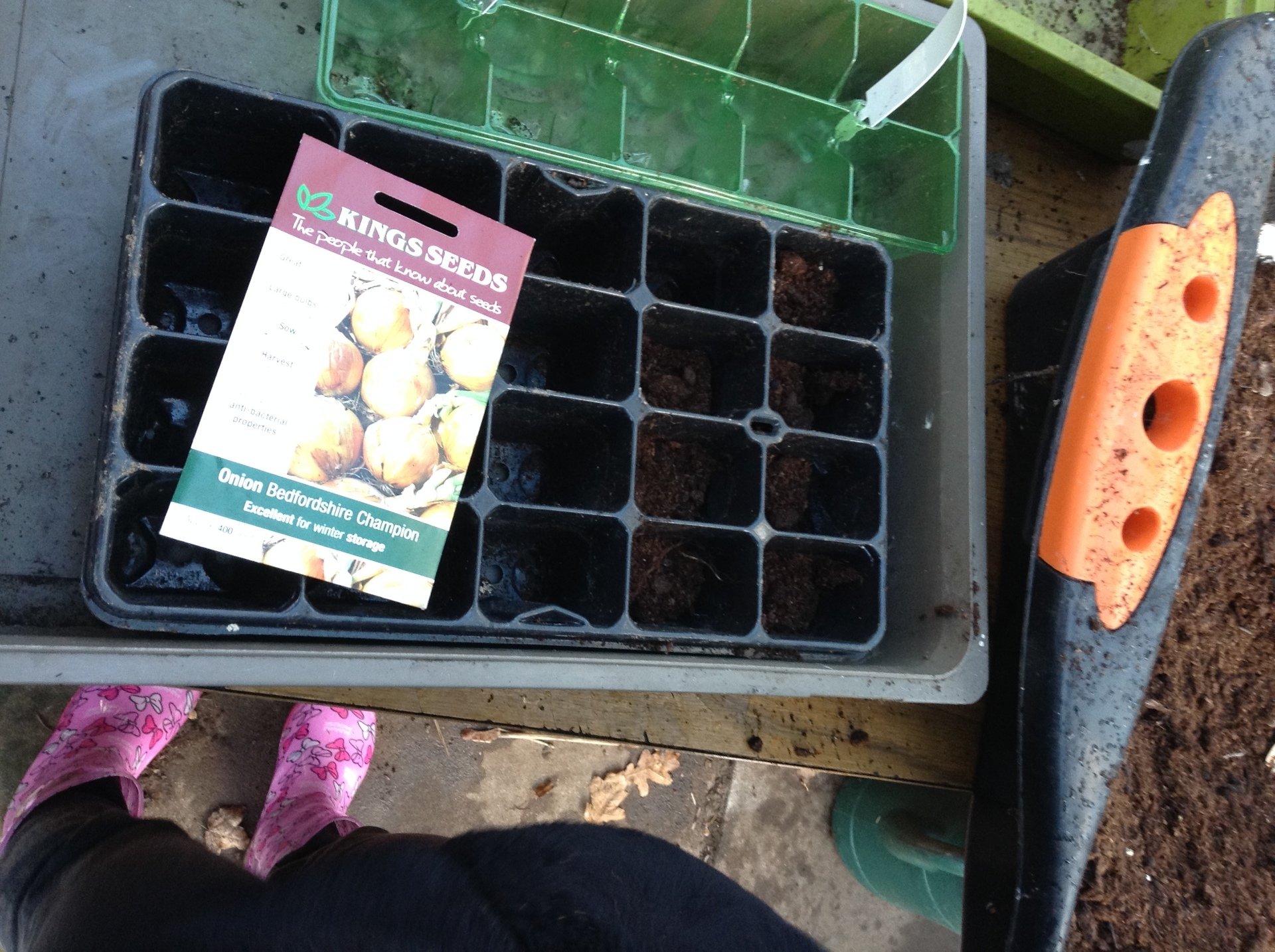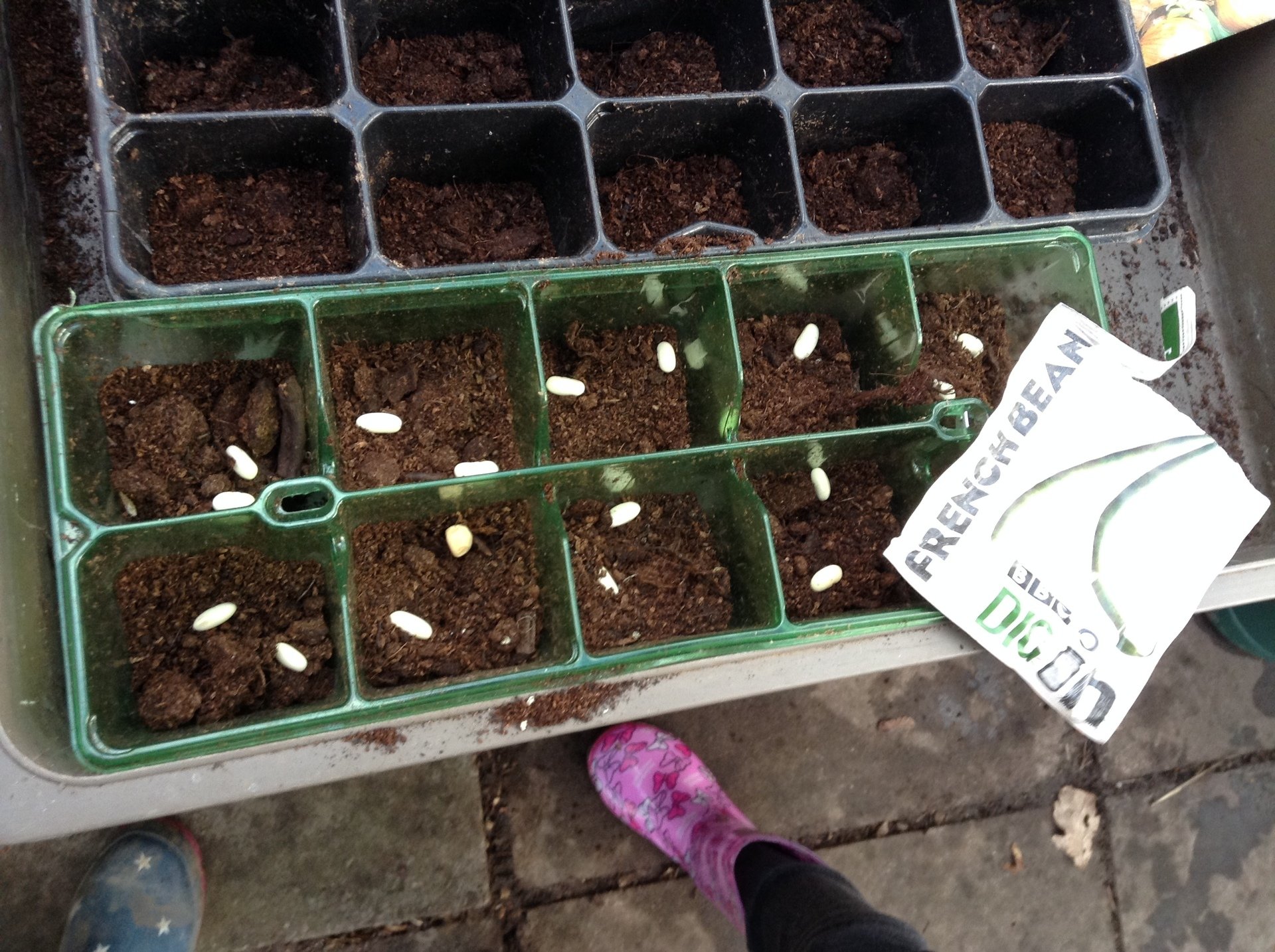 Gardening Club 4th February 2020
First job to check the pots planted last week and what a surprise we got!

We then tidied up the planters in the KS2 playground and added some more bulbs to the previously planted ones already in flower.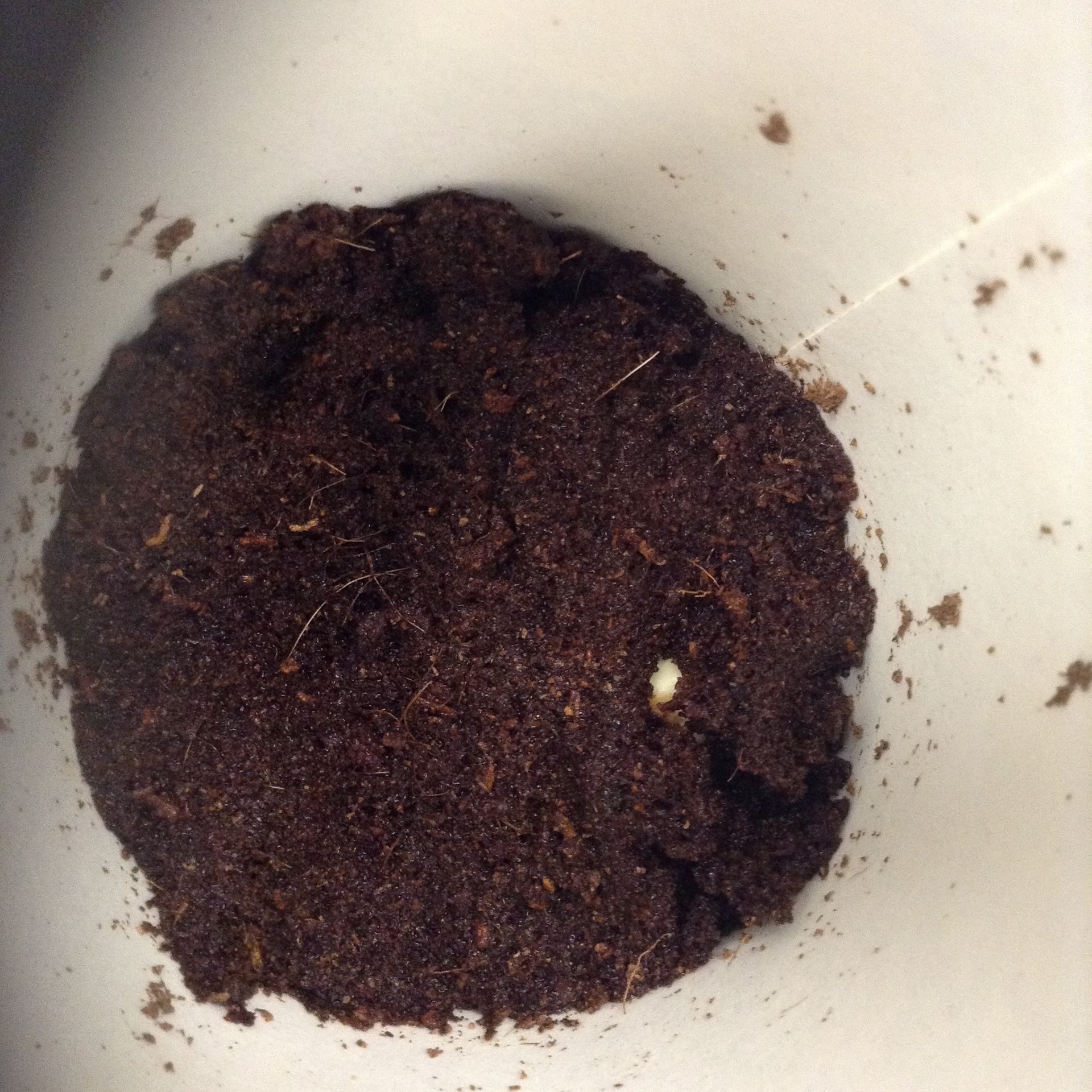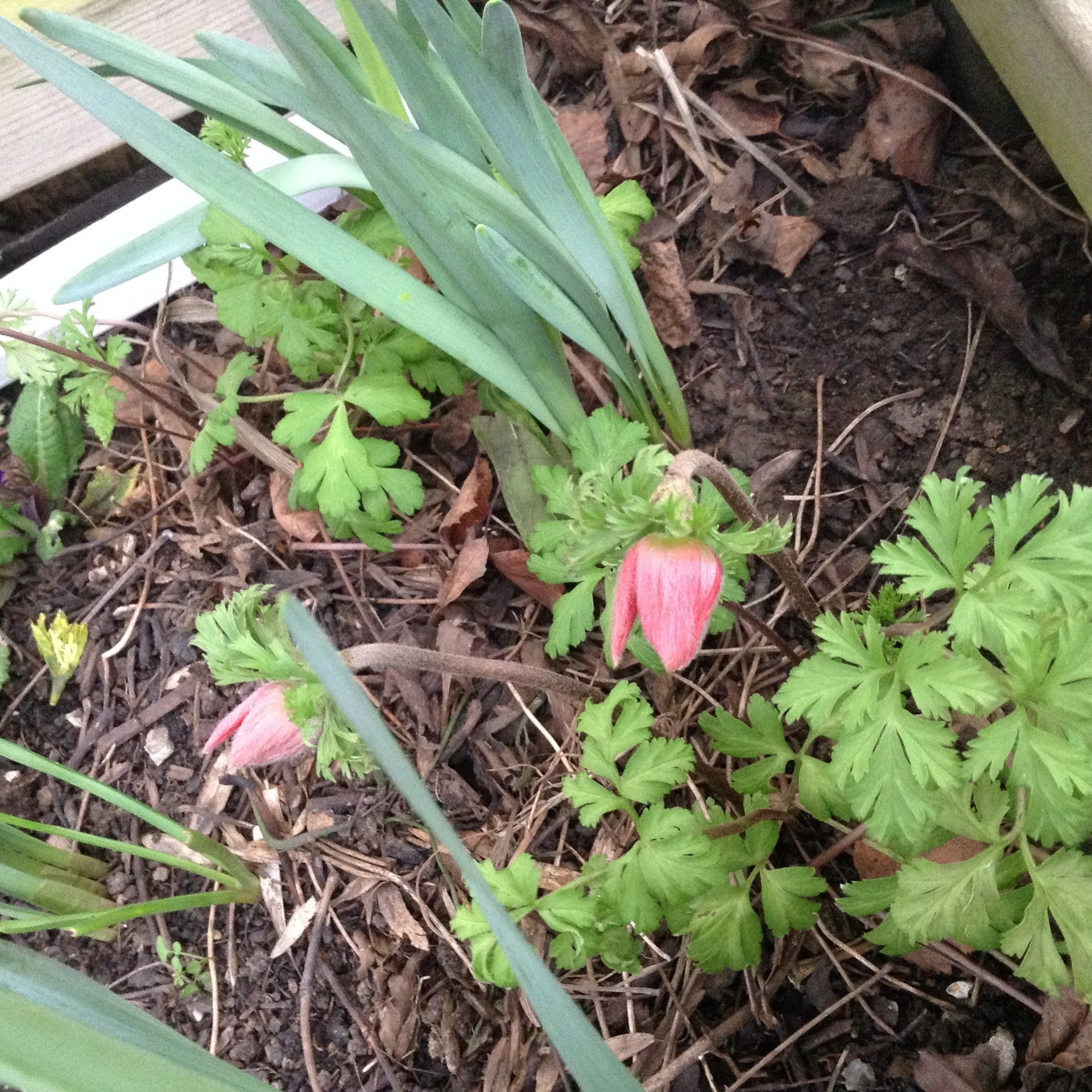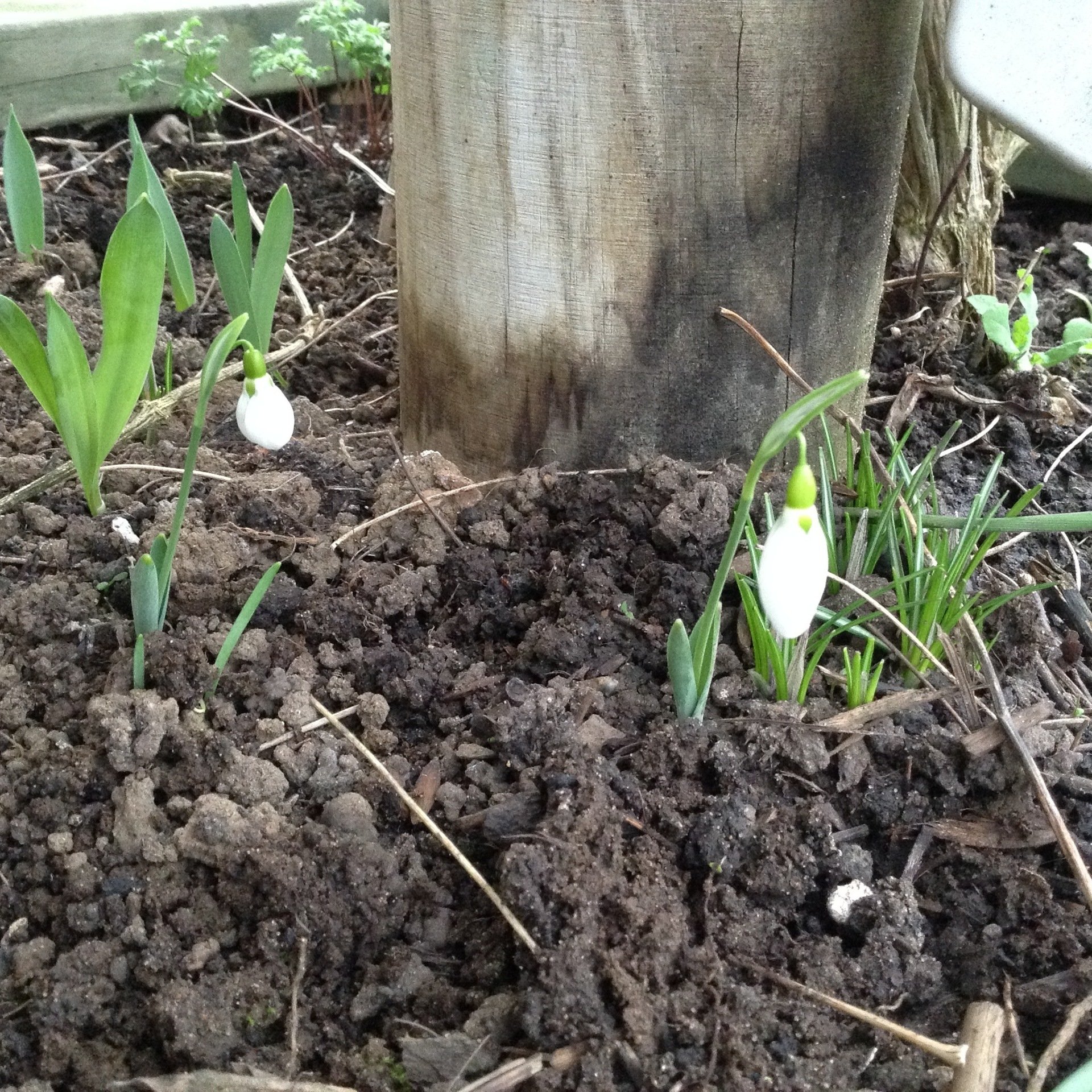 More seeds were also planted (french beans, peas and some different squashes) to put in the cold frame.
Gardening Club 28th January 2020
A new growing season!
First thing is to have a good look around the plot and establish which jobs need tackling.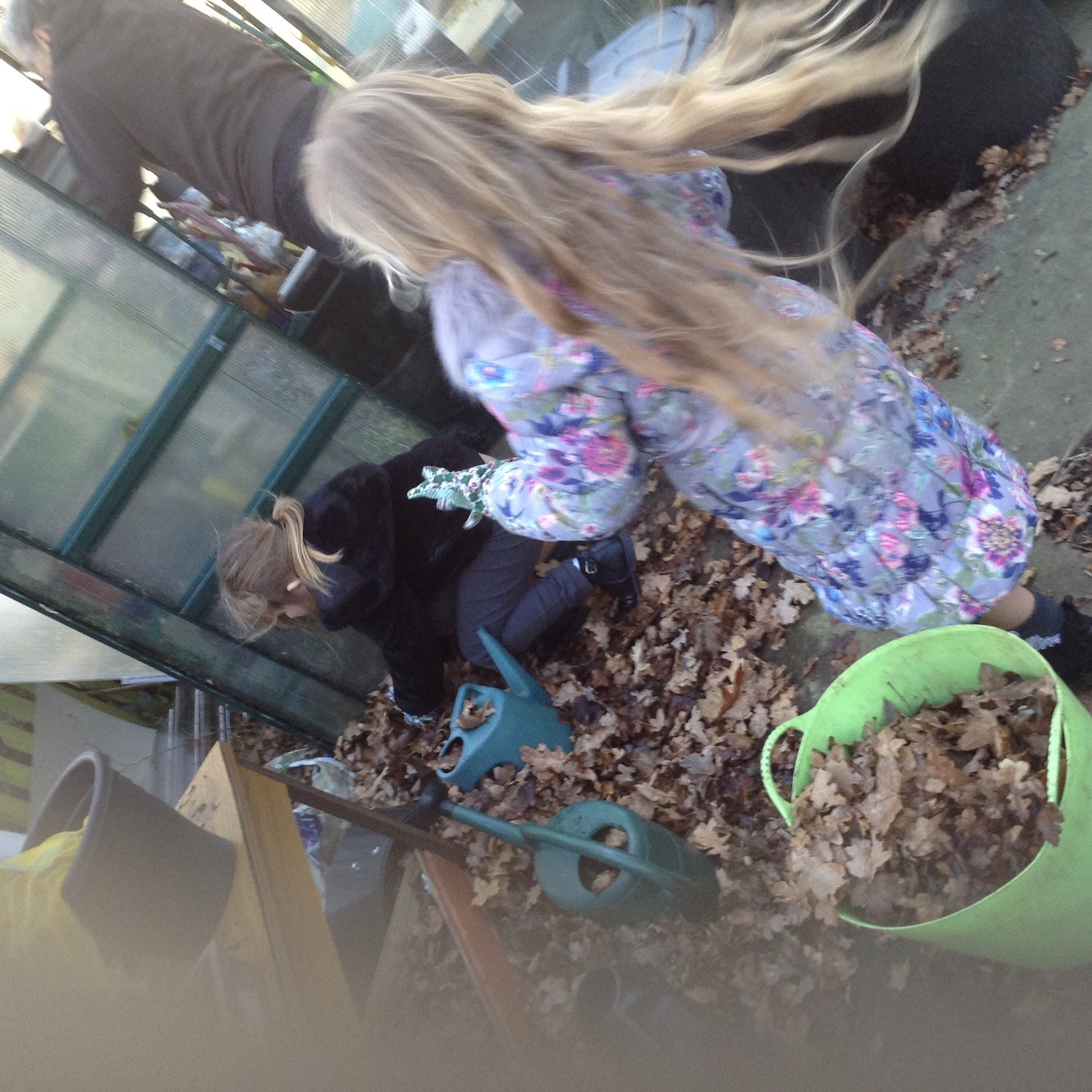 Leaf collection before we can get into the greenhouse.

Bulbs have been planted and the planter has been placed in the KS1 playground.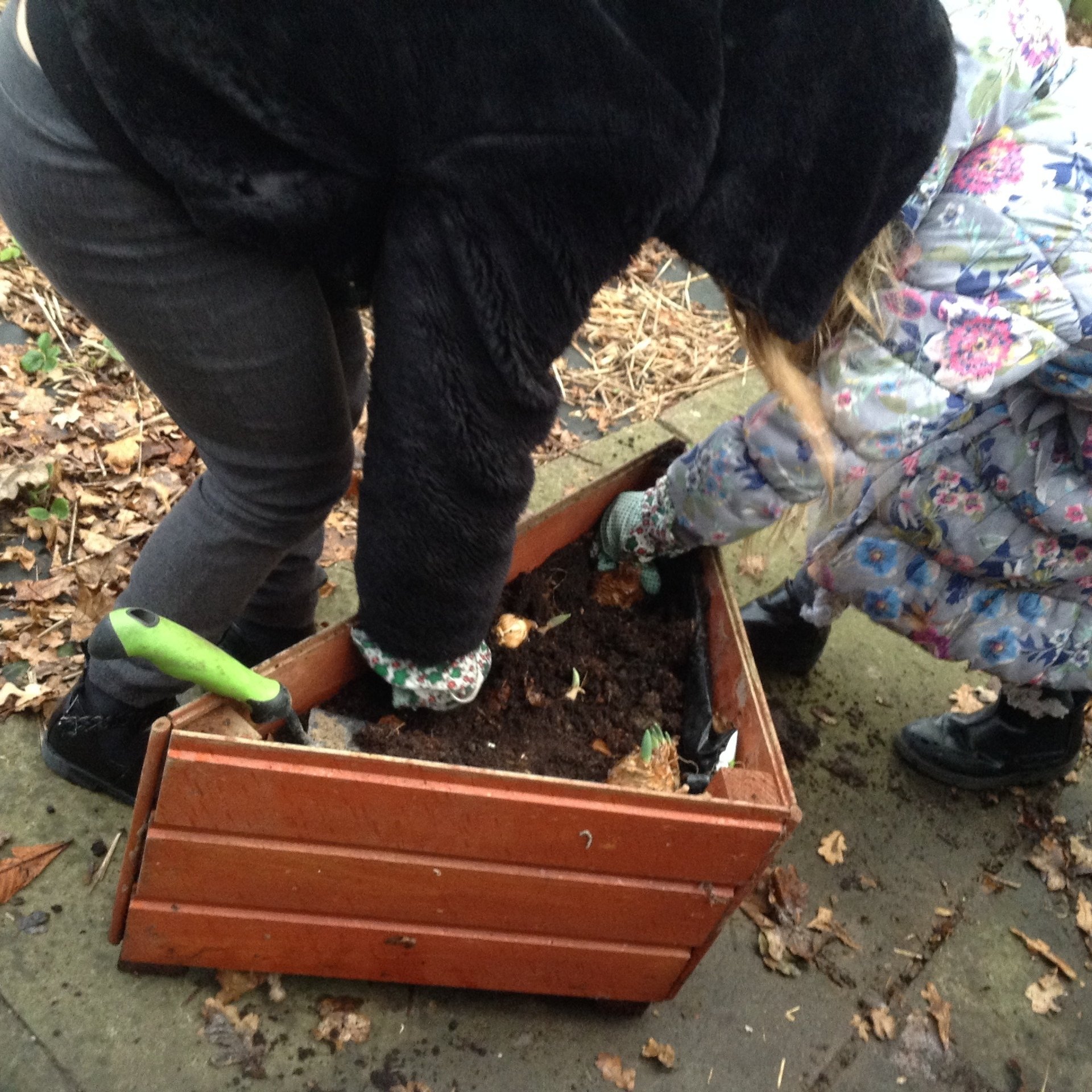 Keep a lookout for the Spring flowers.
More planting of flowers and vegetables to keep inside.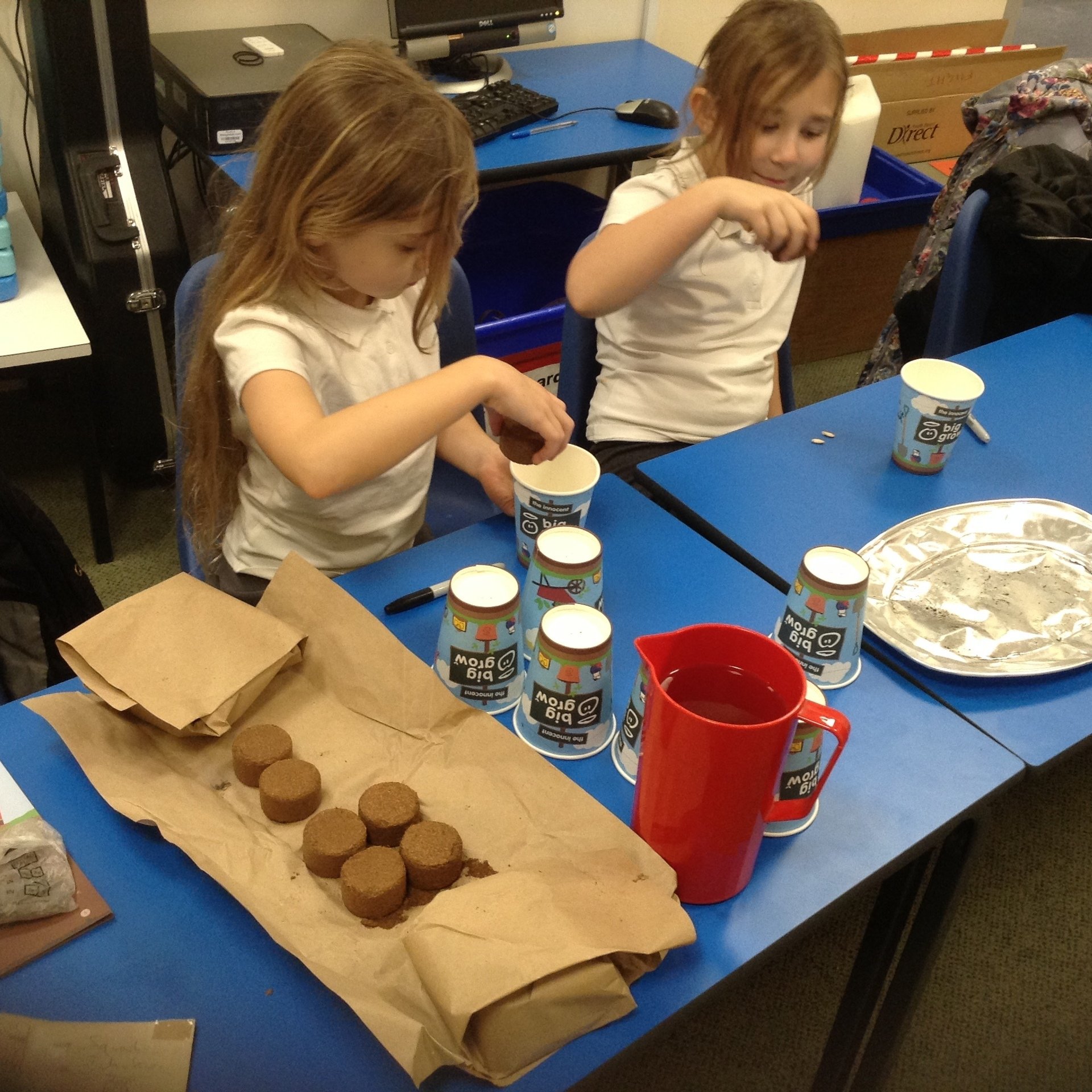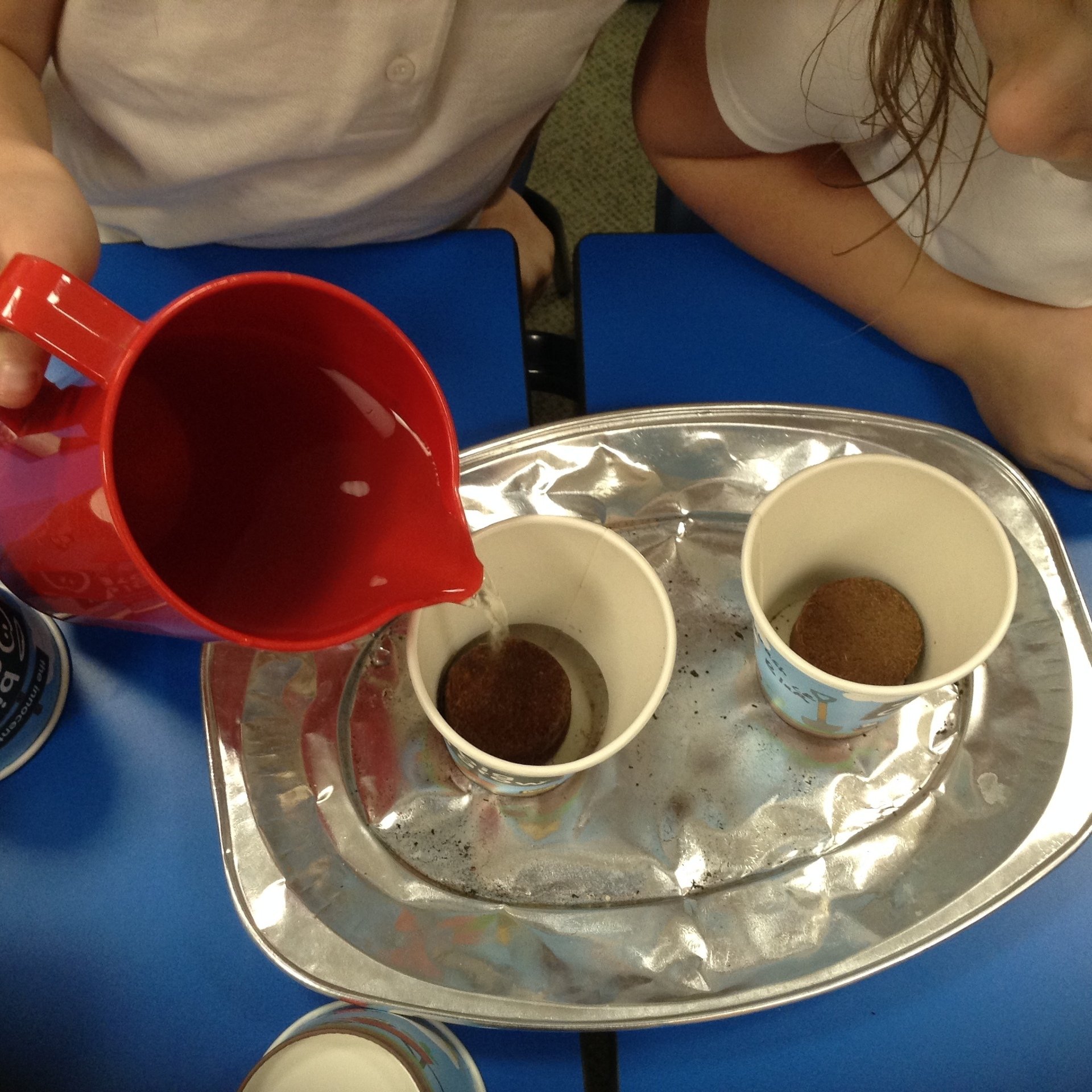 Will anything appear by next week?
Gardening Club Autumn Term
1st October 2019
After a substantial amount of rain throughout the day our border from last week was very water logged!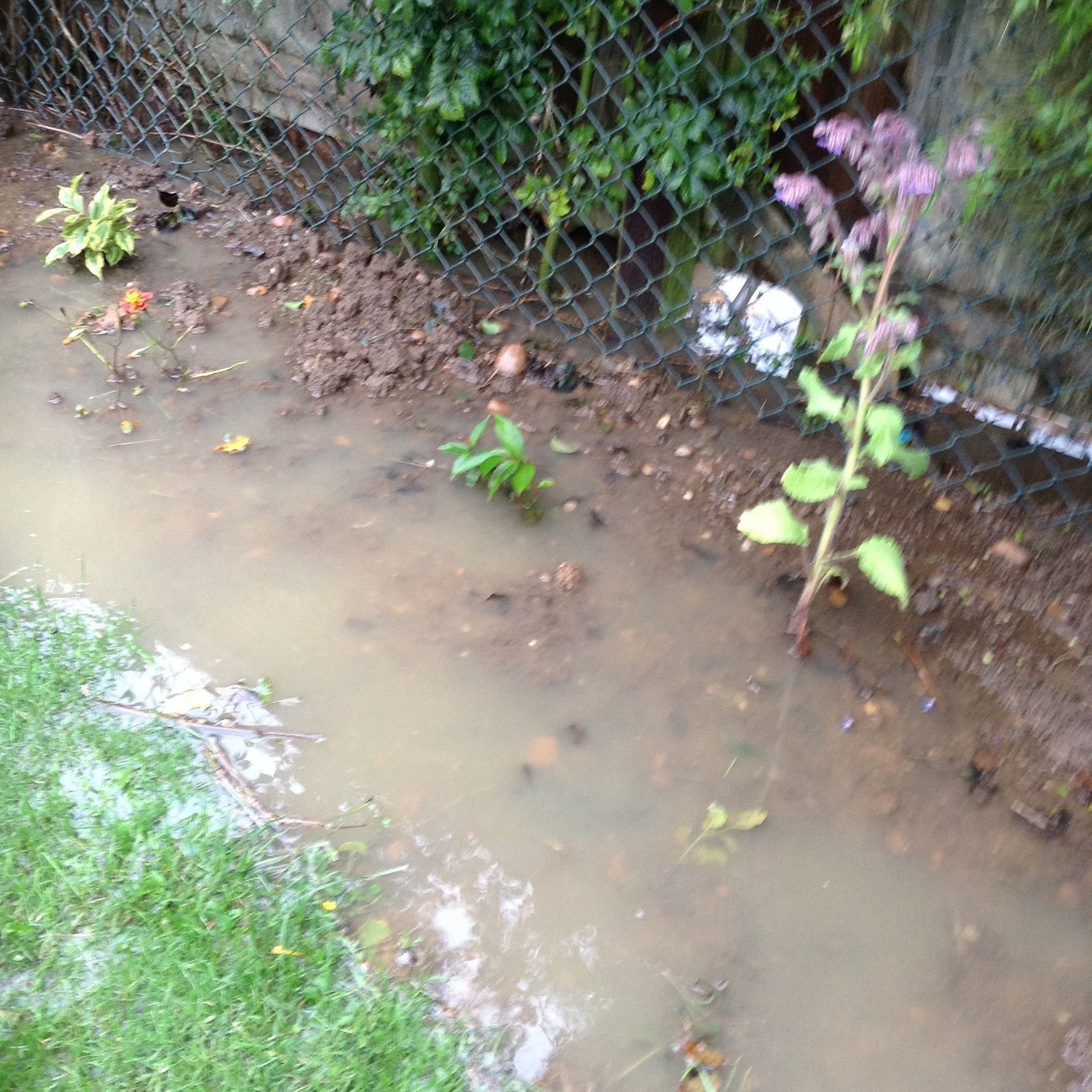 We've added some more Hollyhocks to this space.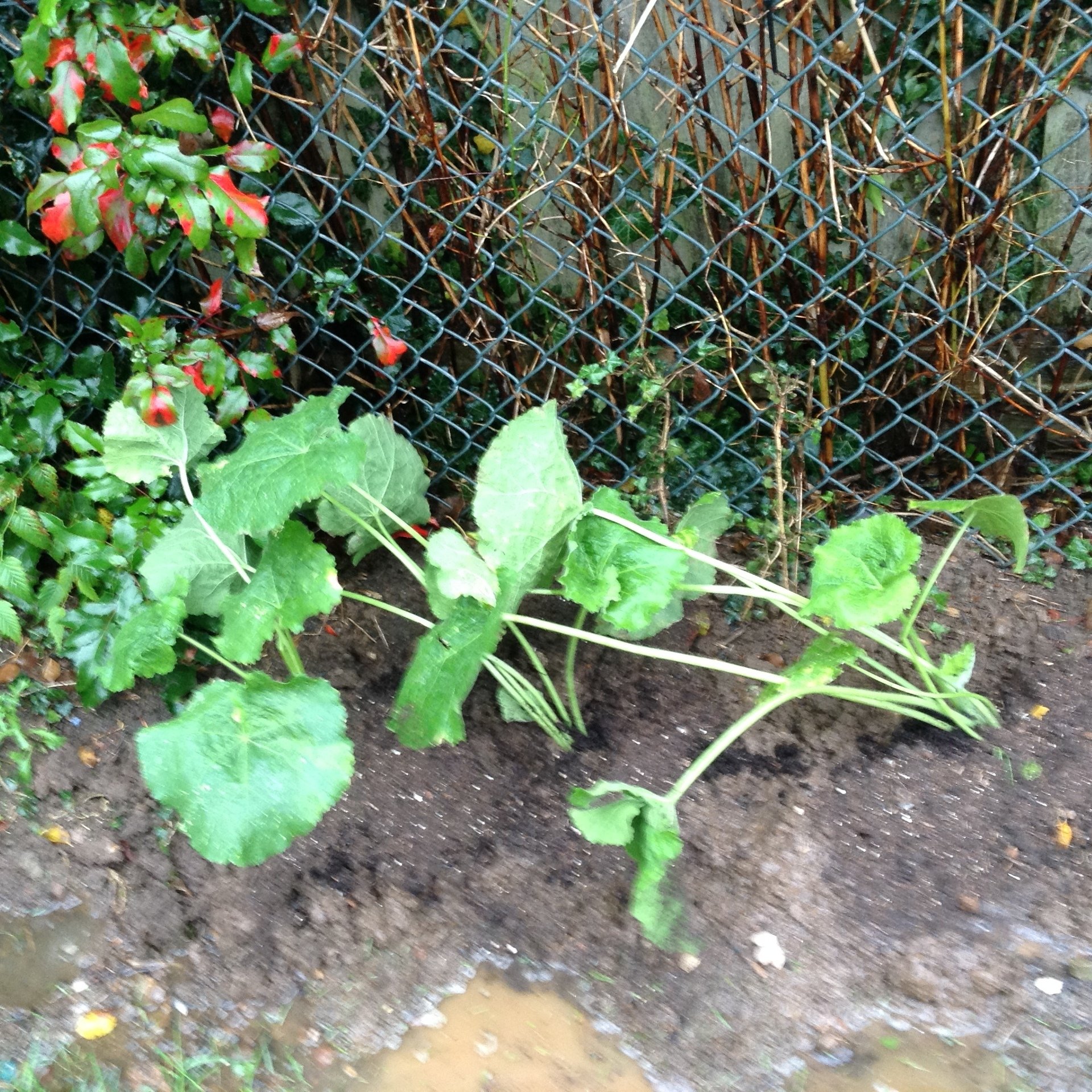 On finding an unusual seedpod we've decided to plant some seeds and see what/if anything grows.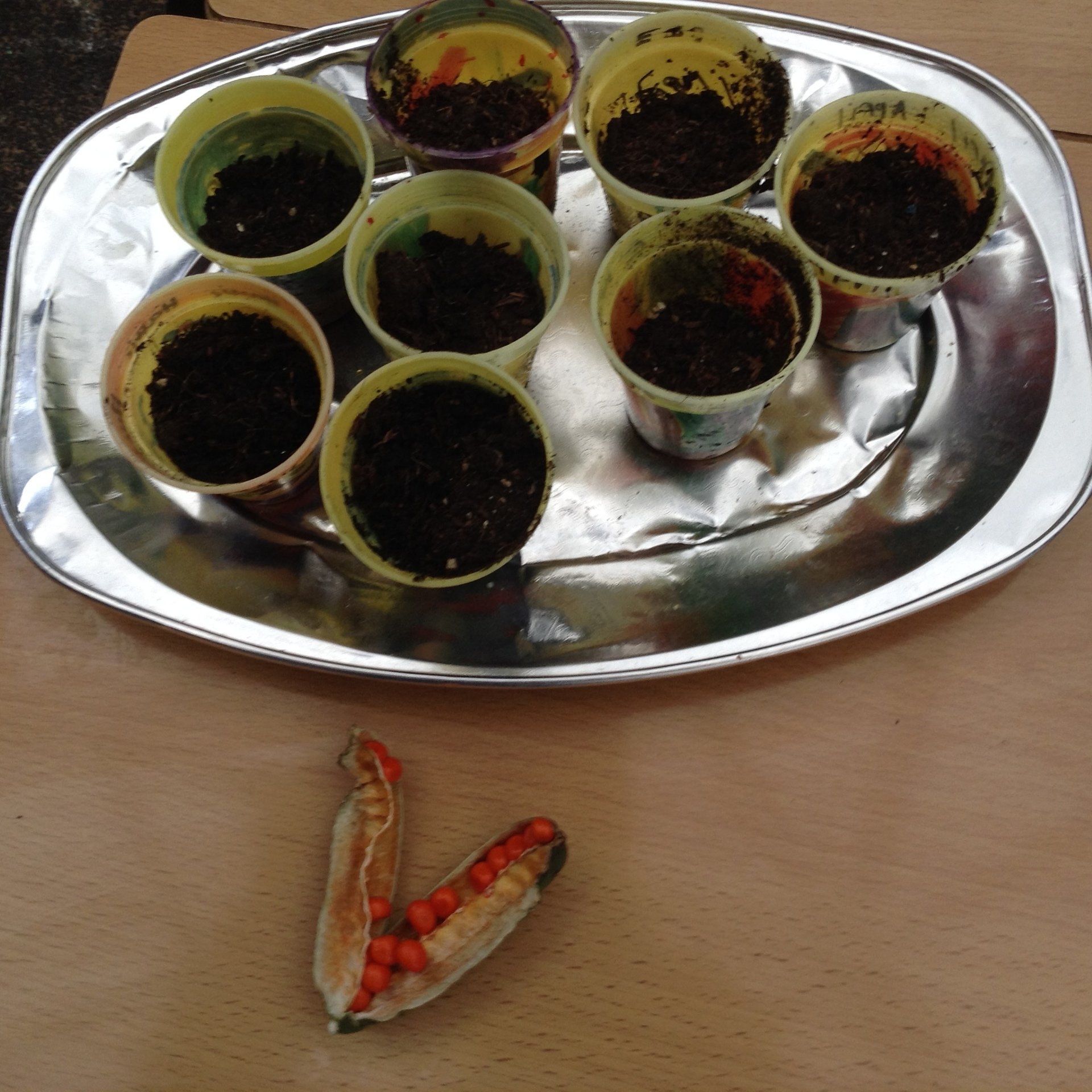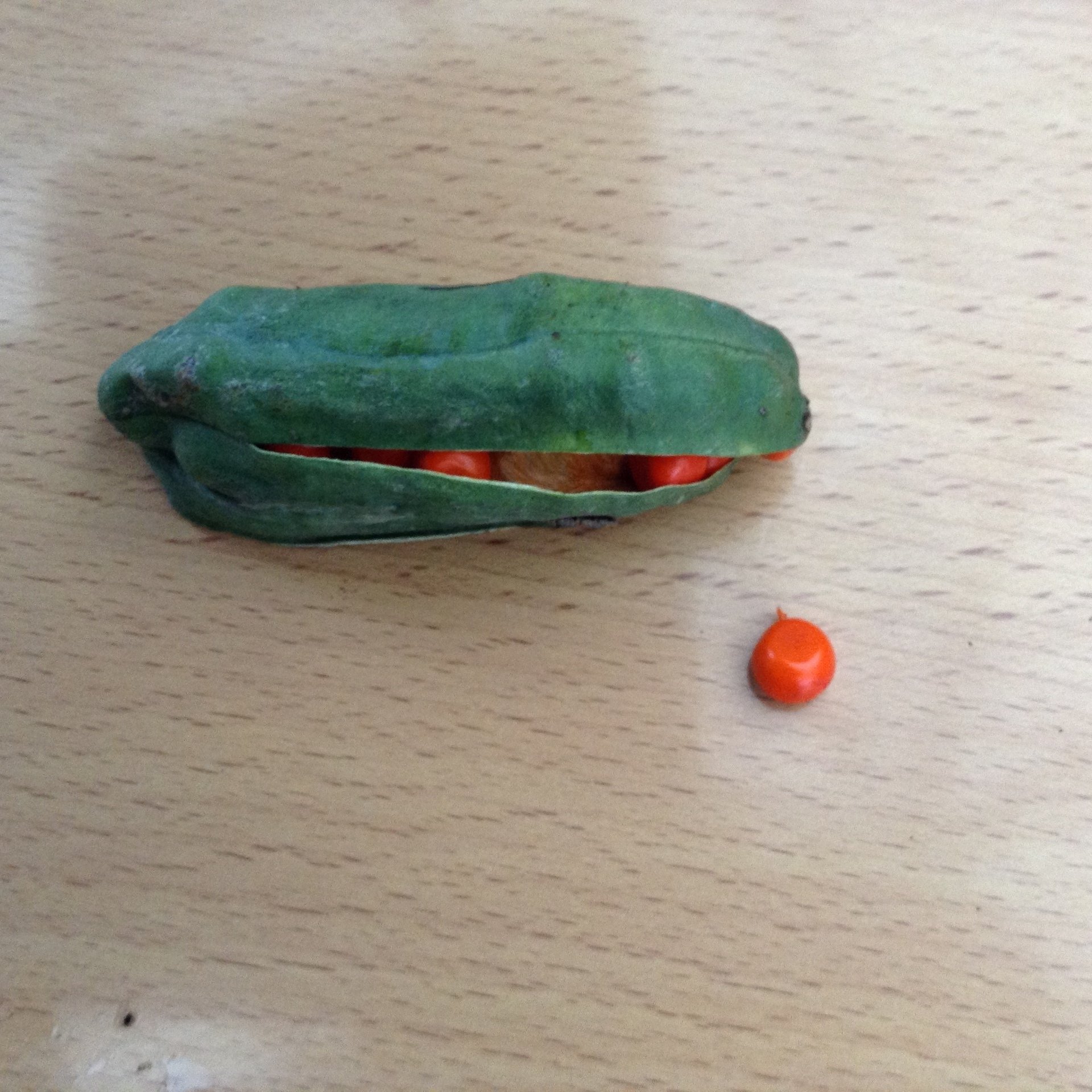 There was great excitement when we discovered the wind and rain had encouraged conkers to fall from the tree on our field.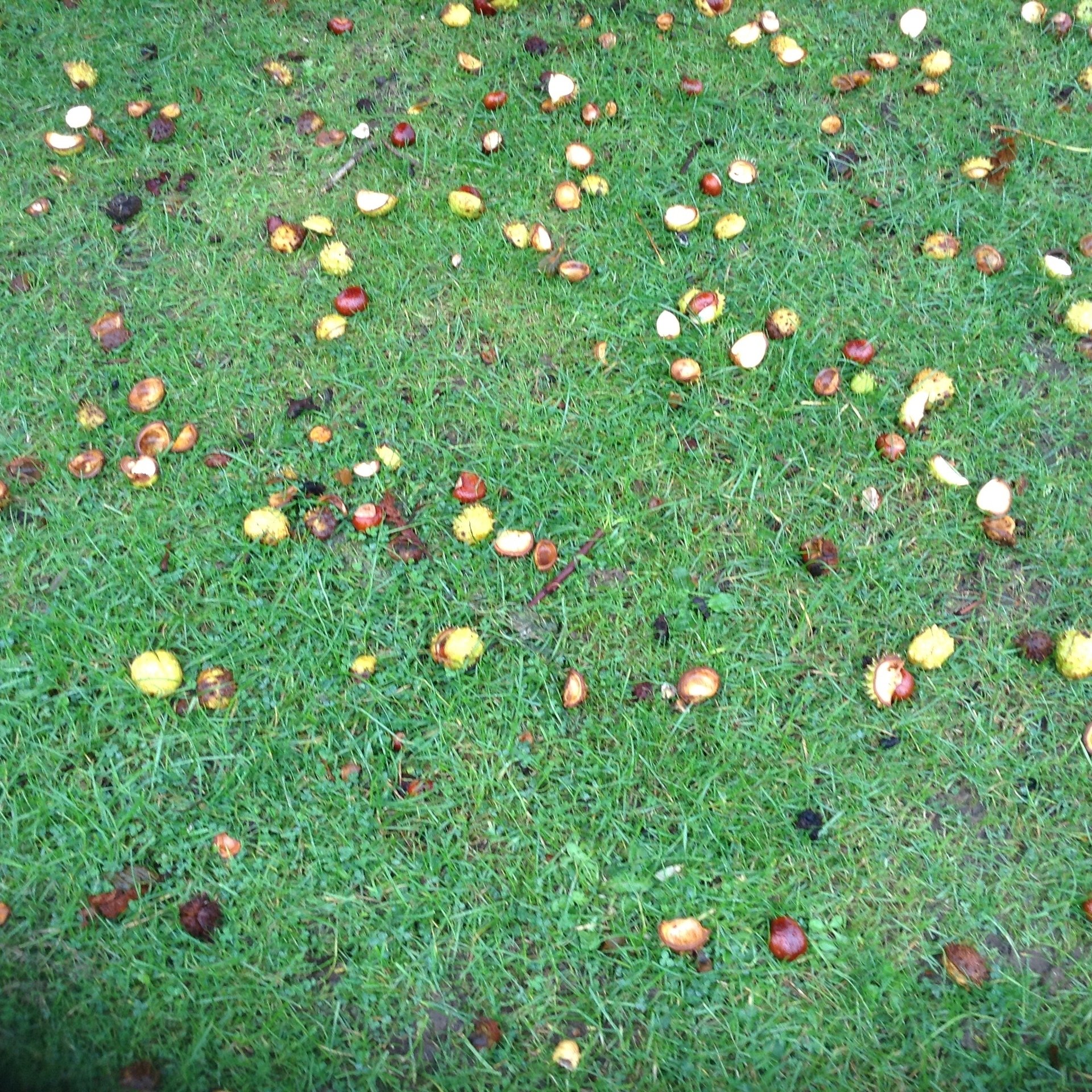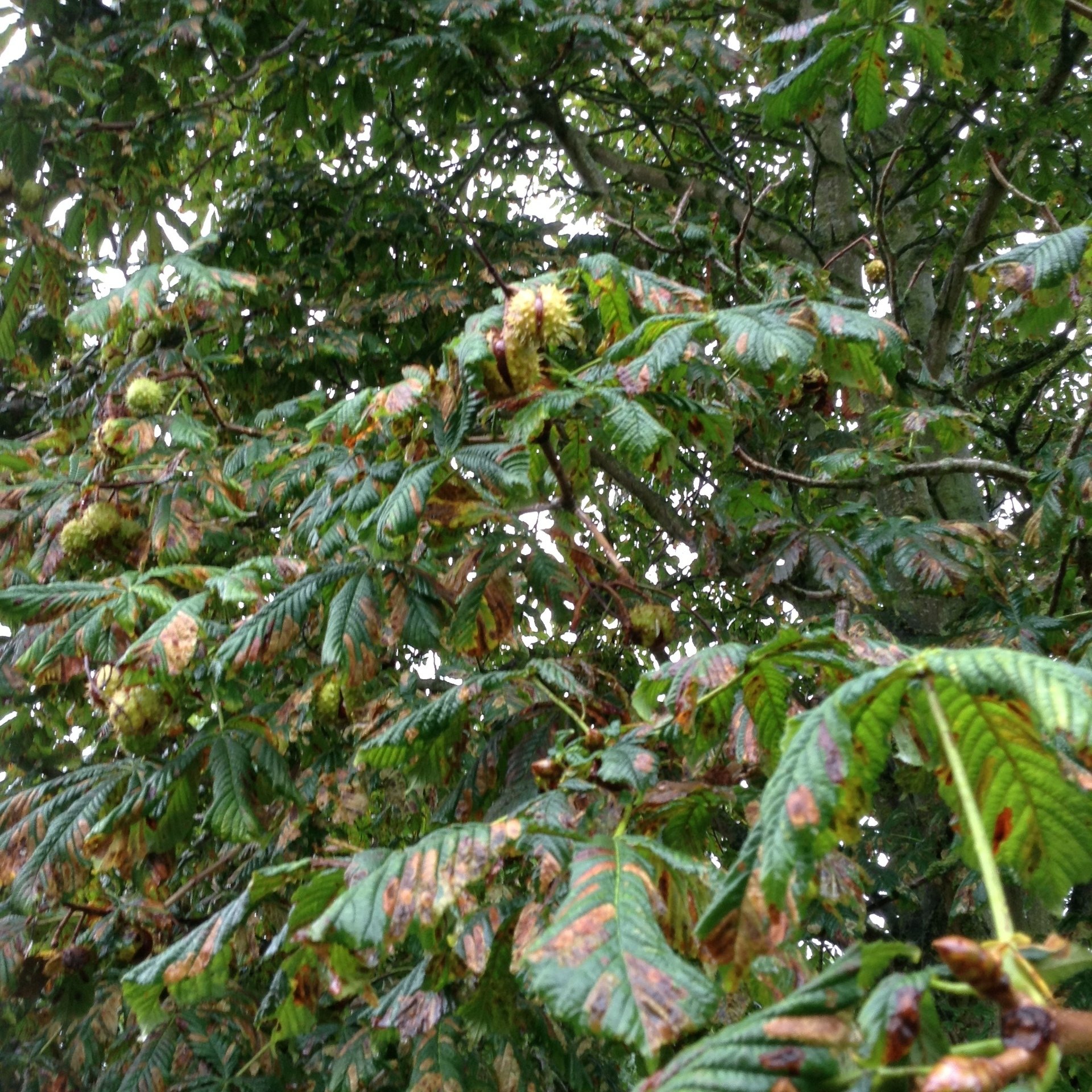 Some were collected to take home and lots including the shells were put in the plot.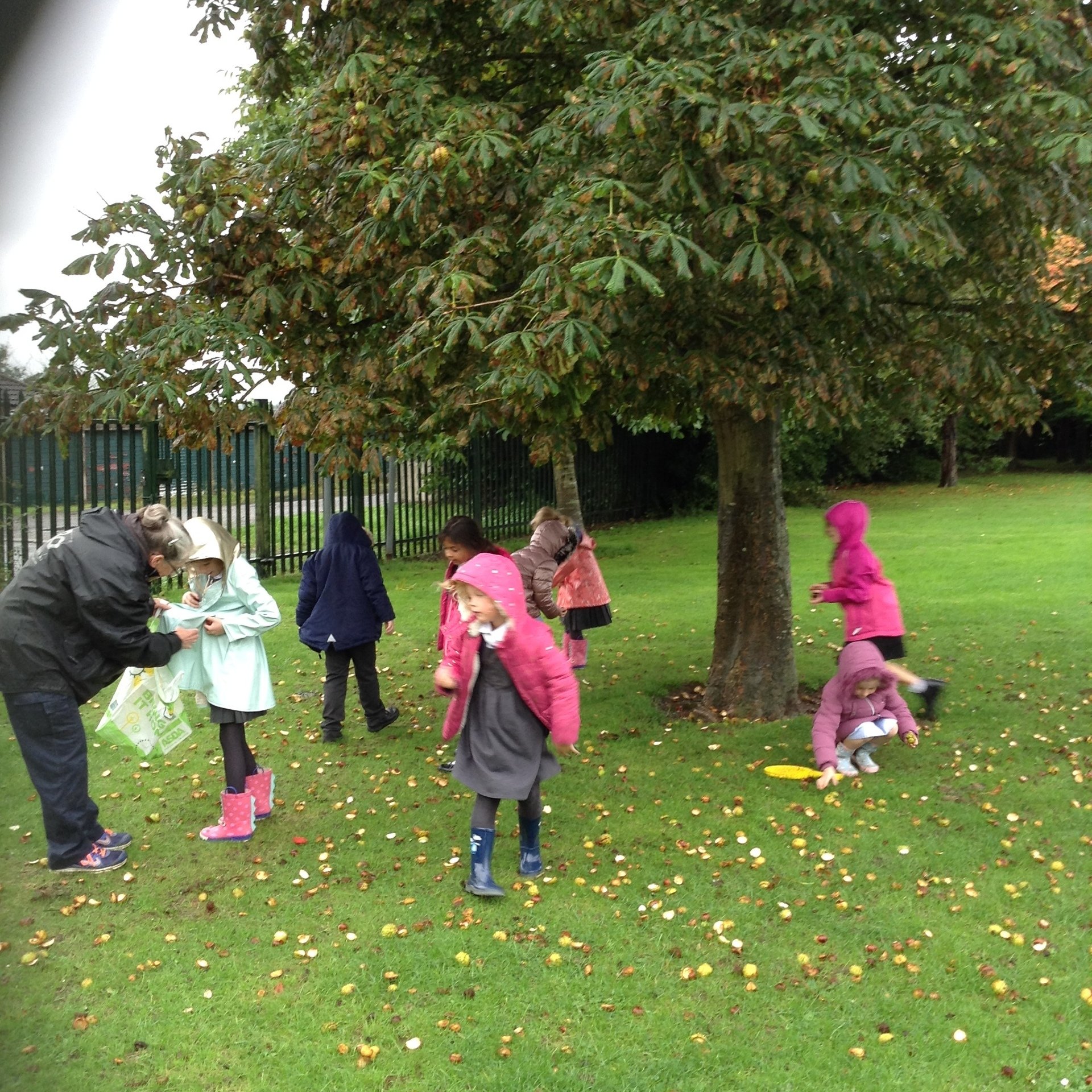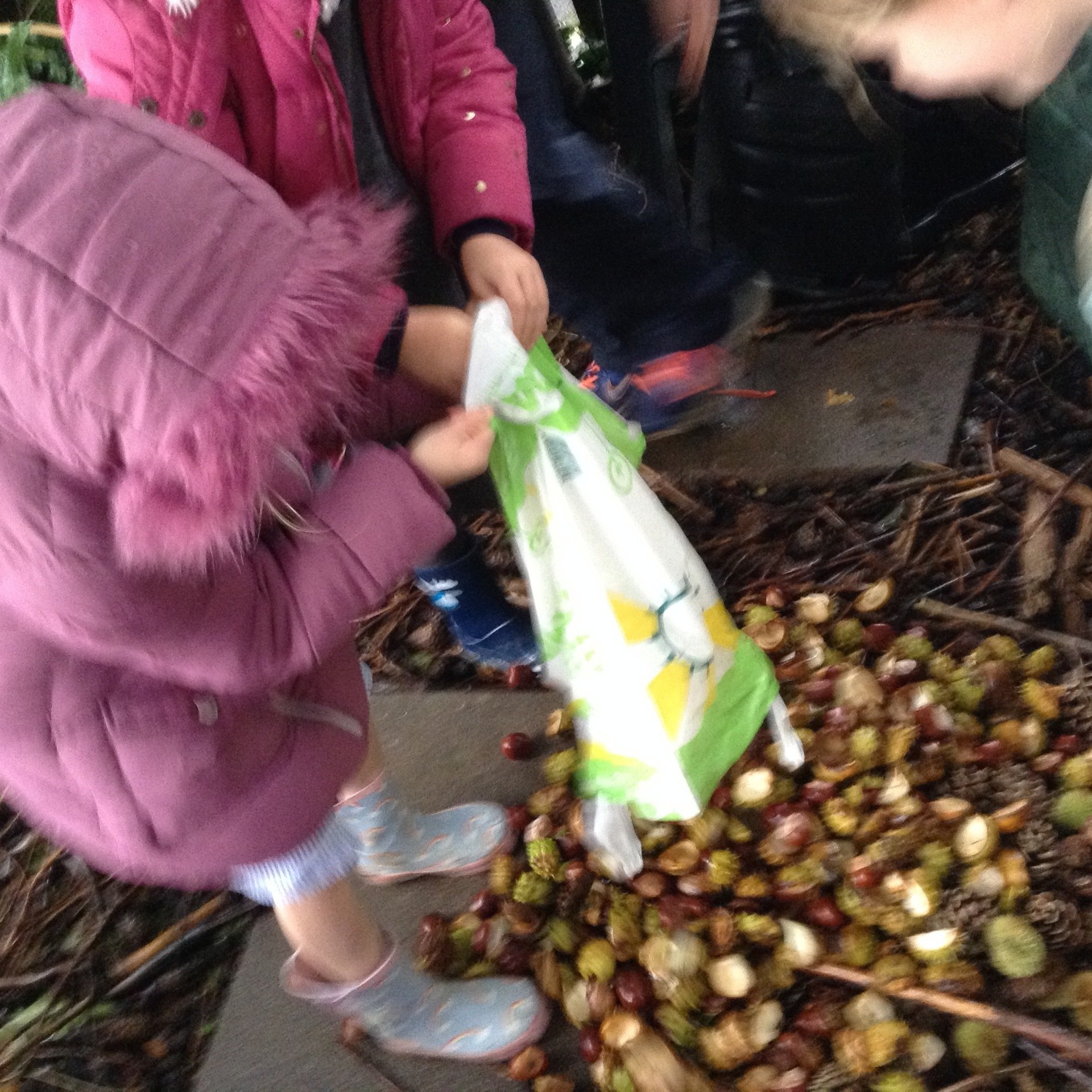 24th September 2019
This week was all about improving a piece of border in the KS2 playground by adding/transplanting plants and bulbs.
A new small group of keen gardeners set to work looking around school at all the places where previous crops and flowers have been grown. They picked the ripened tomatoes for use at cooking club.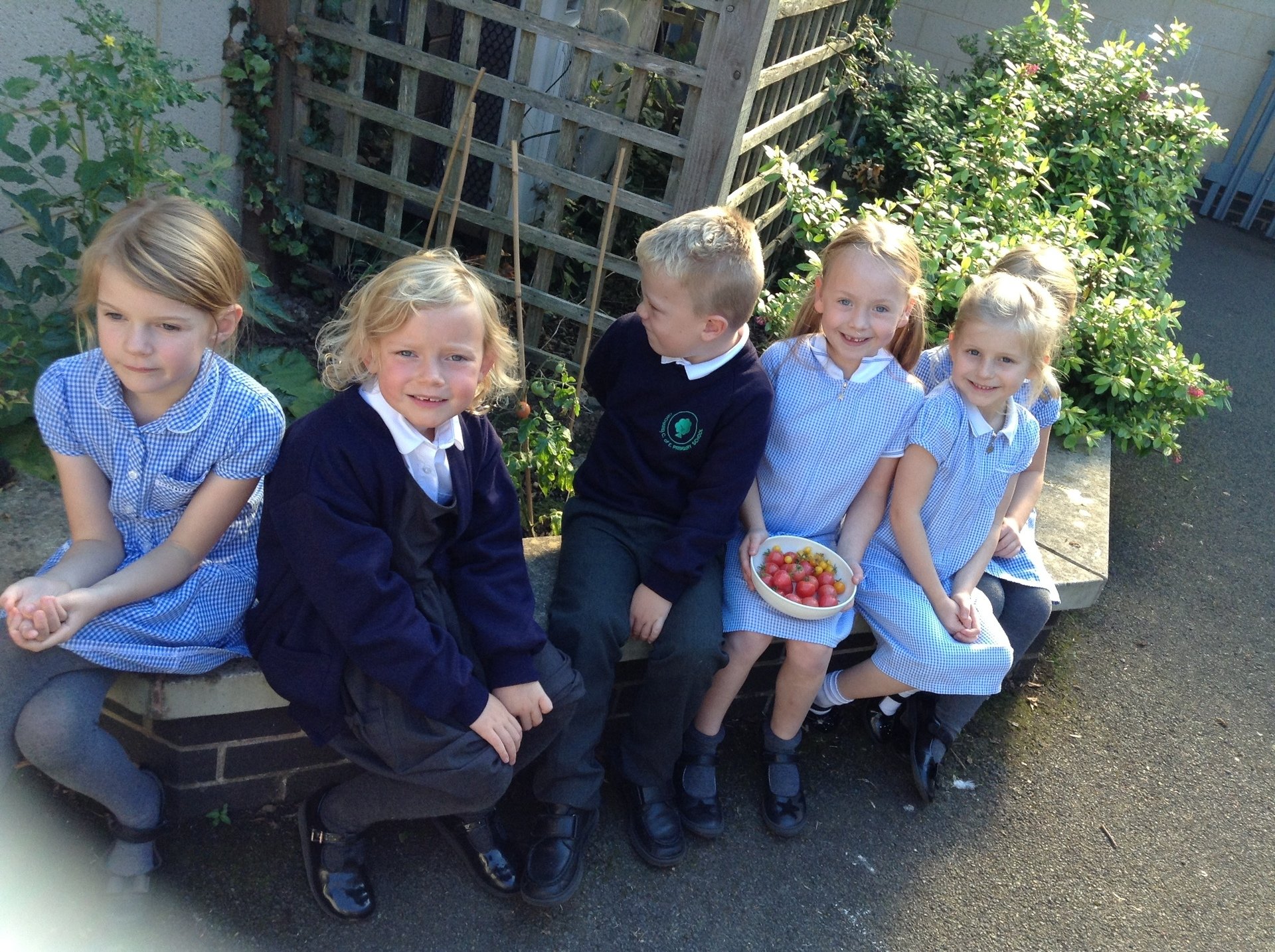 Also picked dried bean and pea pods to save seeds for next years planting. The beans that were ready to eat were shared out and taken home to cook.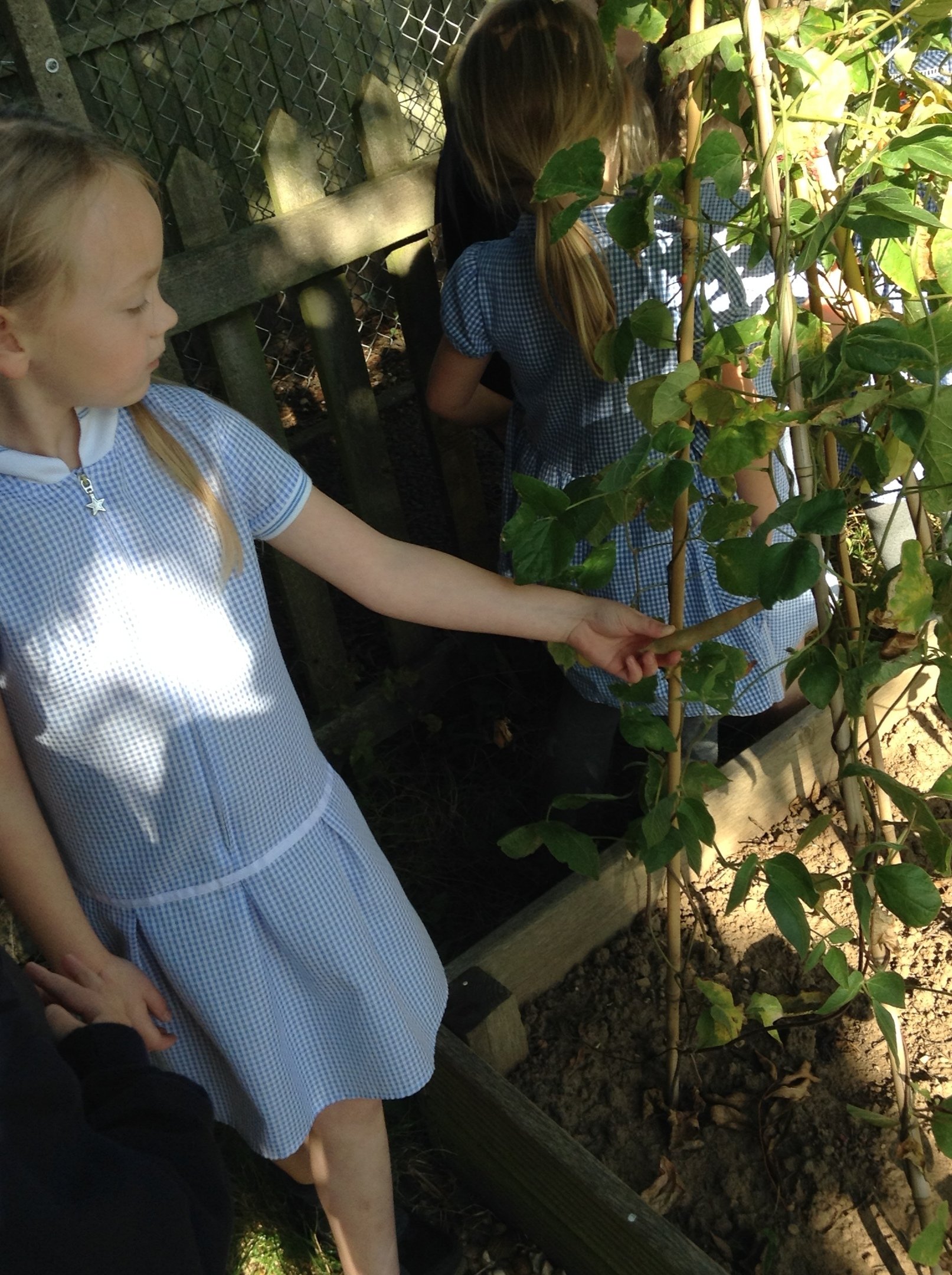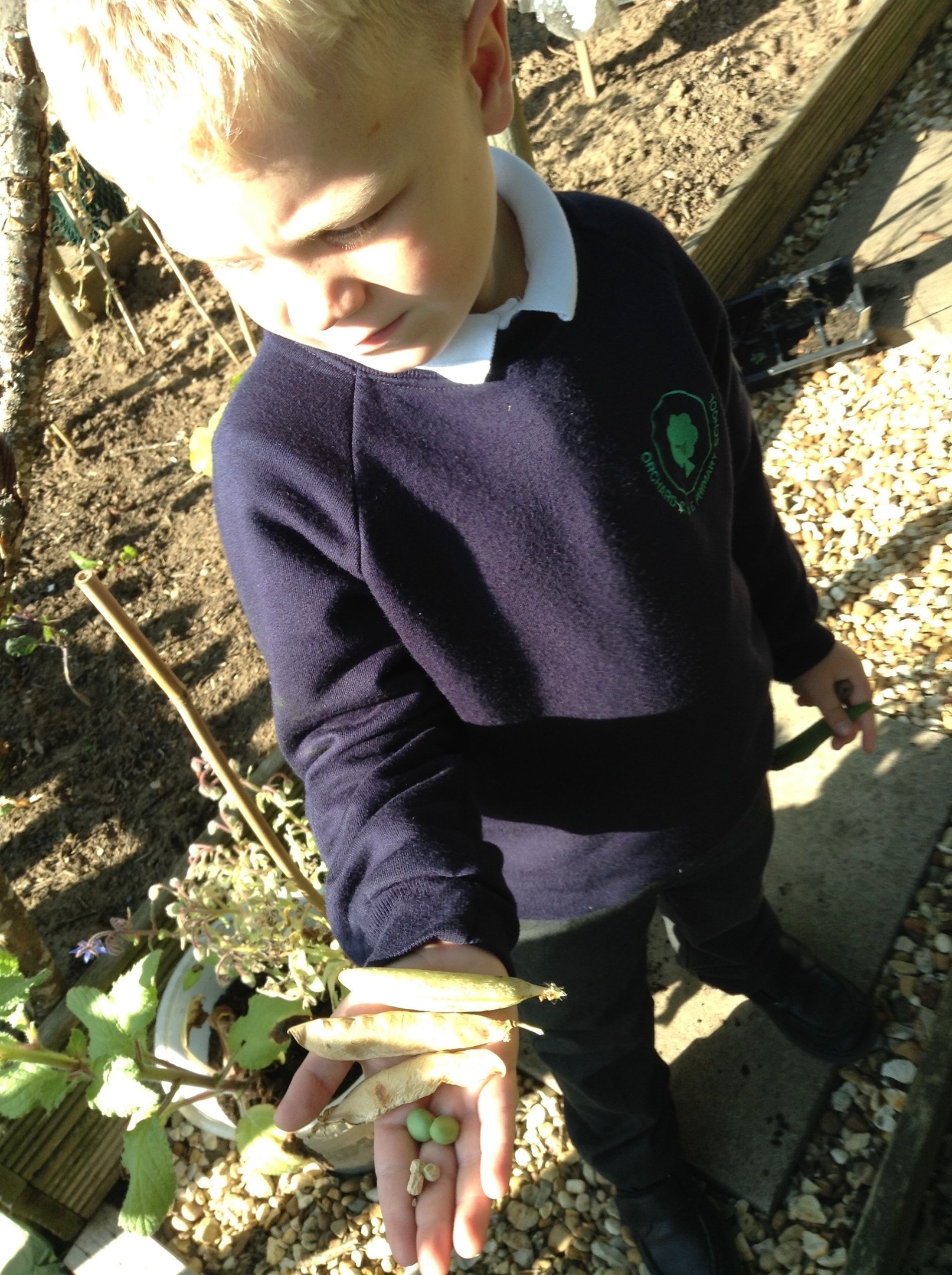 Collected seed heads and re scattered seeds in the flower bed so we hopefully have lots more flowers next spring.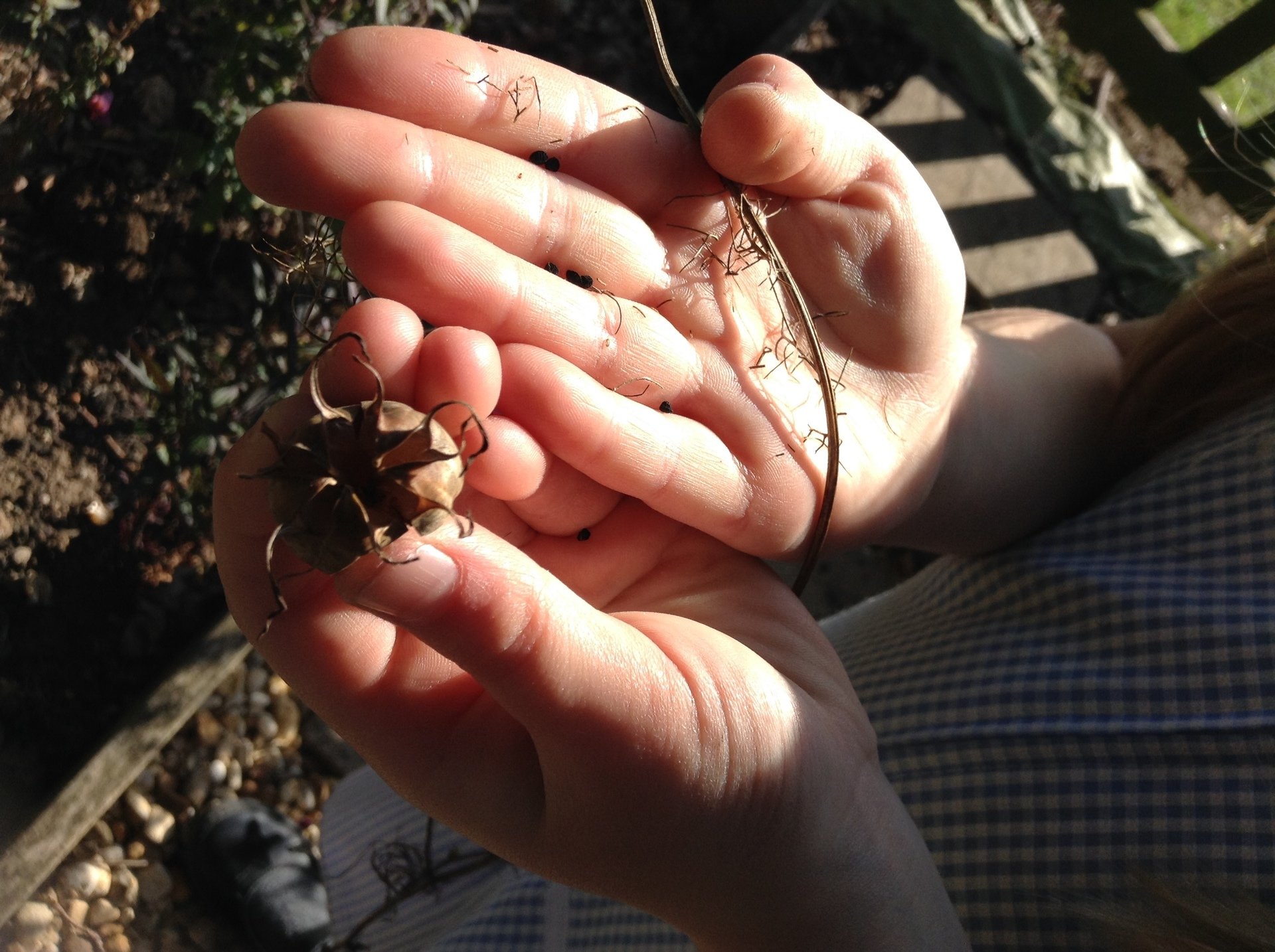 Made use of dried out plants in areas being developed for wildlife and creatures to survive the long Autumn and Winter months.

Watched bees busy collecting nectar.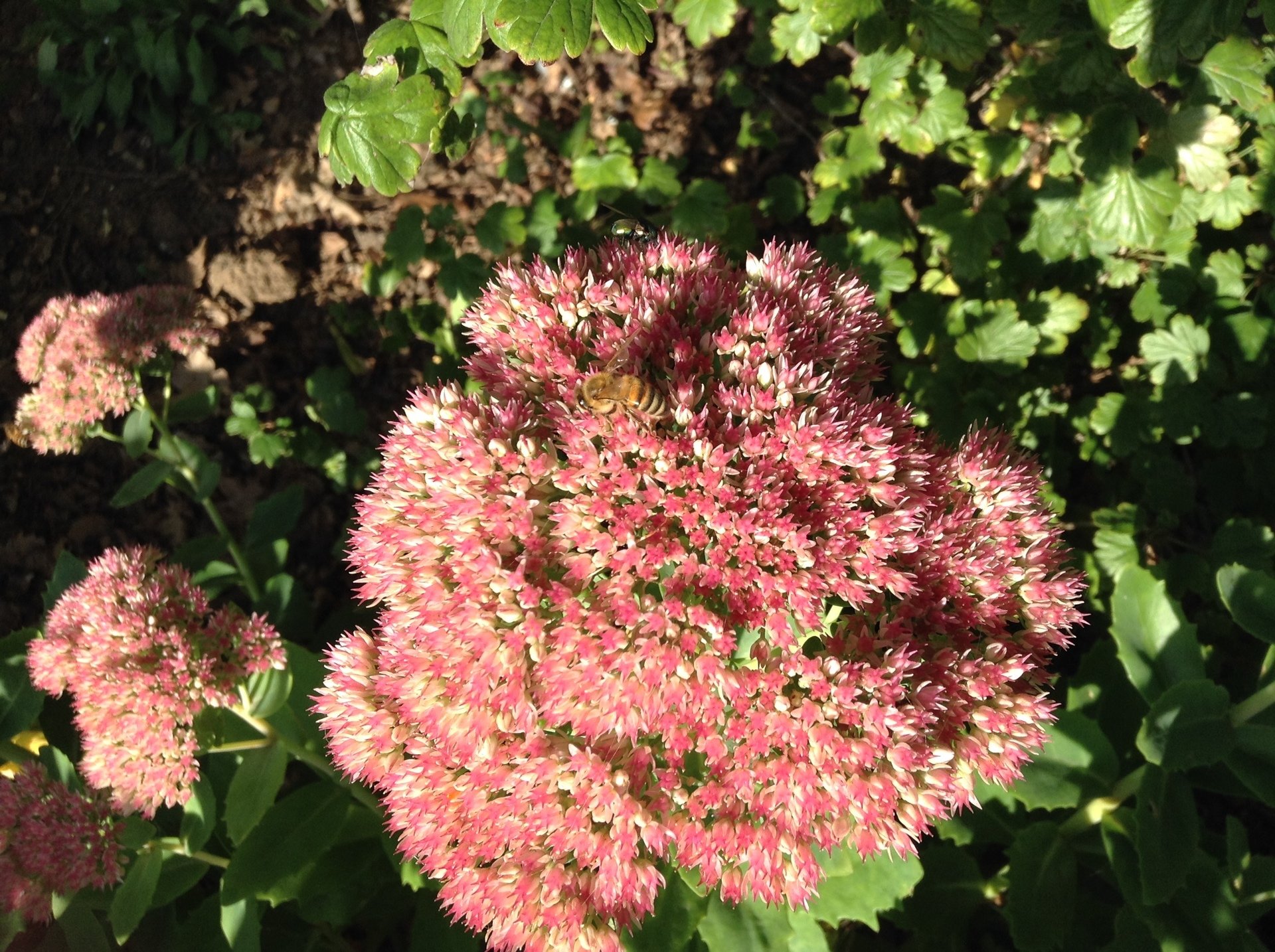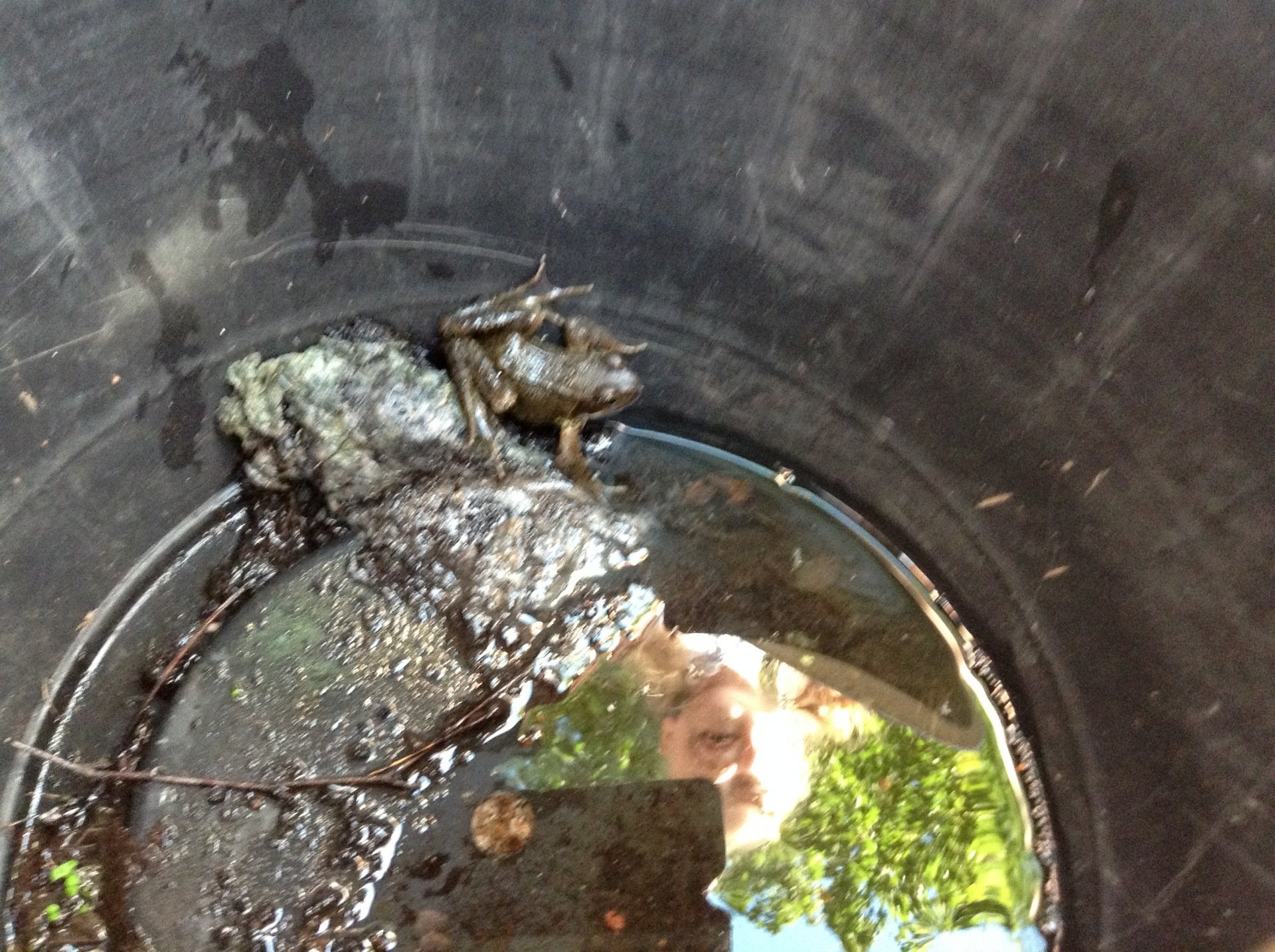 Found a frog sheltered in an old planter.
Cleared an area of weeds and planted shrubs/flowers.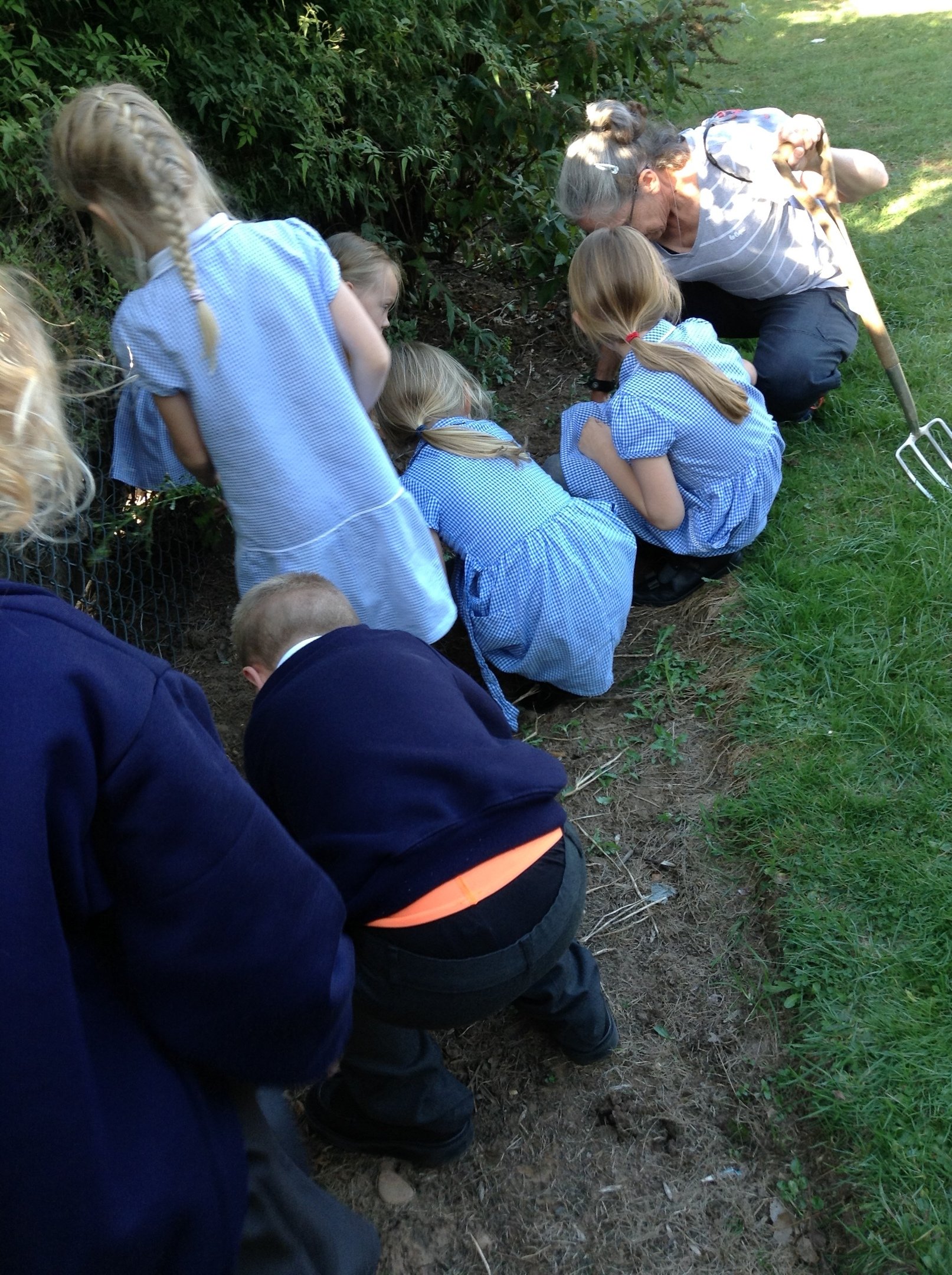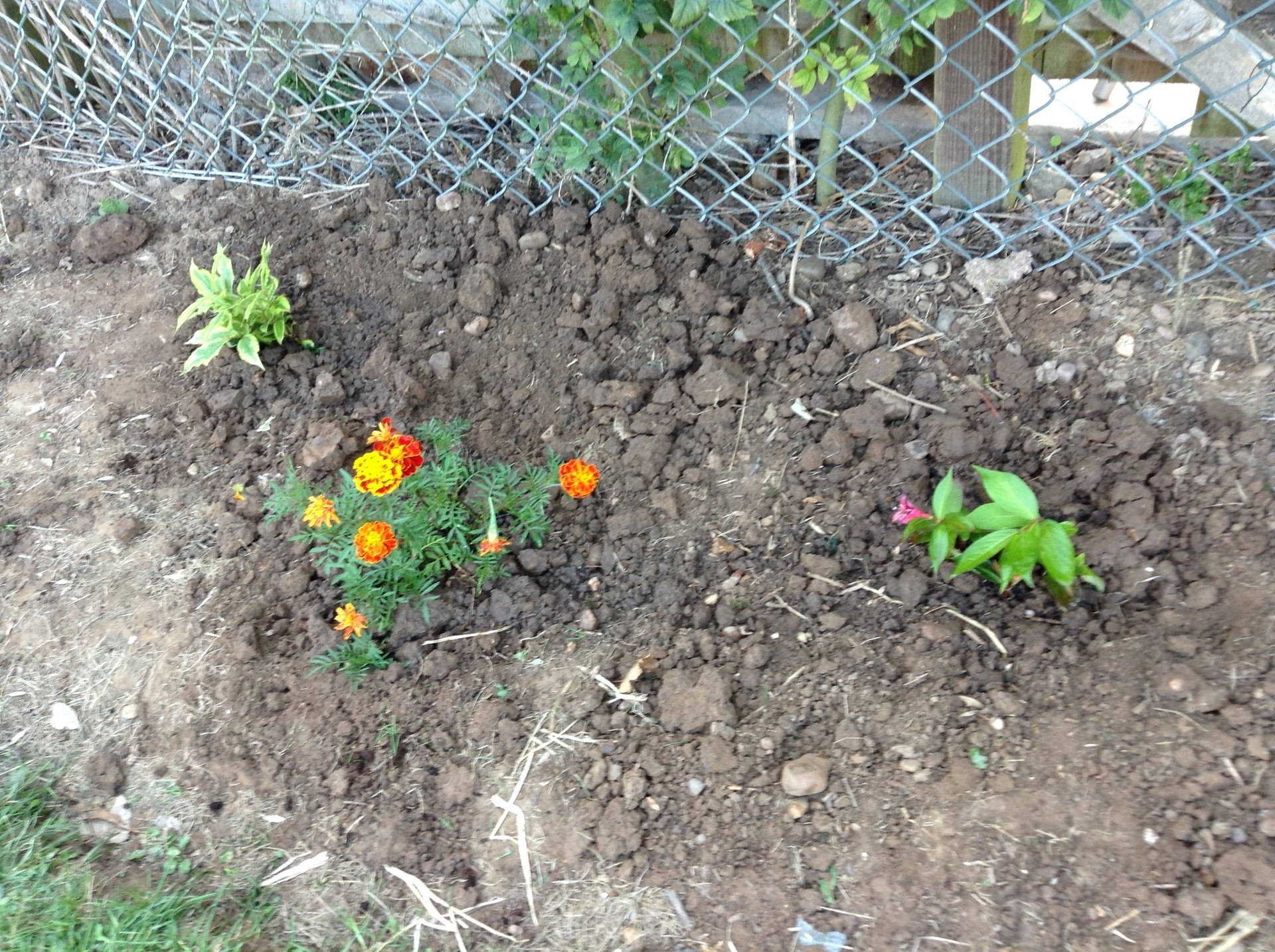 Planted baskets to hang outside school with plants that have all been grown by us!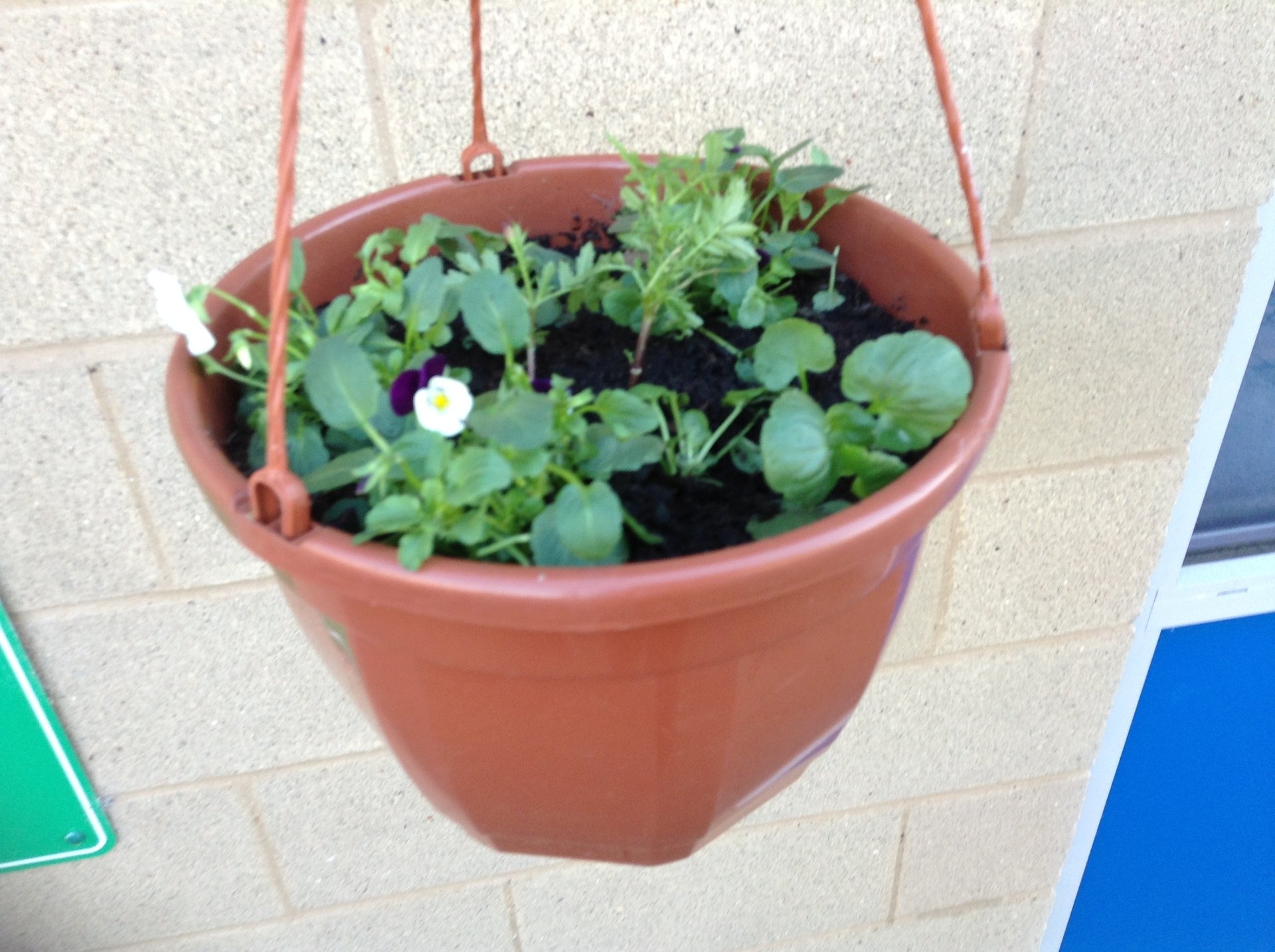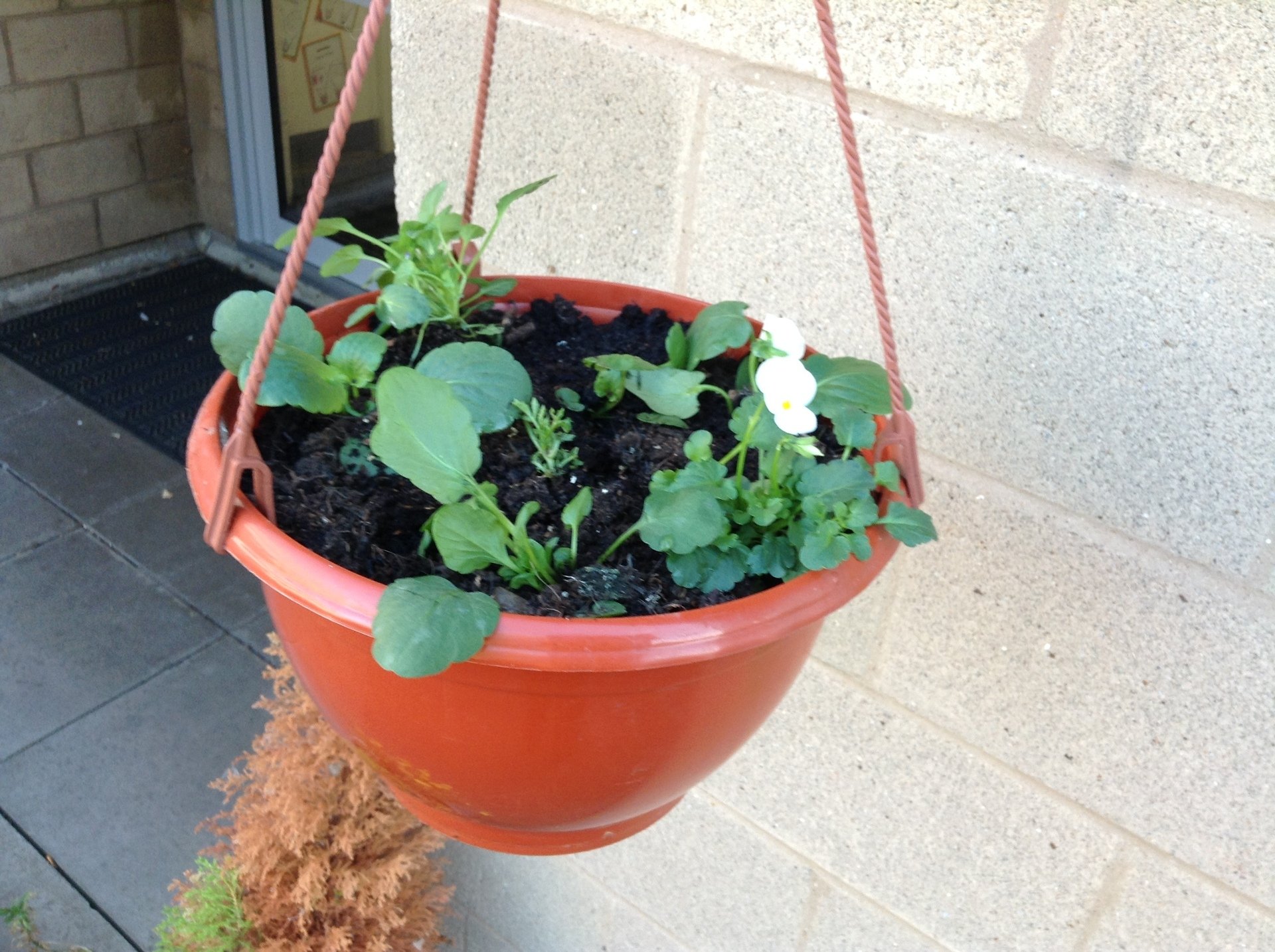 Checked and watered the pumpkin (only 1) we have been able to grow.

Unlike the small yellow cherry tomatoes which are plentiful and a great success again this season.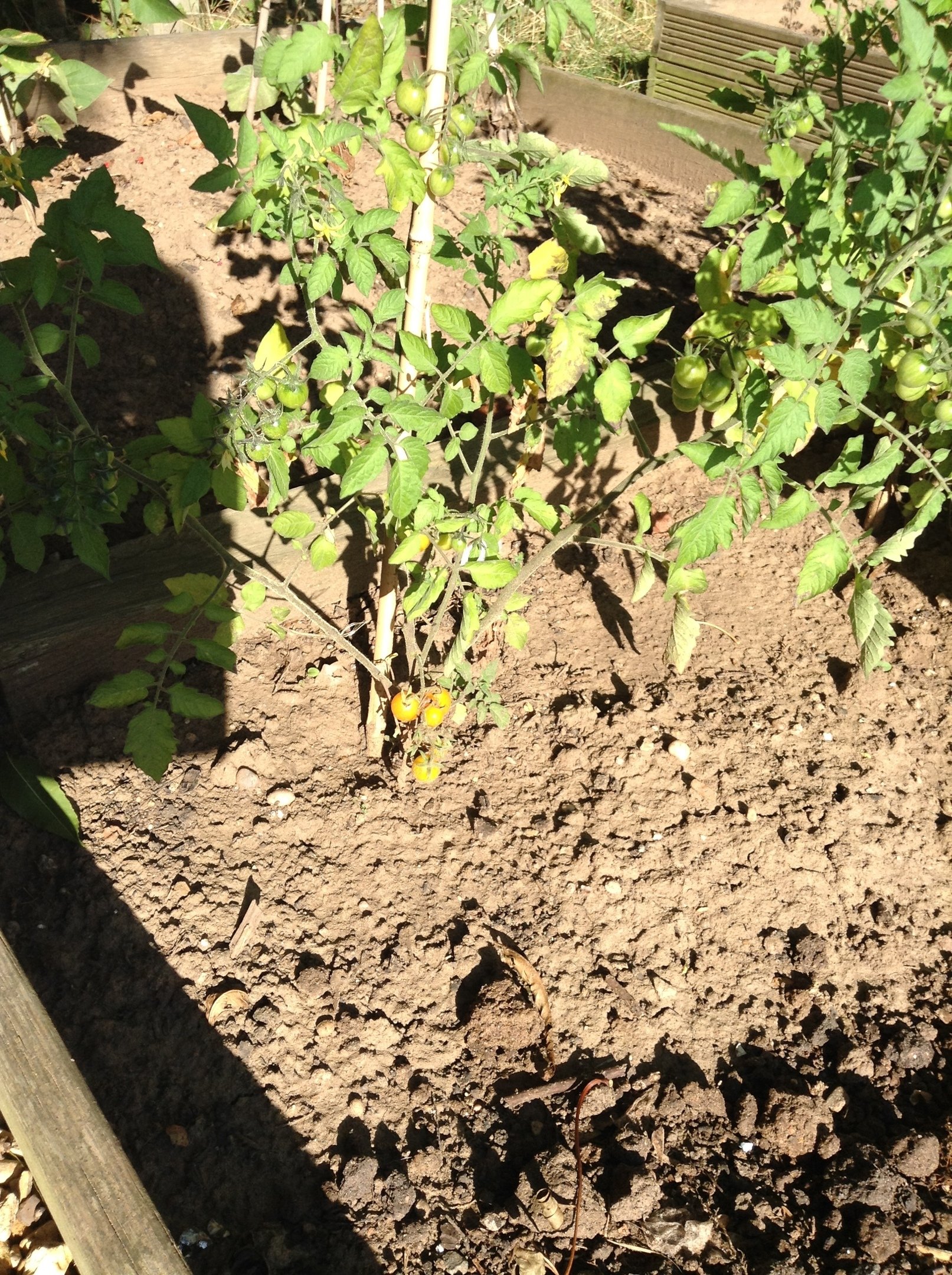 What a busy time we had!