Other Partnerships
We continually strive to make new links with our extended community and look for new and exciting ways for families to find out useful information including outside activities, events etc.
Click on the links below to view various events:
Here is the link to the May/July (half-term issue) digital version of Allsorts magazine.
https://bit.ly/ALLSORTS-MHL_MAYJULY23
You can view this issue at www.allsortsmag.com soon. Stay safe and take care - Michelle Love (Editor).
THURLASTON COMMUNITY GIRLS FC
Welcome all. We are the largest, free football club for girls in the UK. We have no hidden costs. We are open to all. We pride ourselves that we have never turned anyone away. We also provide a free training kit (Training top, Fleece, Waterproof, Hat & football kit).
We would now like to invite Reception & Year 1 to our exclusive girls football ground for fun football. Just come along & play at Stafford Leys Community Primary School on Sunday mornings 10-11am.
We also have teams for years 2,3,4,5 & 6.
Due to the teams now playing games, the above year groups parents need to text for training times.
We are also looking for more volunteer coaches. Mums & dads in all year groups.
Please contact club Secretary: Gavin 07545590876
Thank You
Gavin Lepley
Thurlaston Juniors F.C. Secretary
EPWORTH FOREST FC
With the announcement of Women in Football's 'Get Onside' initiative, we've made our own commitment to support the campaign. #WhatIf campaign in 2019, we're determined to continue our work within the women's and girls' pathway with a further commitment.
Our pledge is aligned to making transformational change across the club network in England, to facilitate 1000 clubs offering a full girls' pathway (age 10-16). This will create an infrastructure and network to dramatically enhance opportunities for girls to play the game, in a structured and sustainable way.
Kelly Simmons, our director of the women's professional game, said: "The FA is pleased to once again support Women in Football's latest campaign, with those previously launched having generated such positive conversation and action.
"I'm delighted to be able to make another pledge on behalf of the FA, which is a natural progression for our previous pledge regarding enabling all girls in schools to have the opportunity to play football. Having introduced girls to the game, it's vital there are local, regular high quality playing opportunities in all communities across England."
Epworth Forest Girls F.C. coach girls in Reception & Years 1,2,3,4,5,6 & 7. Coaching days, Tuesdays, Thursdays evenings & Sat mornings F.A. Wildcats. Fixtures played on Sunday.
Home Grounds:
Stafford Leys Primary School, LFE, LE3 3LJ.
Epworth Parish Hall, 112 Kings Drive, LFE, LE3 3JB.
All coaches CRB & DBS checked.
Gavin Lepley
Epworth Forest F.C. Secretary
07545590876
Future Faces Performing Arts School
Future Faces Performing Arts School is based at Hall Park Theatre in Lutterworth. We run many classes for children aged 3 – 18 and we believe students would benefit greatly from attending these sessions. At Future Faces we do so much more than sing, dance, and act. Our students develop excellent communication skills, grow in self-esteem and enjoy the benefits of improved coordination and fitness levels. While some of our children go on to enjoy success in the performing arts, all our students learn essential life skills that stay with them forever.
First session is completely free.
Rugby Artistic Swimming Club
Does your child enjoy swimming? Are they confident in the water?
Artistic Swimming is a team sport which combines the grace of dance, the flexibility and acrobatics of gymnastics and the strength and endurance of speed swimming – it's a tough sport, requiring strength, fitness and flexibility, but it's also a fantastic opportunity to meet friends and learn new life skills – who knows, you may even go on to represent the club at regional, national and even international level one day!
If you are interested you need to register for a place by emailing Head Coach, Hannah Secher at: rugbysynchro.headcoach@gmail.com
You can also check out the club's website at www.rugbysynchro.co.uk/ or their twitter feed https://twitter.com/RugbySynchro
Warning Zone is an education charity, delivering safety lessons in an interactive life skills centre, based in Frog Island, Leicester.
Year 6 children visit on a school trip and have a great day learning how to keep themselves safe both online and offline. Warning Zone has two different safety areas and the class children are slit into small groups and experience the day with a volunteer guide.
Warning Zone could not exist without volunteers and are always on the lookout for new volunteers. The role is very flexible, fits in with school drop off and pick up times, is term time only, uniform is provided and full training given.
It's a great way to meet new people, enhance your CV, utilise your existing skills and build some new ones, or maybe you know someone who is newly retired or someone who has spare time and is looking for something else to do. It's also a great way to keep up with current safety advice, especially in the ever-changing online world.
If you would like more information please email volunteer@warningzone.org.uk or call 0116 262 9739 or visit their website to find out more www.warningzone.org.uk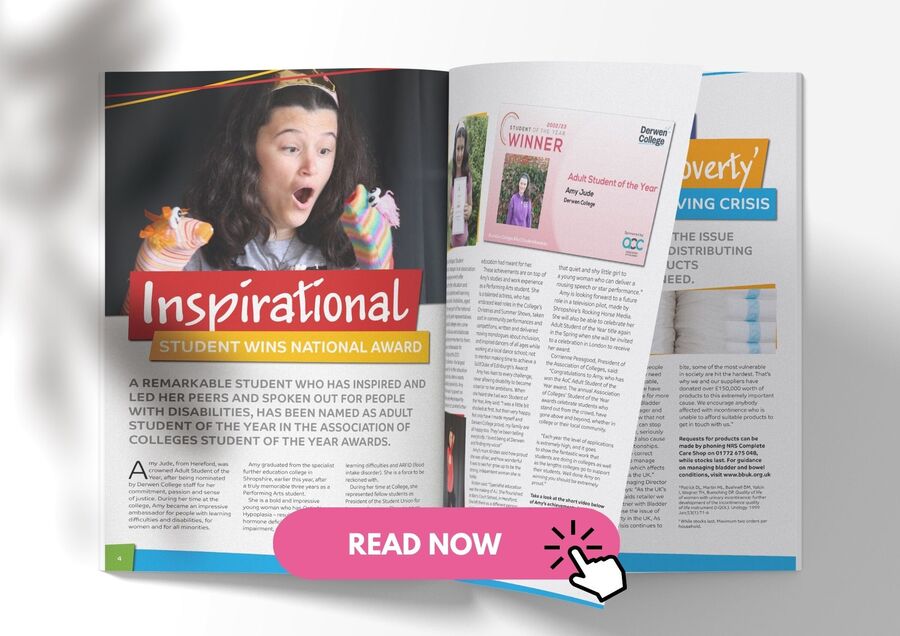 Kidz to Adultz Magazine - Issue 20 is packed with interesting articles, personal stories and advice including:
New award launches for young people

Never give up a dream

Student of the year

Incontinence poverty - free products

Kidz to Adultz exhibitions

...and more!
Kidz to Adultz Magazine - Issue 19 is packed with interesting articles, personal stories and advice including:
Tailoring transitions to adult life
Social prescribing
Drive Ability Scotland's new centre
Grandad Wheels
Kidz to Adultz Scotland
Kidz to Adultz Magazine
- Issue 18 is

packed

with interesting articles, personal stories and advice including:
Sharing experience as a gay, disabled woman
Disabled children's partnership - having your say
Financial advice: Protecting your child now and in the future
Remote assessments - they can work!
Disabled Living trustee at the UN
and more!
Full of dates and fun things to do over the coming months; please click on the link above to read the latest edition of the Primary Times.
There's a FREE! Family Activity Pass from Everyone Active, a fabulous offer from Ninja Warrior, and some amazing competitions.